Rielly reveals elbow injury kept him out of lineup
Maple Leafs defenceman had career-best season interrupted by upper-body injury he suffered against Philadelphia on Jan 18.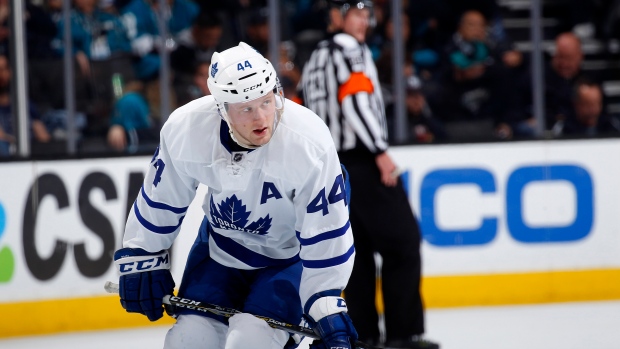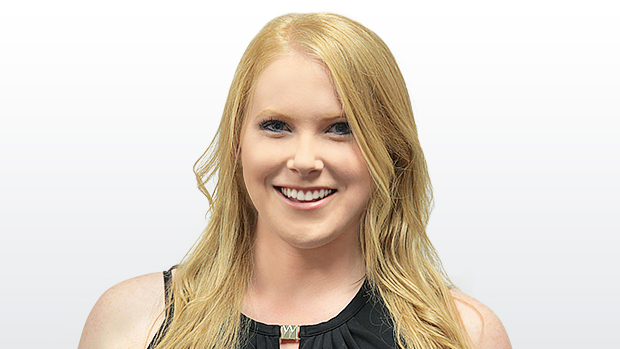 TORONTO – Right in the middle of a career-best season with the Maple Leafs, Morgan Rielly took a fall that introduced him to a whole new world of pain.
Toronto's top-pairing defenceman has endured his fair share of lower-body injuries in the form of ankle sprains and an ACL tear over the years. But when Rielly awkwardly tumbled to the ice late in the second period against Philadelphia on Jan. 18, he sustained the first upper-body injury that's ever sidelined him for an extended period in the NHL.
"I'm not sure what I can say, but it was my left elbow. It's just taken some time to heal up," Rielly said after morning skate on Monday, revealing the injury in full for the first time. "It was my left arm that got tangled up. I mean, even my mom thought it was my right arm because I landed on it, but the left arm was tangled up. Not intentionally by [Jakub Voracek], but it was just the way the play unfolded."
Before that night, Rielly was playing the best hockey of his five-season NHL career. He had amassed 31 points in 46 games to lead all Leafs' blueliners, and was thriving under the tutelage of veteran defence partner Ron Hainsey. With only seconds left in the middle frame when the injury happened, Rielly decided to return for the third against the Flyers, completing nine shifts.
"I knew something was wrong when I came back and tried to play," he recalled. "After that, I went out for morning skate in Ottawa [two days later] and I just knew right away. You have to do the necessary things to make it to so you can play and get back right away."
With four games under his belt since stepping back into the lineup on Feb. 3 against Boston, Rielly is the first to admit he isn't all the way back just yet. Against the Ottawa Senators on Saturday, Rielly tallied his first point in three games, setting a new career-high in assists with 28 over just 51 games. The light at the end of the injury tunnel is burning bright, but Rielly discovered getting there is different when you're not familiar with the recovery process.
"It's not so much [your] wind as the rhythm of the game, and this is a learning curve for me a little bit for an upper-body injury," he said. "It's just hard to get your hands back. So it's not wind. It's not brain. It's more just the rhythm and the pace of the game. It takes a little time, but I've felt better and better and I'd expect myself to have more success moving forward and get back into the rhythm."
With the league-leading Tampa Bay Lightning visiting the Leafs on Monday night, there's no time like the present for Rielly to round back into form. The 23-year-old admitted he wasn't feeling totally 100 per cent when got back in, and the adjustment period takes as long as it takes to plow through.
"He's still not quite where he was, so we've got to get him where he was," said Mike Babcock. "We need him to be elite for us, so just getting your legs back and skating the way you can and getting your confidence back. It's just a process of playing."
Behind the scenes, Rielly was using all manner of tactics to lose as little of his edge as possible, starting with his treatment regime. The Leafs' reliance on a sport science-based medical staff has encouraged all kinds of colourful commentary from Babcock, who refers to an individual's recuperation process as a "science experiment" and to players being "in the cage."
When Rielly was pressed on the basics of what goes on in said cage – for example, alternating hot and cold therapies – he didn't bother trying to explain the specifics.
"If I agree to that [simple breakdown of treatments], the training staff would be mad at me because there's more to it than that," Rielly joked. "The most important thing is rest, being careful with it, icing it. We did a lot of work, a lot of different things; stuff in the gym, lot of stuff in the treatment room. There's like lasers and stuff back there. It's crazy."
He was only kidding about the lasers, of course. But whatever remedies were used, Rielly is ready to put the injury completely in his rear-view against the NHL's top team on Monday night.
"In our mind, it's probably one of the most high-powered offences in the league," he said of the Lightning. "Lot of skill, a lot of speed, good power play. So it's a good test for us."
Maple Leafs projected lineup vs. Tampa Bay
Hyman-Matthews-Nylander
Marleau-Kadri-Marner
van Riemsdyk-Bozak-Brown
Komarov-Moore-Kapanen
Reilly-Hainsey
Gardiner-Zaitsev
Dermott-Polak
Andersen starts
McElhinney