Rookie Poeltl making an impact with Raptors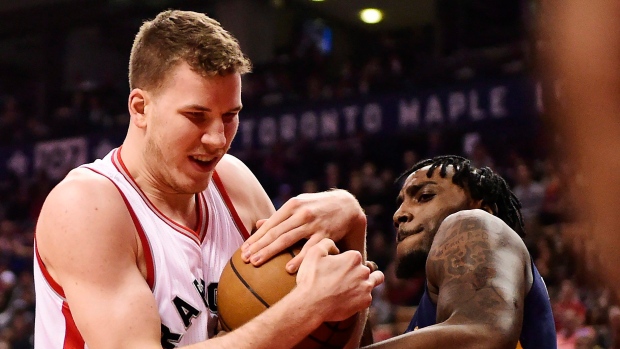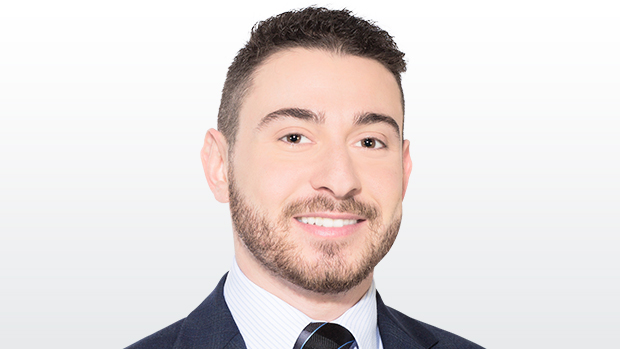 TORONTO - Fair or not - and most would lean towards 'not' - a different set of rules often apply to first-year players in the NBA.
Whether they're dragging along additional luggage to and from the airport, singing a teammate Happy Birthday after practice, or carrying around their own Disney themed backpack, for most rookies their sophomore season can't come soon enough.
However, more frustrating than any hazing they get from their peers is the way they're welcomed by the league's officials. When it comes to the whistle, rookies aren't exactly known for getting the benefit of the doubt, particularly young bigs.
Such is life for Jakob Poeltl right now. The Raptors centre leads the NBA in personal fouls per minute played this season - among players that have logged at least 100 minutes - and the team would argue that more than a few of them have been unearned.
"Officials kind of pick on him a little bit, the fact he is a rookie," head coach Dwane Casey said following Sunday night's 116-91 win over the Indiana Pacers, a night in which Poeltl scored 12 points, eclipsing his previous career high of seven. He also had four fouls in 23 minutes.
"He gets a lot of cheap calls and looking back at the tape they're not...," he continued, stopping himself in time to avoid making a mandatory donation to the league office.
It can be a maddening thing for a player that has worked hard to both get and stay on the floor as it is, but to Poeltl's credit he's taken it in stride. It's one of the biggest reasons his transition to the NBA has been relatively seamless and something the Raptors have always liked about the 21-year-old. He's mature beyond his years.
"That's okay," he said with a smile on his face, shrugging off the idea of an officiating double standard. "That's just part of the journey. As long as it's not a deciding play I'm okay with it."
"He's got the emotional stability that you want from a rookie," said Casey. "[He] doesn't get overly dramatic or excited, or down or up. He's a very levelheaded young man. All those things factor into him having a little bit more immediate success than if you were up and down emotionally, unstable and all those things. He's got the right mindset for where he is and who he is because if that was me I would've lost my mind a long time ago."
The Raptors chose Poeltl with the ninth-overall selection in last summer's NBA draft, a pick they had acquired from New York in the Andrea Bargnani deal three years prior. With Bismack Biyombo signing in Orlando, Toronto's backup centre gig was up for grabs. Poeltl got the first crack at it coming out of training camp while Lucas Nogueira, his primary competition, recovered from injury. He averaged over 16 minutes in the first seven games but, upon Nogueira's return, would log a total of 20 over the following 11 contests, only appearing in two.
Nogueira has held down the job for most of the season and Poeltl's minutes have been sporadic. He's had to learn from the bench, in practice and with the Raptors' D-League team.
Recently though, with Nogueira struggling enough to essentially play his way out of Casey's rotation, Poeltl has earned another opportunity. While the results have been mixed and his contributions don't tend to jump off the boxscore, he's quickly winning over his head coach, who has entrusted him with regular rotation minutes in each of the last five games.
Poeltl's maturity comes through on the court. He plays hard, catches and finishes with a soft touch around the bucket and already has a knack for being in the right place at the right time on the defensive end. It almost makes you wonder, for such a young player, one who took a unique path to get to the NBA, where do his instincts come from?
The first Austrian-born player ever drafted into the league, Poeltl spent two seasons at the University of Utah playing for Larry Krystkowiak, a former NBA player and coach, who helped prepare him for the next level. Both of Poeltl's parents played volleyball for their national teams so, genetically, that probably doesn't hurt either. But, mostly, the gifted seven-footer says it just happened.
"I was always in love with sports in general," he said. "I was [always] playing around, playing basketball as a little kid. But it's really just instincts. I don't know where it's coming from, I just feel comfortable out there and I feel like I know where I'm supposed to go."
Following in the footsteps of Norman Powell, Delon Wright, Pascal Siakam and Fred VanVleet - Toronto's other young players who have all had standout moments when called upon over the last couple seasons - Poeltl is making a case for more playing time and perhaps even a permanent role. Unlike those other guys, his opportunity hasn't been the result of an injury or a 'next man up' scenario, he's earned it outright.
"He's a hard worker," Powell said. "He's hard on himself, always willing to get better, always pushing himself. So it's really good to see him get out there and play well in his minutes. I'm really proud of him and the commitment and work he's done, going down to the 905 and coming back up here, not letting it effect him, and always trying to learn."
With the playoffs approaching, it's likely Casey will opt to shorten his rotation, maybe playing small more often and only using three traditional bigs (Jonas Valanciunas, Serge Ibaka and Patrick Patterson). If that's the case, Poeltl's minutes may end up being matchup and game flow dependent.
His time will come, perhaps as early as next season. If and when the Raptors go into the luxury tax to pay any combination of their upcoming free agents (Kyle Lowry, Ibaka, Patterson and P.J. Tucker), some are of the belief that Valanciunas and his $15.5 million annual salary may be a luxury they're unable (or unwilling) to afford. Could Poeltl, who will make less than a fifth of that next year, be ready to step in?
He's only scratching the surface in terms of what he's capable of, as Casey likes to remind us. They think one day he'll be able to extend his range out to the three-point line, which could make him a dangerous weapon in today's NBA. He says that the physicality of the game has been his biggest adjustment coming in, so getting stronger and - even once the rookie bias wears off - figuring out what he can and can't get away with will be his next step.
For a team with high aspirations in the immediate future, Poeltl is just another reminder of how much the Raptors have to look forward to down the road.
"The future is bright for him," Casey said. "You don't want to put a lot of pressure on him, he's still growing, he's still going to make mistakes, but his future is very bright in this league."