Ross continues to make strides towards reclaiming starting job
Terrence Ross came off the bench for the fifth time in Tuesday's game against the Pacers, Toronto's most complete outing in weeks, but appears to be well on his way to earning back his spot in the Raptors' starting lineup. As TSN Raptors reporter Josh Lewenberg writes, with the Raptors trending back in the right direction, winning four of their last five, Ross is beginning to look like his old self.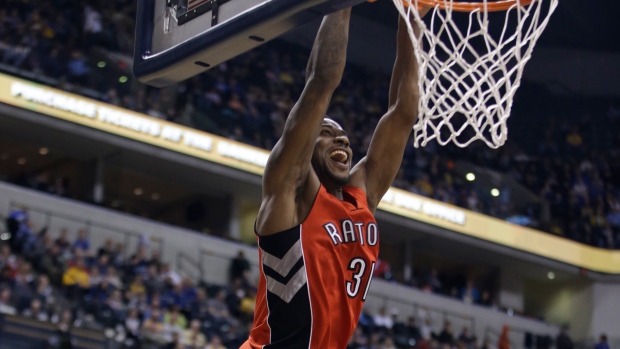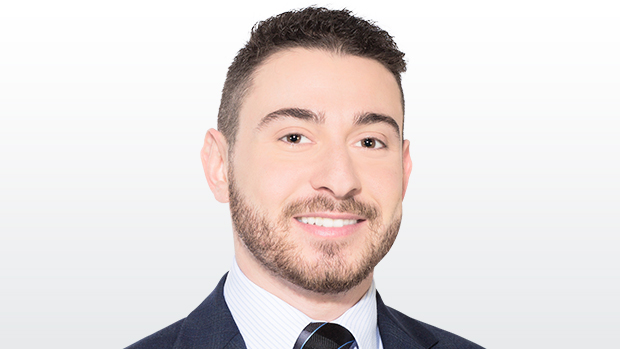 INDIANAPOLIS - Terrence Ross came off the bench for the fifth time in Tuesday's game against the Pacers, Toronto's most complete outing in weeks, but appears to be well on his way to earning back his spot in the Raptors' starting lineup.
The third-year forward, who had started 102 consecutive games dating back to last season, was demoted after a series of underwhelming and disengaged performances 10 days earlier. At the time, the team had dropped seven of nine contests and Ross, while not solely responsible, had a lot to do with the slide.
Now, with the Raptors trending back in the right direction, winning four of their last five, Ross is beginning to look like the player of old, the confident and assertive version that took a big step forward after stepping into the starting lineup last year.
"I was really impressed with the way Terrence played," Dwane Casey said following the Raptors' 104-91 win in Indiana. "His body language, his defensive presence, his attention to what he's supposed to be doing on the defensive end was huge."
Although Ross was not perfect defensively, glaringly missing a few assignments on the perimeter in his 19 minutes of action, he was decisive and played within the flow of the game offensively, scoring 11 points on 5-of-10 shooting.
Coming off another positive outing in Sunday's win over Detroit, to which Casey praised him prior to Tuesday's game, Ross continued to demonstrate improved decision making ability, putting the ball on the floor and making plays off the dribble.
With Greivis Vasquez stepping in as a temporary member of the first unit, the Raptors are beginning to rediscover their playing personally, holding four of their last five opponents under 100 points.
Despite the relatively low degree of difficulty - Indiana is 28th in offensive efficiency - Toronto's defence was especially impressive after a slow start on Tuesday. Trailing by seven at the end of the first quarter, having allowed the Pacers to shoot 50 per cent, they held the home team to 38 per cent the rest of the way. Ross was part of the group that turned the game around early in the second quarter.
Of course, crediting Vasquez's move to the starting lineup with the team's almost immediate turn of fortunes would be misleading. This stretch also coincides with a friendlier stretch in the schedule as well as the return of DeMar DeRozan, who is starting to look like his old self after stringing together a pair of quality outings this week.
So, with the Raptors winning once again, how long does Casey stick with what's working? He has reiterated the lineup change is not intended to be permanent.
"I don't call him a member of the second unit, he's a member of the team," Casey said of Ross ahead of Tuesday's contest. "It's something that's not permanent. It's a chance to give him a breather, take some pressure off of him."
"Just to continue to play the way he [has been]," said Casey, asked what Ross must do to get his starting gig back. "Shot selection, defending with intensity, keeping the ball in front of him, just the whole nine yards is where I think Terrence needs to get back to. He's made huge strides to get back there."
While Ross, when focused and playing hard, is an asset to that first unit, spreading the floor and allowing DeRozan and Kyle Lowry room to operate, starting Vasquez has its merits as well. Despite his defensive deficiencies and some inconsistency with his jump shot, Vasquez's ability to handle the ball takes pressure off Lowry in the backcourt.
But at 23 years old and with his speed, athleticism and versatility, it's only a matter of time before Ross is reinstated. That's been made clear. What Casey is looking for is consistency from the young forward.
"I think it was definitely a message to be sent but he took it in a professional way," Vasquez said of Casey's decision to bench Ross. "Even though I'm in the starting lineup, I want to see him get back in the starting lineup and do what he do. At the end of the day we're a family here so we're not trying to take anybody's spot, we're just trying to win games."
"I'm sure Coach is moving the pieces the right way. I think T-Ross, at any given point, he might be back. Who knows? That's the coach's decision, but we need him, man. We need everyone in this room."
One player who appears to be the odd man out as a result of this rotation shakeup is James Johnson, who did not log a single minute for the second time since the change was made.
Externally, many have questioned and continue to doubt the rationale behind Johnson's limited minutes, but both Casey and the player himself have insisted there's nothing more to it, nothing going on behind the scenes that people are unaware of. It's simply a decision based on minute distribution under the recent lineup change.
With two point guards in the starting lineup, the rotation is shortened. Vasquez is starting because of his ability to space the floor, something Johnson lacks, but also acts as the back-up point guard when Lowry is on the bench, hence his increased playing time. Lou Williams, another floor spacer, has not had his minutes altered off the bench and Casey still prefers to use Patrick Patterson and Tyler Hansbrough as his conventional bigs as opposed to playing small with Johnson at the four. As a result, there's roughly 18-22 minutes available per game on the wing for either Ross or Johnson.
Word is Johnson is taking his decreased playing time in stride, handling it like a professional. Buying into his role, he has been a pleasant surprise for the Raptors this season, but despite his strong play in a few areas, he's not without his weaknesses. His range is limited offensively and his defensive prowess may be overstated as he has a tendency to gamble off his man, often irking the coaching staff.
Ross is not without holes in his game as well. He has as many or more. But the 23-year-old is a more valuable long-term commodity and the Raptors have wisely committed to getting him right again. Johnson's game, while also important to the team's plans, is less likely to be impacted by a short layoff than the young Ross' would. Splitting the 18 (or so) available minutes between them is also not a viable solution, it would be awfully difficult for either player to get in any kind of rhythm.
Agree or disagree, this is the rotation Casey is riding with and, at least for now, it seems to be working. At some point, likely in the near future, the Raptors plan to revert back to their old lineup and minute distribution, returning Ross to the starting lineup and presumably freeing Johnson.
ROUNDING OUT THE ALL-STAR ROSTERS
Although Kyle Lowry and nine other starters, voted in by the fans last week, have already punched their ticket to New York for next month's All-Star Game, there are still 14 more slots up for grabs.
The process of selecting the reserves, seven for each the Eastern and Western Conference teams, took place on Tuesday as the NBA's 30 head coaches submitted their ballots, which will ultimately round out the rosters.
Coaches are responsible for voting in the subs for their own conference, each of them selecting two guards, three frontcourt players and two wild cards (players at any position). Naturally, they're prohibited from voting for their own players.
As such, Casey has been doing some 11th-hour campaigning for DeRozan, in the hopes of getting a second Raptor to the game, although he understands it's a long shot.
"I've talked to other coaches," he said. "I think for us, DeMar has carried us when he's been with us. He's a big part of what we do [but] injuries have probably kept him from being an all-star."
His case would likely start with the team's record, which some might argue is good enough to warrant two all-stars. However, it would be pretty tough to make a compelling argument for any Raptors outside of Lowry, let alone DeRozan, who missed 21 games with his groin injury.
But like the conference itself, those reserve slots in the East are wide open. The closest player to a "lock" may be Chicago's Jimmy Butler, who would become a first-time all-star. Depending on who you ask, there are no easy choices.
Between Jeff Teague, Kyle Korver, Al Horford and Paul Millsap, the Hawks should have at least a couple players on the team, but which ones? Horford, a former all-star, is their most important player but he's only recently gotten back to his pre-injury form. Teague and Millsap are enjoying career years and Korver is shooting the ball at a historic rate. As a 37-8 team, winners of 16 straight, it's conceivable that all four end up on the team.
Dwyane Wade and Chris Bosh have all-star pedigrees but their performance has been sporadic for a middling team in Miami. The same can be said for the Cavaliers' duo of Kyrie Irving and Kevin Love.
Will the East's coaches reward winning or vote for name brand players? Casey leaned toward the former when filling out his ballot.
"I look for guys who are playing the right way, guys that are contributing to their team winning," said the Raptors' coach. "Winning's important. And I think guys who are playing the game the right way, not guys just putting up numbers. I think that to me is [important] as a coach and I think every coach I've talked to is voting that way."
The reserves will be announced Thursday on TNT.