Roster spots scarce for Leafs on the bubble
The Toronto Maple Leafs are still nearly three weeks away from their first game of the season, but for players on the bubble staring down uncertain NHL futures, every day on the ice matters more than the last. For Nikita Soshnikov, Kasperi Kapanen and Josh Leivo, there could be a single job up for grabs among the three of them. TSN Maple Leafs Reporter Kristen Shilton has more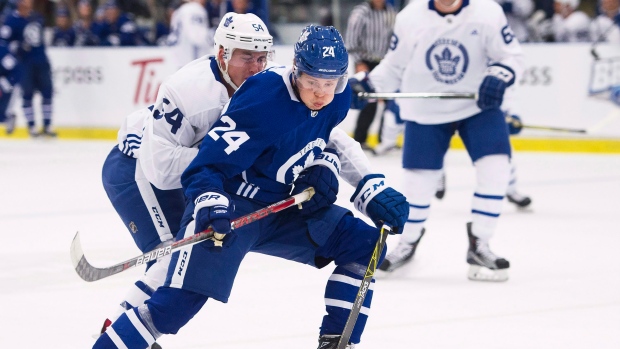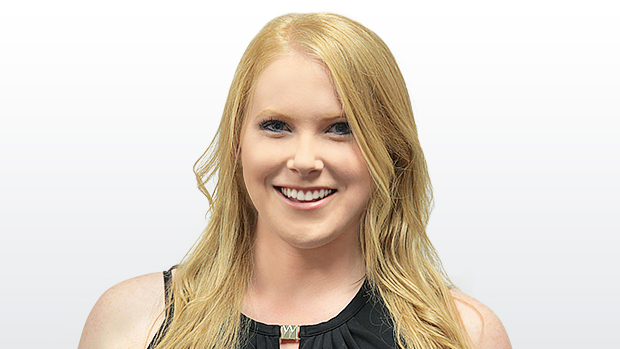 NIAGARA FALLS, Ont. – The Maple Leafs are still nearly three weeks away from their first game of the season, but for players on the bubble staring down uncertain NHL futures, every day on the ice matters more than the last.
So that explains why Nikita Soshnikov, Kasperi Kapanen and Josh Leivo were so hard to miss on day two of the club's training camp on Saturday. Not taking a shift off during scrimmages, each winger was all pushing the pace on his respective line, asserting his physicality and dancing through defencemen with more visible urgency than maybe anyone else.
At some point last season, all three forwards rented a spot on the Leafs' fourth line, and now each says he's ready to make the jump more permanently. But with 10 forwards already fighting for top-nine spots, the remaining opportunities for full-time work are scarce – but very much up for grabs.
"They just have to win a job," Mike Babcock said on Saturday. "We're going to drop the puck in exhibition and I'm going to stand there and watch and they're going to decide who's on the team. When you say that [players] don't really believe that's true, but that's 100 per-cent true. They decide it all. Lots of times at the start you get it wrong, but over a period of time you usually get it right."
Babcock made a similar statement on Thursday, that the right players usually end up on the team, but just not always right away. Possibly two of Soshnikov, Kapanen and Leivo won't be on the opening night roster. To that end, who earns the right to be first man up because of injury becomes just as important.
Soshnikov wasn't as fortunate as the rest of the team in his health last year, and he's desperately hoping to avoid another injury-plagued season. While he dressed in 56 games, tallying five goals and four assists, Soshnikov missed almost the first month of the year rehabbing a lower-body injury and then sustained a concussion on March 20 against the Boston Bruins that kept him out the rest of the way. That injury opened the door for Kapanen, but the effects of the concussion on Soshnikov, 23, lasted well beyond the postseason finale.
"It lingered over five months, pretty much up to camp," he said, adding he stayed in Toronto all summer rather than returning to Russia. "It was hard for sure. After about the second month, I was able to start doing some stuff and it was easier for me, physiologically. It didn't affect my summer workouts that much, but it just affected my sleep, my mood and all that."
Admitting he was "a bit nervous" for Friday's sessions because it was his first full-on practice in six months, Soshnikov felt he settled onto his line with Kapanen and Dominic Moore well by Saturday, and that he "got a little angry" and was using his body more effectively. Kapanen and Soshnikov are both fast, they can get under an opponent's skin and they can penalty kill; with the glut of forwards around them, being so similar could end up hurting one of their chances of sticking.
For Kapanen, it took a while (and overcoming one gruesome leg injury) to even get a shot with the Leafs last year, but he didn't wait long to make his mark over a 14-game stint. He scored the game-winner to clinch the playoff berth against the Pittsburgh Penguins in the regular season's penultimate game and then the double-overtime winner over the Washington Capitals in Game 2 of the Eastern Conference first-round playoffs.
It elicits a smile from the 21-year-old to recall those fond memories, but he doesn't expect they hold much water anymore.
"That just shows them what I'm capable of doing," he said. "But last year is last year and everyone starts from the same point now. Guys have been improving, and so have I. It's going to be tight, but I think I'm ready to take that leap. There aren't too many spots available and everybody wants to show management that they can play. It can get a little feisty out there."
To wit, Leivo already looks a step ahead offensively from where he was a season ago, most of which he watched from afar. Leivo slotted into just 13 games, all in relief of injured players, and performed well each time; he finished with 10 points (two goals, eight assists) and found easy chemistry on the ice in top-nine and fourth-line roles. He's been skating with Eric Fehr and Ben Smith, but experience has taught the 25-year-old not to read anything into line combinations after two days.
Unlike Soshnikov and Kapanen, Leivo does not kill penalties, but he is eligible for waivers, putting the team in a bind if they don't want to lose him. To give himself the best chance of not being an afterthought, Leivo worked "twice as hard" this summer than last, and is giving this training camp everything he's got.
"I'm going in there and making the team. Wherever the coach wants to put me, I'm comfortable with," Leivo said. "I feel like anything suits me, I just want to play in this league. I know I could play up on the top two lines, but if I have to start on the fourth line, that's fine. Sometimes you look at [the depth chart], but you can't control anything on there, you just control your game. All you can do is work on it."
--
Training camp lines:
Zach Hyman – Auston Matthews – William Nylander
James van Riemsdyk – Tyler Bozak – Mitch Marner
Patrick Marleau – Nazem Kadri – Leo Komarov
Matt Martin – Miro Aaltonen – Connor Brown
Kasperi Kapanen – Dominic Moore – Nikita Soshnikov
Eric Fehr – Ben Smith – Josh Leivo ​