Schultz: Bills' win over Lions was most surprising
Of all the games this past week, the Buffalo Bills beating the Detroit Lions right in Ford Field was the most surprising. As TSN's Chris Schultz writes, one would not have thought that Kyle Orton would have outplayed Matthew Stafford but he did.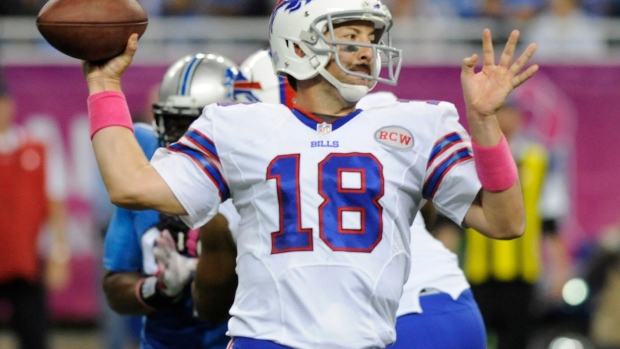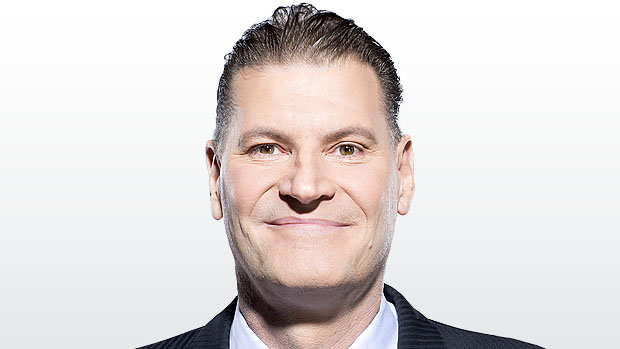 Of all the games this past week, I think the Buffalo Bills beating the Detroit Lions right in Ford Field surprised me most.
As the game progressed, you could see Calvin Johnson and Reggie Bush were just not right but still, Detroit historically puts up points at home and the Bills held them to 14 with seven not even due to the offence. Kyle Orton was 30 for 43 with one touchdown and 308 yards. Matthew Stafford was 18 for 31 with one touchdown and only 221 yards. If you had told me that Orton would out play Stafford in productive ability, I would say no way. Doug Marrone made a good decision in starting Orton over Manuel early in the week but now they play a new and rejuvenated Patriots team.
Speaking of the Patriots, I thought their first drive against Cincinnati was something else. They went with two tight ends and ran the ball between the tackles over and over again, basically sending an "I am tougher than you" message to Cincinnati and it set the stage for the rest of the game.
Sometimes when things are going wrong, the best thing to do is challenge the team's "manhood" and see what happens. The majority of the time, a team responds and New England did. Now the Logan Mankins trade makes sense. Tim Wright, 6' 4" 230 second-year player out of Rutgers gives the Patriots what they had in aaron Hernandez to an extent. Truth is, there were four dropped passes on Tom Brady and he still ended up 23 of 35 for 292 yards.
With the Bengals, they are not prime time players. Whether it is the playoffs, Sunday Night Football, Monday Night Football or even Thursday Night Football, the Bengals don't rise to the notoriety of those events. Cincinnati has Cleveland in Week 10 on Thursday night and Denver on Monday night in Week 17. Maybe it is just situation and circumstances but the Bengals are better if they play at 1pm from now on. Good news, every game except for the two I mentioned is at 1pm.
In New 0rleans, the Saints are far from what they were last year; or are they? Jimmy Graham left early due to a shoulder injury so their best player is out and still the Saints produced 511 yards in offence. I think the Saints turn it on in the second half of the season in a big way. A second southern team, the Dallas Cowboys won again. That's the good news. The bad news is they play the Seahawks in Seattle this week.
JJ Watt was a joy to watch and his one-on-one opportunities against Tyron Smith, Watt was the victor. I've never seen Tyron Smith beaten clean but Watt got him twice on speed and technique. Smith is the best young offensive lineman in football and was mildly humbled from which he will learn. Watt is as good as it gets. Who does he remind me of? Dan Hampton, the former defensive tackle with the Bears.
There were two milestones last week with Tom Brady going over 50,000 yards passing and Peyton Manning going over 500 touchdowns for his career. We truly are seeing the best of complete quarterback play at this moment in time and I don't know if one is better than the other in any significant degree. And I'm not sure if it matters trying to determine so. I will say this though, Denver ran for 92 yards on 28 attempts while New England ran 48 times for 220 yards.
A major asset for Brady are the running backs he has and uses. From Brady and Manning to Geno Smith and Micheal Vick, the statistical evidence says that the Jets are in trouble at quarterback. Smith had 27 passing yards and Micheal Vick was not much better. The Jets have no choice but to develop what they have because if there was someone else out there, he would be a Jet by now.
And finally, in what is a very unusual travel schedule, the Seattle Seahawks traveled on a Saturday for a Monday night game and are flying out on a Tuesday morning instead of late Monday night or as soon as possible after the game. It's expensive to make a two-day travel trip into a four-day but the problems of going East to West, home to away has been well documented. Did it seem to work? Inconclusive. Yes, the Seahawks drove the length of the field for an opening touchdown but also self-imploded with penalties. Three Percy Harvin touchdowns being called back is inexcusable.
The overall difference to me is Russell Wilson and his ability to run and be effective. He did take a couple of shots but he may be the best at sliding and protecting himself. As a former baseball player, he has that skill down. All quarterbacks should be taught by baseball players how to slide effectively for longevity. With the Redskins, Kirk Cousins may have quarterbacked a losing team but to bounce back the way he did after the Giants game on Thursday night was remarkable. He showed a lot by playing the way he did.
The best game of Week 6 should be Dallas at Seattle.