Scoring early and often, Matthews earning his swagger
Coming off consecutive four-point nights, Auston Matthews is looking to make history tonight by becoming the first National Hockey League player to score the opening goal in five straight games.
'He earns it every day': Tavares impressed with Matthews' focus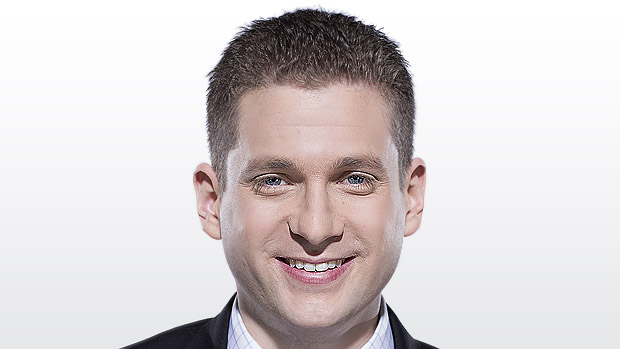 Auston Matthews is looking to make history tonight by becoming the first National Hockey League player to score the opening goal in five straight games. The Flames, meanwhile, have allowed the first goal in five straight games.
"I can't even remember the last time we started a game with a lead," said Flames winger Johnny Gaudreau. "We need to push in the first."
But even if Matthews doesn't score early, it will be tough for Calgary to shut him down for the entire game. The 23-year-old centre appears to be a man on a mission right now.
"He has a strong swagger to him, but in no way does it come across like it's not earned," observed Leafs captain John Tavares. "I think that's the biggest thing. He goes out and earns it every day ... The run he's on is tremendous. It's pretty special. We should be enjoying it and, as a group, building off what he's doing."
Matthews is coming off consecutive four-point nights. He's the fifth Leaf in the modern era to produce consecutive four-point games within one season adding his name to a list that includes Peter Ihnacak (1987), Darryl Sittler (1980), Lanny McDonald (1977) and Borje Salming (1976).
Mitch Marner is right behind his linemate with seven points in the past two games.
"The way they set each other up for success having positive play after positive play really breaks the opponent down and gives them the advantage to then do what they do best," said Tavares.
​The Flames had their hands full against Connor McDavid on Saturday, allowing the Oilers captain to rack up five points. And yet they seem to view this as an even stiffer test.
"It's a big challenge," said centre Elias Lindholm. "Right now they're probably the best line in the league and it's been that way for the whole season pretty much."
It's unclear who will play left wing with Matthews and Marner tonight. Joe Thornton and Zach Hyman, their most recent linemates, are both sidelined due to injury. Toronto did not do line rushes this morning, but coach Sheldon Keefe confirmed that Nic Petan and Alexander Barabanov will draw in.
---
The Leafs won a pair of one-goal games in Calgary last month and the Flames have struggled ever since, losing nine of 15.
"No one can feel comfortable right now," said Gaudreau. "No one is playing their best hockey."
Calgary was humbled by Edmonton 7-1 on Saturday night, which was their third straight defeat.
"We got our own challenges and adversity with the guys coming out of the lineup," stressed Keefe. "I'm excited for the game today to see how our group responds. Full expectation that Calgary will respond to their challenge and we have to do the same."
A year ago today, the Leafs suffered one of the most embarrassing losses in franchise history. Carolina goalies James Reimer and Petr Mrazek both got injured, forcing 42-year-old emergency back-up David Ayres into a game for the final 28 minutes and 41 seconds. The Leafs managed just 10 shots on Ayres scoring twice, but losing 6-3 in Toronto.
A few days later, general manager Kyle Dubas labelled his team "Jekyll and Hyde" while standing pat at the trade deadline. A lot has changed in the 12 months since. The Leafs added experienced veterans in the off-season and have been one of the most consistent teams in the NHL to start this season with 14 wins in 19 games.
It was striking to hear how Flames coach Geoff Ward described the Leafs this morning.
"They're executing well. We just got to make sure we come prepared tonight to play a hockey game with urgency and some desperation," Ward said. "They're going to play the same way. They're going to offer exactly the same things [as in January]. They're fundamentally sound in every aspect of the game. The one thing with them is they're consistent in putting it on the ice so we know exactly what we'll get from them."
---
The Leafs will be without defenceman Jake Muzzin tonight after he broke a bone in his face late in Saturday's game in Montreal. The team is waiting for the injury to settle before a timeline for his return can be determined.
Keefe suggested there's a chance this is a day-to-day situation although Muzzin will need to wear a full shield when he returns.
In his absence, Travis Dermott moves up to play with Justin Holl.
"He's excited for this," said Keefe. "He's been very patient and has really worked hard from day one of camp. He's got a chance here today to take a big step."
Mikko Lehtonen will draw in and play on the third pair with Zach Bogosian.
TSN's Kristen Shilton has more on the Muzzin injury and Dermott's outlook here.
---
The Leafs will be looking for a bounce-back performance from William Nylander who was stapled to the bench for the final eight minutes and 45 seconds of Saturday's win in Montreal.
"I'm not necessarily questioning his effort the other night," Keefe explained. "That wasn't it for me. It's more adapting to the game. Our team really adjusted well after the second period ... we adjusted very well and managed the puck well and managed the game extremely well and we expect that from everybody and Will's no different. We expect a lot from him and that's a big part of it. We've talked a lot throughout the season and last and he knows exactly what my expectations are of him."
"He's an extremely competitive guy," said Tavares. "He wants to be out there and make a difference. So, no doubt he'll be prepared and ready to play."
---
Sidelined since Jan. 24, goalie Jack Campbell returned to practice yesterday and was on the ice with teammates again this morning as he rehabs a leg injury.
"He seems to be progressing really well," Keefe said. "There's no set timeline, but we're trending towards him returning in the next week."
---
After missing two games with a lower-body injury, Sean Monahan skated this morning and will be a game-time decision tonight, per Ward.
Flames lines at Monday's skate:
F
Gaudreau - Monahan - Bennett
Tkachuk - Lindholm - Mangiapane
Lucic - Backlund - Dube
Nordstrom - Gawdin - Leivo
D
Giordano - Andersson
Hanifin - Tanev
Valimaki - Kylington
G
Markstrom starts