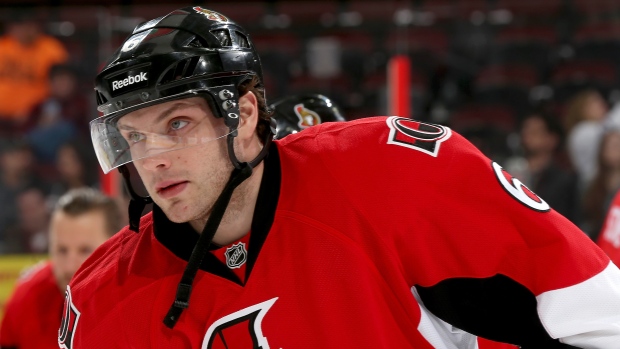 Bobby Ryan stood at his locker stall on Tuesday morning and waited in the exact same spot until the media ran out of questions for him.
Multiple waves of reporters descended on the star winger and often times, they were repeating questions that were already asked a few minutes earlier.
"I'm sorry I'm coming in late, but can you talk about your struggles here?"
"How frustrating is it to not be able to score?"
"Do you feel like you're close to turning this around?"
And yet Ryan acknowledged each question as if he was hearing it for the first time; never once becoming frustrated or agitated with the same line of questioning.
Patience has now become the operative word in Bobby Ryan's vocabulary.
He hasn't scored a goal in over a month, with his last one coming all the way back on March 19 against Boston – a span of 15 games if you include the playoff series against Montreal. And even that goal was a bit of a fluke; the puck caromed in off the leg of Zdeno Chara and past Tuukka Rask. If you want to be a real stickler about it, the last time Bobby Ryan shot the puck and beat a goalie cleanly was on March 4 in Winnipeg – a span of 23 games.
Ryan is one of the most upbeat and positive players you will encounter in an NHL locker room. But on Tuesday morning he said that he's spent countless hours watching video of the series against the Habs and at times, the process has been draining.
"Mentally exhausting is a good way to put it," admitted Ryan. "I've watched each game four or five times ad nauseam and just looking for opportunities or holes in their game and where I can generate more. We all recognize it's right there. They're just not dropping. There's not a lot of time left for it to turn. So you hope it starts tomorrow."
Another time when he was asked about his struggles he said, "It's extremely frustrating. That's the best way to put it."
For a brief moment in the first period of Game 3, Ryan thought he had busted out of his extended drought. He tipped a shot that had beaten Carey Price – but the puck ended up missing the net by the slimmest of margins. In his excitement, Ryan actually prematurely jumped in the air to celebrate what he thought was a goal – only to be disappointed.
"I don't know if (Price) got a piece of it or not, but when you're that close and you're as frustrated as I am with it, to not see it go in is pretty disheartening," said Ryan. "But you can't dwell on it at this time of year."
In Game 3 Ryan was more noticeable – generating offensive chances and creating more of a buzz in the offensive zone. He sent Milan Michalek in on a partial breakaway and also had a golden opportunity alone in front of Carey Price in the second period. He played 18:07 – his highest ice time of the series – although it should be noted this was also the longest of the three games. Still, it seemed like the combination of Ryan, Michalek and Mika Zibanjead was more dangerous than they had been in the previous two games.
"As a line we had some opportunities and more zone time. I think we did a better job in that triangle offense," said Ryan. "There's opportunities there, but when you're gripping your stick a little tight it's hard to generate through skill. You just got to continue to go with hard work."
The dire consequences of another loss to the Canadiens are not lost on Ryan – who was one of the team's best players earlier this season despite being hampered by a broken finger. It's that same type of resiliency that the team showed down the stretch, when they climbed out of a 14-point deficit to earn a playoff spot in the Eastern Conference.
"Our backs were against the wall for the last 30 games or whatever it was and the guys responded. I think you draw on that experience and how every game was a must-win," added Ryan. "And now it really is – that's the reality of the situation. We're not comfortable with it, but we're prepared for it."
When the throng of media finally left Ryan alone – after about 15 minutes of straight questioning – he still stood around to shoot the breeze with a couple of national writers who were in from Toronto. He was joking with them about a variety of topics, discussing other series in the playoffs and never once looking at his watch like he was a man on borrowed time. Ryan showed tremendous poise and calmness when dealing with the media on Tuesday – and now Sens fans are hoping he can do the same around the Canadiens net on Wednesday night to keep their team alive in the Stanley Cup playoffs.