Senators need Anderson to steal one more
The Ottawa goaltender's career numbers show he's a quality starter with the ability to steal a game on any given night, Travis Yost writes.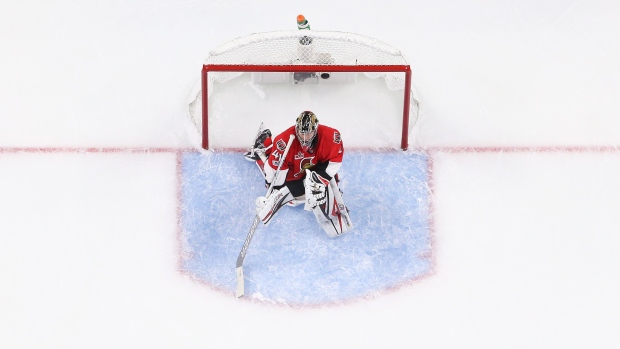 It took all of five seconds for the Ottawa Senators to swarm goaltender Craig Anderson after the final buzzer sounded Tuesday night.
The Senators beat the Penguins 2-1 to survive another day. And although they had key efforts from a number of skaters, no player carried more of the burden than their netminder.
Anderson's heroic effort did not go unnoticed. Pittsburgh, as they have for large stretches of this series, laid constant siege to Ottawa's five-man units. Time and time again, Anderson was the guy to bail Ottawa out of trouble.
After the game, Pittsburgh head coach Mike Sullivan lauded his team's efforts. Why shouldn't he? The Penguins looked like the better team for the majority of the night. I'm paraphrasing here, but his post-game comments could've been summarized as: "We did everything right, but we just couldn't beat a white-hot goaltender.
Anderson was dialled in for every minute of Game 6 in a performance that grades pretty high on his list of best games. But the interesting thing about his 45-save effort is that it isn't that abnormal – in fact, we've seen Anderson put on a show like that frequently in his career.
Anderson has played in 331 games for Ottawa over the last six years. The average goaltender sees about 32 shots against in a given game across all situations, but Anderson is used to a bit more volume. He sees 32 or more shots against about 56 per cent of the time, and he's seen 40 or more shots 13 per cent of the time.
That's an insanely high number, of course. What's interesting though is how well Anderson has played in the majority of these games. Some of this is likely driven by the fact that Ottawa is trying to preserve leads and keep shooters to the perimeter in these games. That usually means a higher shot volume against, though it also means a lower individual goal probability for each of those shots.
But don't completely discount Anderson's ability to steal these games either. Look at how frequently he has done it! (Note: Net Save% is simply his game Save% minus his career average Save%, which should quickly capture the value he added to his team's win expectancy on a given night.)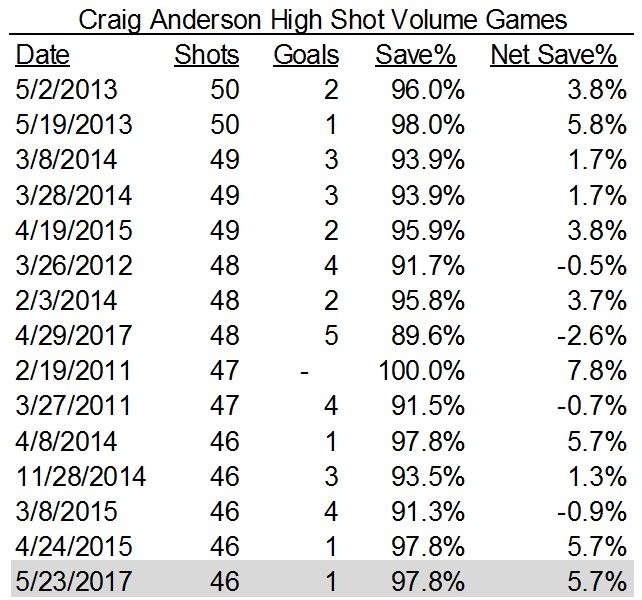 The grey bar is the Pittsburgh game – an outstanding effort, no doubt. But notice how he has at least 10 games in his Ottawa career where he has (a) seen an equal or higher shot volume against; and (b) has posted a save percentage at or better than his career norm of 92.2 per cent.
Anderson isn't in uncharted territory here. You could replicate this exercise with the likes of Henrik Lundqvist, Carey Price, and other quality starting goaltenders and see reasonably similar results. What I do think it highlights though is that it's not particularly stunning when Anderson does steal a game for Ottawa. He, like the others above, is a quality starter in the NHL and has the ability to steal a game on any given night.
This is the part that keeps opposing coaches up at night. Yes, Pittsburgh looked sound in Game 6 and has looked the better team through large stretches of the series. But right now, you're in a do-or-die Game 7, facing a goaltender who has, from time to time, single-handedly won it for his team.
Ottawa just needs him to hold serve once more. Give Ottawa a fighting chance Thursday, and we might see a Canadian team return to the Stanley Cup final.