Senators place multiple bets on blueline
Ottawa is wagering Marc Methot, Dion Phaneuf, and Cody Ceci will combine with Erik Karlsson to produce a quality top four this season, Travis Yost writes.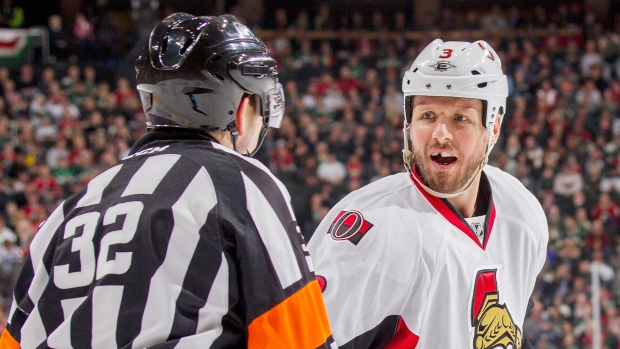 A popular off-season debate has centred on the NHL's Atlantic Division and, perhaps more specifically, which team in the muddled middle will emerge to chase down the third guaranteed playoff spot.
The Ottawa Senators are one of the teams in that discussion. And, despite a tremendously quiet off-season in terms of roster acquisitions, they are hopeful that a series of bets will pay off in their favour.
The biggest bet, by far, is that their one explicit summer move – the firing of coach Dave Cameron, and the hiring of Guy Boucher and Marc Crawford – will have a positive impact. The jury's still out on whether Boucher and Crawford will move the needle, but there were enough questions about the Cameron Decision Tree to reasonably assume that this will be a net positive for the organization.
The team has also made a series of individual bets on their defence, a sore point for years under previous coaching regimes. The organization's argument is that the current collection of players has been – and will be – better than it has shown. In each instance, there are both reasonable arguments and counterarguments.
The wagers focus on defencemen Marc Methot, Dion Phaneuf, and Cody Ceci. Ottawa's belief is that when combined with supreme blueliner Erik Karlsson, they'll be able to produce a quality top four.
I'll start the post by introducing just one graph: each player's team relative impact on shot differentials (which I generally regard as the single best player valuation metric we currently have for blueliners). I think it tells a fascinating story.
Here's each defender over the last few years: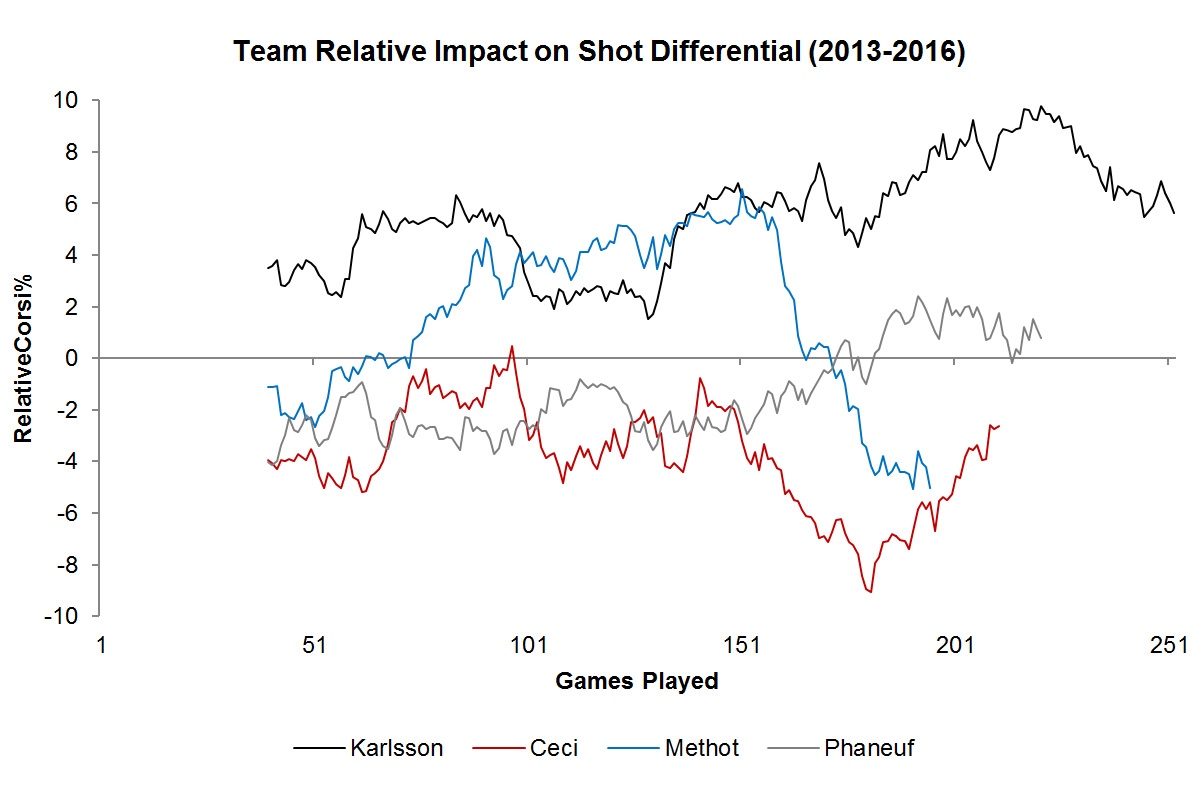 Karlsson's numbers are obscene here and illustrate the reason why he's regarded by many as the league's best defenceman. His team benefits so much from his presence when he's on the ice, but faceplants the second he skates off for a change.
Moving to the other three, let's start with Methot. He's a very different type of defender than Karlsson, but clearly one with value. Methot has always been a solid defensive defenceman and that value alone has been enough to carry him consistently into top-four quality. You can see that up until last season, Methot was a consistently above-average player with respect to shot differential impact.
But last year was a bit of a challenge for Methot. He couldn't shake an injury/illness bug for much of the season, and when he did play (often at less than 100 per cent) teams were able to generate large swaths of shots and scoring chances with him on the ice. Here's the really concerning part:

The Methot/Karlsson pairing, in my opinion, was one of the best in the league for a couple of seasons. Last year that pairing went south, suffering a considerable drop-off from prior seasons. It's hard to pin it on Karlsson considering how great he was (55.2 per cent) with just about any other partner.
It left the Senators facing a major question: Was Methot's performance last season an aberration, or was his suboptimal play a sign of things to come? Ottawa is betting on the former, and I'm willing to side with them. Methot has hundreds of games showing him as a value-added player, and struggling to stay healthy seems far more like randomness than anything else. Still, this will be an interesting thing to track – especially if the pairing is united to start the season.
Ottawa's replicating that same bet with Phaneuf, the former Maple Leafs captain. The only problem with Phaneuf is the significant opportunity cost. The Senators will have to swallow Phaneuf's $7 million AAV for another four years, a substantial price considering the mileage on Phaneuf's body and the question marks around whether or not he can still log heavy minutes.
It is worth noting that Phaneuf saw his performance improve a bit under both Mike Babcock and in his short post-trade deadline stint with Ottawa. I'd bet that quality of teammate had something to do with that. In the two years pre-dating last season, Phaneuf's most common partner was Carl Gunnarsson. Last season it was Jake Gardiner – a player who has really come into his own as a high-end NHL blueliner.
This discussion might be moot if Phaneuf was earmarked to play with Karlsson. But, if last season was any indication, he'll be holding down second-pairing duty, with the Methot/Karlsson pairing logging the big minutes.
And that's where the concern starts to creep in a bit. Phaneuf's real problem in recent years is that he could never get out of the defensive zone. Do you know who else has had that problem since the start of his career? Possible partner Cody Ceci: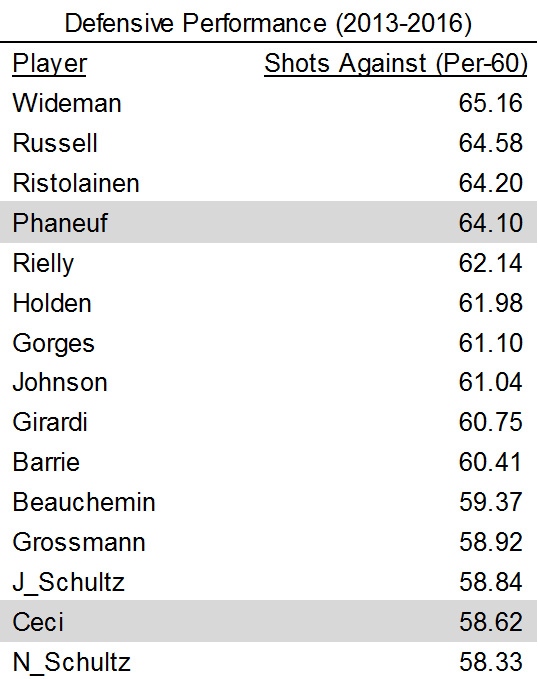 When you consider the league average is around 54, you can start to understand why there might be concern about a Phaneuf/Ceci pairing. These are, for all intents and purposes, two of the league's worst defenders when it comes to shot suppression.
That brings us to Ottawa's biggest, most important bet: The hope that young defender Ceci takes a massive step forward. Whether the team admits it publicly or not, Ceci has been far shakier than many anticipated since his NHL debut back in 2013. He doesn't get the luxury of playing with Karlsson, but Ceci has struggled to move the needle in any meaningful way even when buried down the lineup against weaker competition.
Is Ceci good? I think that's a legitimate question to ask at this juncture, considering (a) he's played more than 200 games; and (b) will turn 23 years of age this season. Generally, this is where we see strong defenders start to enter their prime, beating the opposition back into their defensive zone and consistently making life easy on teammates and goaltenders. We haven't seen that at all from Ceci. In fact, what we've really seen is a replication of Phaneuf.
Ottawa's playoff hopes this coming season hang on a series of gambles on the blueline. I think there are varying confidence levels with each, but what it will really come down to is whether or not the Senators have a true second-pairing next year that can push play – something they've been void of for years in the Karlsson era.
If they get it, this team could definitely grab the third-playoff spot in the division. If they don't next year might look an awful lot like last year.