Senators' problems were bigger than Jason Spezza
After hearing that once Jason Spezza was traded, the Ottawa Senators team would improve, the same complaints are now being heard about current captain Erik Karlsson. As Ian Mendes of TSN Radio 1200 in Ottawa writes, Senators fans need to keep their focus on the fact their team is still re-building – and not on who is wearing the "C".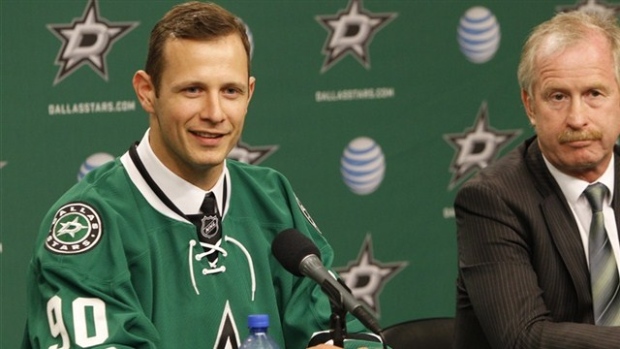 As they get set to face their former captain for the first time Tuesday, it's somewhat fitting that the Ottawa Senators have reached the halfway point of their season.
After 41 games, the Senators sit eight points out of a playoff spot in the Eastern Conference. There was a feeling amongst a portion of the Ottawa fan base that once Jason Spezza was traded, their team would improve and become more well-rounded and complete.
Trust me, I handled enough phone calls and e-mails at the radio station last season to get a pulse on the fan base in this city.
Instead, in the first half of a season without Spezza, the Senators fired their head coach Paul MacLean and rank in the bottom five of the league in shots against. Spezza is now a tiny speck in the rear view mirror and yet the Senators continue to have problems finding consistency in their game.
And now I'm hearing some of the same complaints about the current captain – Erik Karlsson – that we heard about Spezza last year. He turns the puck over too often. He takes too many risks. His shifts are too long. And you'll never win with him. In the never-ending quest to find a scapegoat, many fans have shifted the bullseye from Spezza to Karlsson.
But the truth of the matter is that Ottawa's problems run far deeper than any one player or captain. This is about a team that remains in a re-building process with a good core of young players. When you look at the roster and see the likes of Turris, Karlsson, Hoffman, Stone, Ceci, Cowen, Lehner, Pageau, Zibanejad and Lazar all under the age of 25, it's clear that this is a team that should be built to win in 2016 or 2017. And at that point, younger veterans like MacArthur, Ryan and Methot (if he re-signs) should still be valuable pieces to the puzzle. If there is a shred of good news in this disappointing season, it's that the Senators front office has a great track record in the NHL Draft. Landing studs like Karlsson, Ceci and Lazar with mid-first round picks should leave fans optimistic that more pieces will be added this summer should the Senators end up missing the post-season.
I don't blame Bryan Murray for thinking this was a playoff team at the start of the season because I think we can all agree that, if everything fell into place, the Sens would be good enough to challenge for a wild card spot in a watered-down Eastern Conference. But even in a season where young players like Stone, Hoffman, Ceci and Lazar have taken significant steps forward, it's still not enough to push this team into a playoff spot at the halfway point.
Right now they are on pace to miss the playoffs by double digits – somewhere in the neighborhood of 12-16 points.
And that should be our clearest indicator that the Sens aren't quite there yet. As a result, any debate as to whether or not you can win with a particular captain is simply a red herring. It was true about Spezza last year and it remains the same for Karlsson this season.
When the core of this roster is mature enough to compete for a playoff spot – and I'm now starting to think that might be in the 2016-17 season - then we can have the debate as to whether or not you can win with a particular captain.
Until then, I think Sens fans need to keep their focus on the fact their team is still re-building – and not on who is wearing the "C" in this town.