Senators slowly trying to rebuild Cowen's game
Once thought of as a defenceman with top-pairing potential, the Ottawa blueliner has struggled with injuries and inconsistencies, TSN's Ian Mendes writes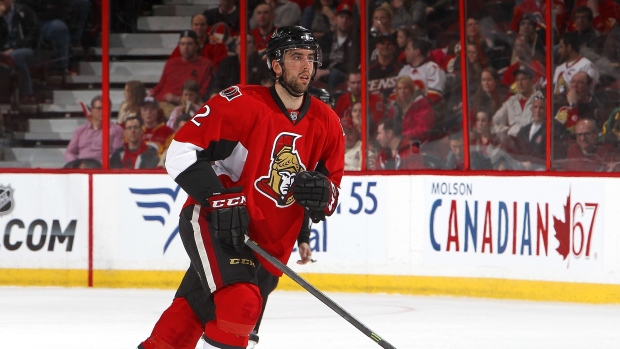 The expectations for Ottawa Senators defenceman Jared Cowen have been lowered significantly heading into the 2015-16 NHL season.
For the past two seasons, Cowen has struggled with injuries and inconsistencies; slowing falling out of the top-four on Ottawa's blueline and into a murky situation where he was a healthy scratch on several occasions. Coupled with his contract – which will pay him $3.7 million this season and $4.5 million next year – there were many Sens fans who wanted to see Cowen traded in the off-season.
Once thought of as a defenceman with top-pairing potential, the Senators are now in the process of trying to slowly re-build Cowen into a capable NHL defender. He will likely start the season alongside Mark Borowiecki on Ottawa's third defensive pairing.
"I don't see any issue. Obviously the coach will make that call and we'll talk about it. But I think the two of them fit. I think they work well together," said general manager Bryan Murray on Wednesday. "They've played a little bit of time together. I could see that as a very strong possibility."
While some openly wondered if Cowen would be a healthy scratch on opening night, Murray said on Wednesday that Cowen had "absolutely" earned a spot for the regular-season opener.
Cowen had a tumultuous 2014-15 campaign that saw him struggle for a second consecutive season after battling multiple injuries. He had off-season surgery to repair a sports hernia – a condition that Cowen says had been plaguing him for the past 18 months.
"Just be as good as I can and stupid cliché things like that," Cowen said when asked about his goals during the first week of camp. "I just know I feel better and I'll be able to play how I want."
The 24-year-old has suited up in five preseason games already and the coaching staff has been pleased with the progress they have seen.
"I think he's come back right from the start and been refocused and working on the little things that allow defencemen to be successful," said assistant coach Jason Smith, who oversees the club's defence pairings. "He's been simple. He's working on being on the inside of the rink"
And that appears to be the message the Senators want to drive home to Cowen to start this season: play simple. At times they've worried that Cowen was more concerned with trying to generate offence, instead of focusing on his strengths.
"If he just accepts what he is – and what he is, is a big strong guy – he can defend reasonably well," added Murray. "We just want him to be a defender and use his size to his advantage."
The Senators are likely going to give Cowen a lot of slack at the start of the season – perhaps 10 or 15 games where he can prove he's re-discovered his game. But unlike two seasons ago – when he was with Patrick Wiercioch on the second pairing or last season when he filled in for an injured Marc Methot alongside Erik Karlsson – his role will be a lot smaller to start the 2015-16 campaign.
The club has already confirmed they will start the season with Karlsson, Methot, Wiercioch and Cody Ceci in their top four on the back end. They were quite impressed with the way Wiercioch and Ceci finished the 2014-15 campaign and will give them a shot to continue that chemistry when this season begins in Buffalo.
All Cowen and Borowiecki are being counted on is to play 12-15 minutes per night, with the top four likely eating up about 45 minutes of ice time.
"Right now I want to get more minutes going," Cowen said. "I've grown up playing a lot of minutes, and that's what I'm good at. I just keep rolling. And not sit on the bench and think about what I just did. Keep playing."
For Borowiecki, being paired with Cowen means he will likely have to switch over and play on his wrong side, since he is also a natural left-shooting defenceman. But the Senators don't believe that will be a significant hurdle for Borowiecki.
"I think a lot of teams have played with two lefties or two righties and a lot of good players have played on their off-sides," added Smith, who played 1,008 games as an NHL defenceman. "I think as you have repetition and time in practice, you learn to be comfortable with it. Some guys find the transition very easy and some find it hard."
That leaves Chris Wideman – the reigning AHL defenseman of the year –to start the season as the Senators seventh defenceman.
"We know that he's a good offensive player. He's an intelligent player and he played at a good level last year. I think he can bring something with the puck," Murray said of Wideman. "For (his) sake, the only thing that will be interesting to watch when the lineups are really settled is how well he can defend at this level. But his quickness, his passing ability and his vision of the game and of the ice leads me to believe that he can contribute."
At this point, Wideman has the inside track on that seventh defenceman spot, although Murray pointed out that Mark Fraser could be a factor as well. The general manager also indicated that Mike Kostka, who was sent down to Binghamton, could also come up and play some games this season as an NHL defenseman.