Sens' Boucher refuses to fire back at Puempel
With a showdown against the New York Rangers looming on Sunday night, Guy Boucher refused to get into a war of words with Matt Puempel. TSN Radio's Ian Mendes has more.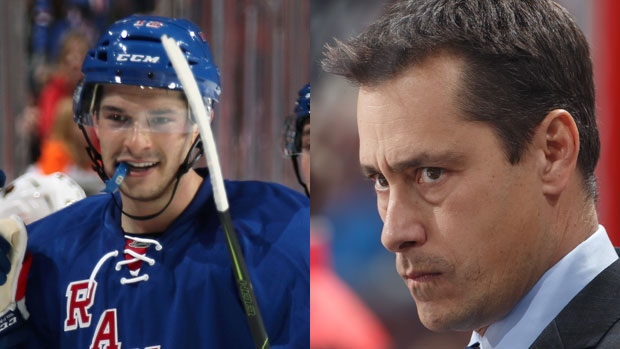 With a showdown against the New York Rangers looming on Sunday night, Guy Boucher refused to get into a war of words with Matt Puempel.
The normally talkative Boucher was not in the mood to discuss negative comments about his coaching staff attributed to Puempel in Saturday's edition of the New York Post. The Senators head coach interrupted TSN's Brent Wallace mid-question, as the reporter was in the middle of relaying a portion of Puempel's controversial quote to Boucher.
"I don't want to hear about another team's player. He's not on our roster. I wish him good luck. That's it," Boucher said flatly. "When they're here we talk about them and we grow with them. And when they are somewhere else, they are somewhere else."
Find out how to watch Sunday's clash between the Ottawa Senators and New York Rangers RIGHT HERE.
In Saturday's edition of the newspaper, Puempel - now a member of the Rangers - was openly critical of Boucher and the Senators coaching staff, indicating that a change of scenery was beneficial for him.
"They let you play here, they let you play to your strengths," Puempel told the newspaper after scoring a goal in his Rangers debut. "They know there are going to be mistakes. They're not barking at you every time you come off the ice. It's beneficial."
Adding intrigue to the storyline is the fact that Puempel will face the Senators for the first time on Sunday night at Madison Square Garden.
The former first-round pick of the Senators also suggested the system Boucher implemented had grown stale for him. In his New York debut on Friday against the Flyers, Puempel not only scored a goal, but he logged 12:32 of ice time - which was almost four minutes more than he was averaging in Ottawa this season.
"In Ottawa there for a while it was getting a little repetitious; chip the puck, chase the puck," he said. "I think this was the most minutes I've played in a long time. The more minutes you get, the better you play. You're more engaged."
In stark contrast to this comment, Boucher indicated that many of his players have embraced his system at the 20-game mark of the season and their acceptance of his style is a major reason why the team is sitting with a 12-7-1 record. The club has cleaned up inconsistent play in their own zone and currently have the NHL's best winning percentage in one-goal games this season, showing significant progress from a year ago.
"Those things - at the beginning of the year - weren't there and we know that. And to see the players growing that fast has been a real treat for me as a coach. It's fun to come to the rink. There's an enthusiasm and there's a soul to our team," said Boucher.
The Senators were hoping to send Puempel down to Binghamton earlier this week, but he was claimed off waivers by the New York Rangers. Puempel struggled through the early portion of the season and failed to register a point in 13 contests with the Senators.
Puempel was a mainstay in Dave Cameron's lineup after he was recalled from Binghamton during the 2014-15 season. However, after suffering a high-ankle sprain in late March, he missed the tail-end of the club's magical run to the post-season and playoff series against Montreal.
The 23-year-old had three seasons where he eclipsed the 30-goal plateau in the OHL and tallied 30 in his first full pro season with the Binghamton Senators in 2013-14. However, he has failed to find his scoring touch at the NHL level, netting only five goals in 53 games.