Sens' Cinderella season approaching midnight
Tick. Tock. The Ottawa Senators' Cinderella season is rapidly approaching midnight after a Game 5 uglier than any of her stepsisters. "That," Bobby Ryan said, "was just a flat out spanking."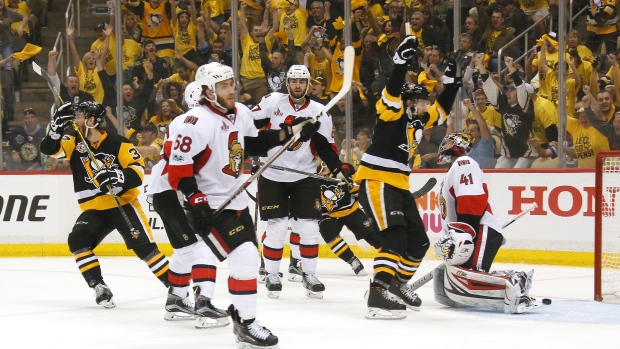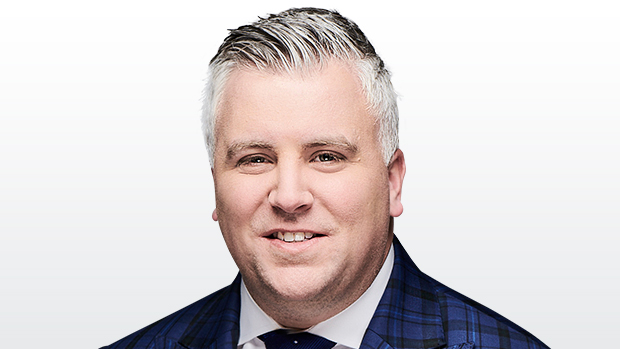 PITTSBURGH — Tick. Tock. The Ottawa Senators' Cinderella season is rapidly approaching midnight after a Game 5 uglier than any of her stepsisters.
"That," Bobby Ryan said, "was just a flat out spanking."
Canada's last remaining hope to bring Lord Stanley home is now down to its final breaths after the Senators' worst performance of the season – let alone the Stanley Cup playoffs – inexplicably reared its head at the most inopportune time.
Just like that, quicker than a carriage can turn into a pumpkin, Ottawa's 2-1 lead in this Eastern Conference final has evaporated into what feels like a lot larger than a 3-2 deficit after a 7-0 shellacking from the Penguins on Sunday afternoon.
"It was a crap game in every aspect," Kyle Turris said.
Game 5 was so lopsided that down by a touchdown, Guy Boucher and the Senators punted, not bothering to send banged up players Erik Karlsson, Derick Brassard and Cody Ceci back to the bench for the third period.
Boucher said all three could have played the third period if necessary, but the Senators opted to rest them prior to Game 6 on Tuesday night at Canadian Tire Centre.
"You could say it's humbling to get beat like that," Dion Phaneuf said.
It was so easy for the Penguins that forward Matt Cullen didn't even raise his stick in celebration after scoring Pittsburgh's fifth goal. It didn't feel like a fair fight, didn't feel at all like a series that began the day tied.
"There's no excuse for it," Ryan said. "When you look at a game and you can't say you deserved better anywhere along the way, then it's frustrating."
If Penguins coach Mike Sullivan said his team had a "just had a readiness about them," well, then the Senators must have thought the puck drop was at eight o'clock.
"Good performance, bad performance, it doesn't matter," Craig Anderson said. "The story goes is we still have another game to play."
Now, the Senators are facing a hill that they've never climbed before in franchise history, tasked with winning a best-of-seven series when trailing 3-2. They are 0-5 and have only ever forced a Game 7 twice.
How do they turn the page now in this fairytale season, after being drop-kicked by the defending Stanley Cup champions?
Karlsson said he'd rather lose in a blow out than in overtime.
"Right now, you don't feel very good. You just got beat bad," Phaneuf said. "We couldn't stop the snowball."
It was a burn-the-tape type game. Ryan said he didn't even want to look at the video, let alone think about it.
"I think I spend a half-hour pissed off and kicking the dog, but that's about it," Ryan said. "You can't dwell on it. You can't go home and be negative, rewatch and think 'this was the play in the game' because there was 100 of them."
Ryan said his plan was to "flush" Game 5 before walking out of PPG Paints Arena, before the Senators boarded their predictably quiet flight home.
It was an interesting choice of words, because Boucher actually compared his team – which has been knocked and discounted all season long – to a group of plumbers after Game 5.
"Some days they have it, just like a plumber wakes up one day, is having a great day, the other day he's not having a good day," Boucher said. "Just one of those bad days."
It was filled with blatant giveaways, a lack of hustle, sloppy passing, and maybe even a touch of overthinking. Boucher yanked Anderson in the first period after he allowed three goals on 12 shots, paving the way for Mike Condon, then put him back in 88 seconds later.
Anderson, the Sens' rock all year, promptly booted the first shot he faced.
Boucher said he was simply stalling, that he told Anderson he was going back in, saving his timeout in case he needed one for a challenge.
The way the Sens fell out of the gate, there wasn't a prayer they'd need the challenge. Anderson didn't return for the start of the second period – no way to spend his 36th birthday, though his teammates provided plenty of gifts for the Penguins.
"[I] put him back in because he's my man," Boucher said. "I have total confidence in him. When I saw where the game was going, he didn't have to life that for the rest."
When asked if Anderson would start Game 6, Boucher responded: "Oh, my god." He said the question shouldn't even have been raised.
Boucher, one of the few NHL head coaches with formal training in sports psychology, was asked how his team would combat what has looked like a better team. He didn't hesitate, saying the Senators know the Penguins "are a better team."
"Everybody knows that on the planet," Boucher said. "They're the best team in the league. That's no secret."
Boucher has played the underdog card all playoffs long, but Sunday was the second straight game it firmly felt like the Senators were the far inferior team. The Penguins, who seem to have figured out Ottawa's dense and disciplined trap, have only gotten stronger as the series has progressed. Sidney Crosby and Evgeni Malkin are roaring.
The Senators are reeling now. This one left a dent.
"It was uncharacteristic of us," Turris said. "We can't do that. We can't do that in the playoffs, let alone in the third round of the playoffs in a very important Game 5."
--
Contact Frank Seravalli on Twitter: @frank_seravalli