Sens, Hurricanes felled by dreadful goaltending
Ottawa and Carolina are prime examples of just how important goaltending is in the National Hockey League, Travis Yost writes.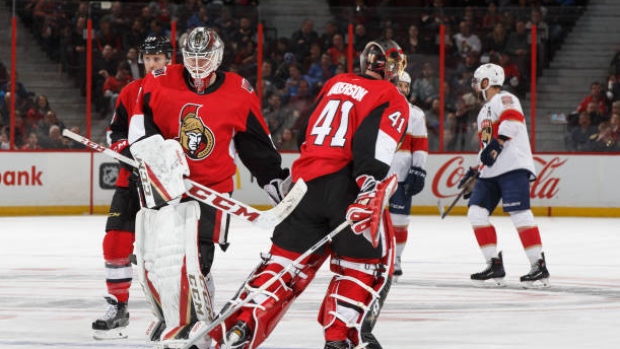 If you needed yet another example of how important goaltending is in the National Hockey League, look no further than the Ottawa Senators and Carolina Hurricanes.
Despite both teams having legitimate playoff aspirations this season, they'll both end up falling well below the playoff cutline. Ottawa is currently on pace for a disastrous 70-point season and it's expected that there will be a tremendous roster shakeup over the next few months.
Carolina's had a better season in the standings – they're on pace for about 84 points this year – but they've already signalled a full organizational overhaul is coming. There's new ownership in town, a new general manager on the horizon, and yet another off-season where they'll try to figure out how to start moving up the pecking order in the Metropolitan Division.
There are plenty of commonalities across both franchises, but dreadful goaltending performance is definitely at the top of the list. Heading into the final week two weeks of the regular season, Ottawa and Carolina sit 30th and 31st, respectively, in team save percentage.
It wasn't supposed to play out this way. Craig Anderson, as predictable and steady a goaltender as there is in the league, is stopping less than 90 per cent of shots in Ottawa. Scott Darling was less of a known quantity for Carolina but he had performed admirably in the 75 games he previously spent with Chicago. His save percentage crashed mercilessly this year in Carolina, which is quickly becoming a goaltender graveyard. (Mike Condon and Cam Ward have hardly been any better.)
As it stands right now, it's likely that both teams will finish up as two of the 20 worst by save percentage in the modern era. And as you'll note, being in this group virtually always means missing the playoffs by a considerable margin.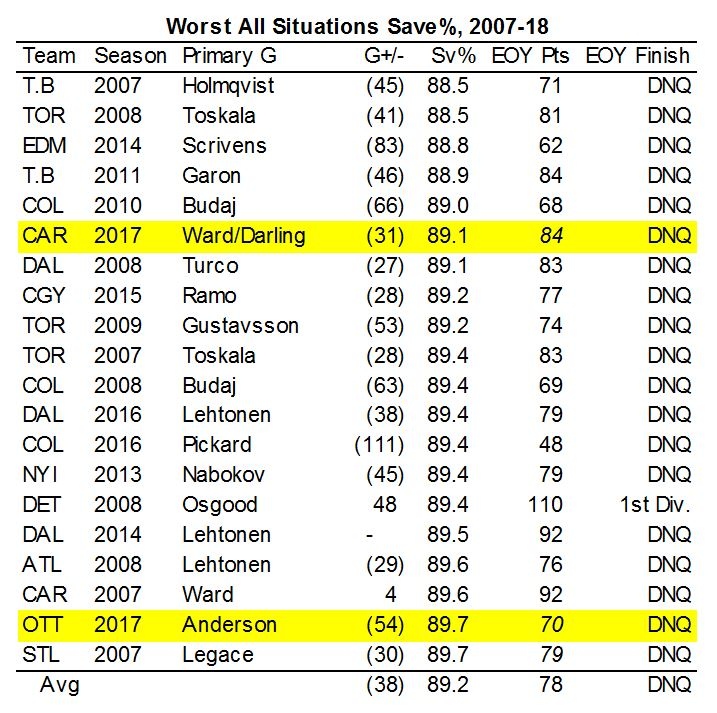 Of our 20 worst teams by save percentage in the last decade, 19 missed the playoffs. The average team, assuming the playoff cutline is around 93 points year to year, misses by 15 points. Only the Detroit Red Wings in the 2008-09 season were able to make the playoffs, and that's because they were probably the most territorially dominant team we have ever seen. (That season, they earned about 58 per cent of the shots at 5-on-5 and ended up 932 shots better than their competition over 82-games, which is quite frankly insane.)
It's not surprising to see that these teams consistently missed the playoffs by considerable margins – goaltending and goal suppression is a huge part of the game and the teams that can't do it consistently are always going to be in trouble. What is interesting though is how many of these teams were scuttled unilaterally by poor goaltending performance. It's not as if all of these guys played on truly bad teams that couldn't get out of their own way regardless of how well they stopped pucks.
Let's consider those same 20 teams but with a different approach. Let's assume that everything held constant for that team during their given year, but that a league average goaltender played every game for that team. From there, we can easily back into how many goals were 'lost' merely due to an inability to stop shots.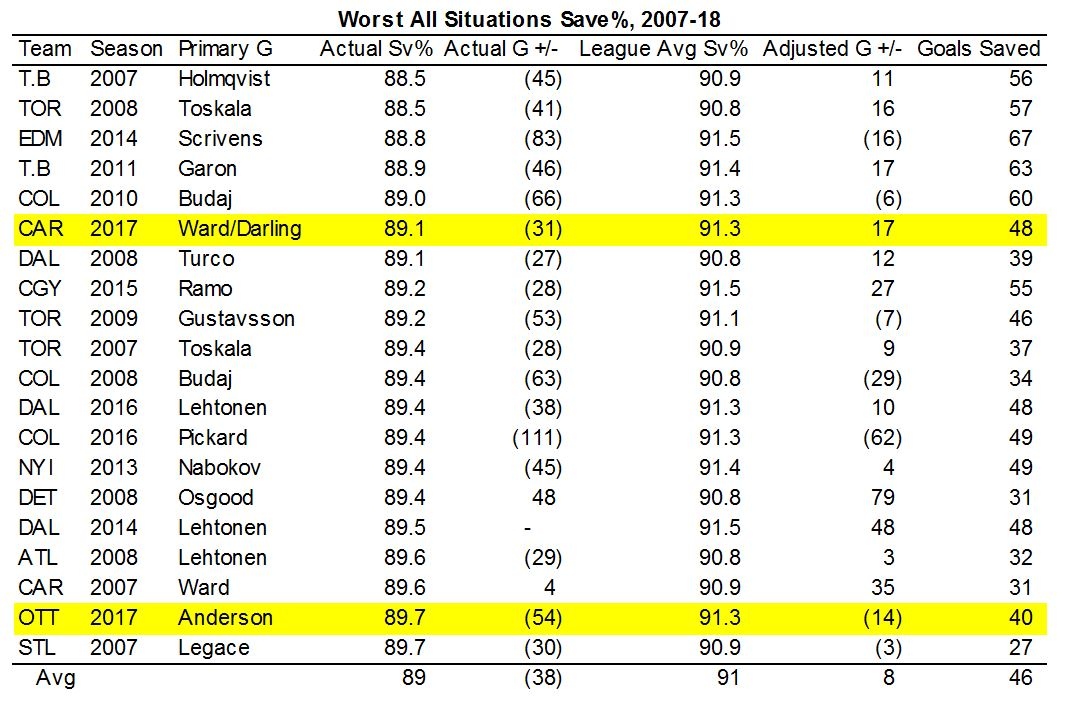 Those are jarring differences. The average team in our list went from -38 in goal differential to +8 – a 46-goal swing. Historically, six goals are worth one win in the standings, meaning that your average team here would have been about 7.5 wins and 15 points better in the standings. That alone would have pushed around eight of the teams on our list into the playoffs, and another handful right against the cutline.
For Ottawa in 2017-18, those points wouldn't have mattered all that much. It might have put them into the realm of respectability, but even decent goaltending wouldn't have put Ottawa through – largely because they were grossly outshot at 5-on-5 all year long, with a dismal power play to boot. The Senators need to find a long-term solution in net, and prospect Filip Gustavsson appears to be on the way. But the roster just isn't good enough right now and I suspect that general manager Pierre Dorion, who was active at the trade deadline and will be again before the 2018 NHL Draft, knows this.
Carolina's a different animal. The Hurricanes have been a strong 5-on-5 team for a few years now but have never had the results to show it. Though this year was the worst to date, the Hurricanes really haven't had strong goaltending in quite some time. The riddle facing the not-yet-hired general manager is figuring out what to do in the net without sacrificing core skating pieces. There's a talented team in Carolina – they've just never had the opportunity to show it.