Sens must solve the Bergeron question
Ottawa coach Guy Boucher couldn't find an answer for Boston's dominant top line in Game 1, Travis Yost writes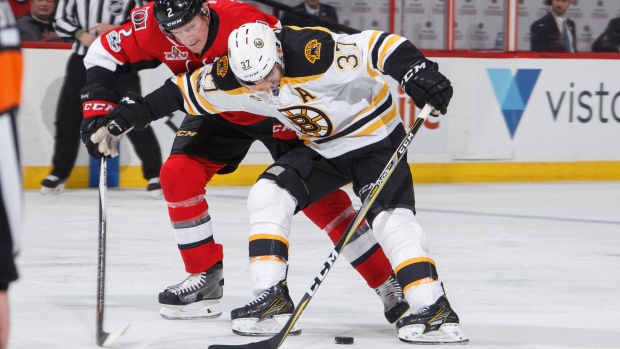 At various points this season (including this past Tuesday), I've argued that the Patrice Bergeron line is probably the best trio in hockey.
Ottawa's first go-around against the Bergeron line, which included wingers Brad Marchand and David Pastrnak, went about as poorly as expected, and was probably the biggest reason why the Senators weren't able to win Game 1.
In fact, it might be the only reason why the Senators weren't able to win Game 1.
Think about it from the Senators perspective. They had a fine goaltending night from Craig Anderson, who stopped 23 of 25 shots. Erik Karlsson – who is clearly banged up – avoided an injury scratch and was able to log just over 24 minutes of ice time. The Senators actually held the Bruins an entire period without a shot on goal. The Bruins were also down a bunch of talent, like Torey Krug, David Krejci and Brandon Carlo.
The game was close, especially at even strength. The Senators actually dominated the shot clock against the second, third, and fourth Bruins lines, out-chancing Boston 45 to 27. Having 63 per cent possession is going to win you an awful lot of hockey games.
But, the Bergeron line was an entirely different animal. While the Bruins were getting beaten up in most facets of the game, the Bergeron line was able to reset the clock each and every shift. The Bergeron line owned 71 per cent of the shots (15 for, six against), and was responsible for the go-ahead goal – a goal that was the result of an unimaginably long offensive zone shift where the Boston forwards cycled, and cycled and cycled against a hapless Ottawa defence.
If you are the Sens, there's not really a good answer to the Bergeron question. If you play your most talented groups against the Bergeron line (I'd argue this is either the Kyle Turris or Derick Brassard line with the Karlsson pairing), they are going to get vaporized – just maybe to a slightly lesser degree. It means that you'll need your depth to beat up on Boston's depth, because without some reasonable offset, you are just punching upwards for 60 minutes.
The other strategy is what Senators coach Guy Boucher tried in game one, using a pseudo-checking line with his second defensive pairing against that trio.
Here's how he allocated that ice time on Thursday: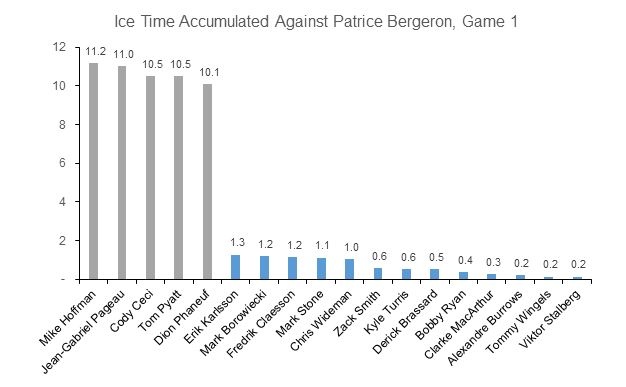 I have seen some hard-matching in my day, but I think Boucher might have set a new standard for dedication to the craft in Game 1. Basically every single shift Bergeron was out there, he was playing against the Pageau line – winged by Hoffman and Pyatt – and Ottawa's Phaneuf/Ceci pairing.
Does this make sense? Well, I'd argue there are two different stories. The forward group makes some sense. Two of the players are strong defensively, and Hoffman adds an offensive element that should keep Boston honest. Plus all three can skate like hell, so at the very least they can force that Bergeron group to not only worry about controlling the run of play, but remain on guard against a counterattack.
Defensively, I'm less convinced. The Phaneuf/Ceci pairing has struggled all year long. It's certainly not the recipe you are looking for if you want the Bergeron group to defend for parts of the game. They struggle to both get the puck out of their own zone and to keep it in the opponent's zone, and it seems to me they play each shift with the sole goal of hoping they aren't scored on.
I would hazard to guess that if there's one systems or deployment change Boucher makes for Game 2, it'll be here. The experiment of rolling this five-man unit against the Bergeron line to grit-and-grind their way to a victory didn't work. One wonders if a group with a little more offensive flair and talent might be able to keep the Bergeron group at bay.
Have some success here and Ottawa gets right back in the series. To me, it was the only glaring and notable hole in Ottawa's opening game, and if that's the case, there's still some real opportunity to survive and advance.