Sens sound ready to move on from Wiercioch
General manager Pierre Dorion looking to solidify Sens' defence, but sounds pessimistic about restricted free agent returning next season, Ian Mendes writes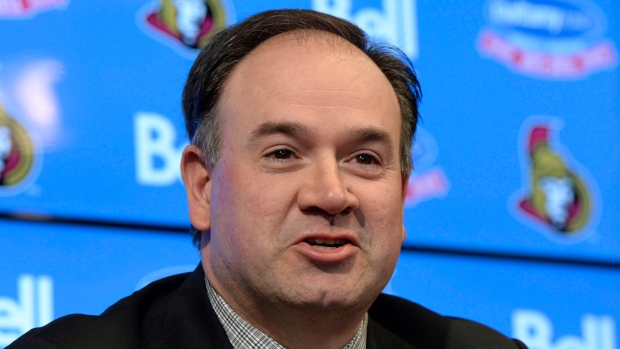 Pierre Dorion is looking to solidify his defence in the coming weeks, but don't expect Patrick Wiercioch to be one of the candidates to help the Ottawa Senators blueline next season.
Speaking to reporters on Monday ahead of this week's NHL Draft in Buffalo, the Senators general manager sounded rather pessimistic about Wiercioch's chances of returning to the club next season. The 25-year-old defenceman is a restricted free agent on July 1 and it sounds like the Senators are hesitant to submit a qualifying offer to retain his rights.
"There is an appetite, but we have to think that it's 2.7 [million dollars] to qualify him. Is he worth that money? Is he better off going somewhere else?" Dorion said. "I said we'd explore options. At 2.7 to qualify him, that's a significant number. We've talked to his agent and we'll see what happens going forward over the next 10 days."
Dorion called his exit meeting with Wiercioch in April "brutally honest" after Wiercioch produced only five assists in 53 games during the 2015-16 campaign. While hinting that Wiercioch is likely not in their plans for next season, Dorion admitted he's searching for a depth defenceman to come in and possibly work as a partner for either Chris Wideman or Mark Borowiecki – essentially the role that Wiercioch occupied last season.
"If there's a defenceman who could come in here and solidify our defence corps, that's something we're definitely going to look at," Dorion said.
Because the Senators are comfortable with their top four defencemen – Erik Karlsson, Marc Methot, Dion Phaneuf and Cody Ceci – Dorion said he's not going to be in the market for a splashy, high-priced free agent on July 1.
"Are we going to be active? No. We're going to be smart," explained Dorion. "You look at what teams have done in the past around July 1 and sometimes you say, 'At the end of the day, was that worth it?'"
In an interesting twist, the Senators appear to be set to part ways with Wiercioch just as they finally embrace the role of analytics in their hockey operations department. In the past, Wiercioch was the darling of the analytics community in Ottawa, who often argued his possession and underlying numbers warranted more ice time. However, Wiercioch's role was diminished over the past season due to injuries and inconsistent play.
Dorion said he wants to bring an analytical element into his hockey operations department and that new assistant coach Rob Cookson and former video coach Tim Pattyson will be in charge of the new division.
"Analytics are something you have to use," said Dorion. "At the end of the day, I come from a scouting background, so the eyes of a scout or analysis of a coach are very important. But I think the way the game has gone, you have to use hockey analytics to sometimes make you understand things. It doesn't always give you answers, but you have to use it as a tool so you don't lose ground to the other teams."
While they will be looking for a replacement for Wiercioch, the club could also be in the market for a bottom-six forward when the free agency period opens up in 10 days. Unlike his predecessor Bryan Murray – who was constantly searching for an upgrade at the forward position – Dorion appears content with his group up front at this point.
"Definitely feel comfortable with our group of top-six forwards," said Dorion. "We were ninth in scoring last year and we feel there could be nine guys who could score 20 goals here. If we're looking for anything, it would be to improve our depth on defence."
Dorion refused to shed any light on the negotiations with RFA Mike Hoffman – simply stating that a "cone of silence" was to be adhered on both sides. He did suggest that a meeting with Ceci's camp was imminent and there could be several options on the table for the RFA defenceman. Last week, Ceci told TSN 1200 that he would prefer a long-term deal with the Senators, but it's unclear if management is leaning towards a bridge contract at this stage of the game.
The Senators have the 12th overall pick at this week's draft and Dorion doesn't believe that his team is going to move up significantly with only four days to go until the teams are on the draft floor in Buffalo.
"If I was a gambling man, which I'm not really, I'd say we'll end up picking twelfth," added Dorion. "There are probably 15-18 guys that I like in the first round. I know at 12 we're going to get a real quality player."