Sharp deal still a surprise
Before the Blackhawks even hoisted the Stanley Cup for the third time in six seasons, Patrick Sharp was floated as Chicago's next salary cap casualty. For such a long-rumored move, the message emanating from Friday night's deal still ended up being a bit of a surprise. TSN Senior Hockey Reporter Frank Seravalli has more.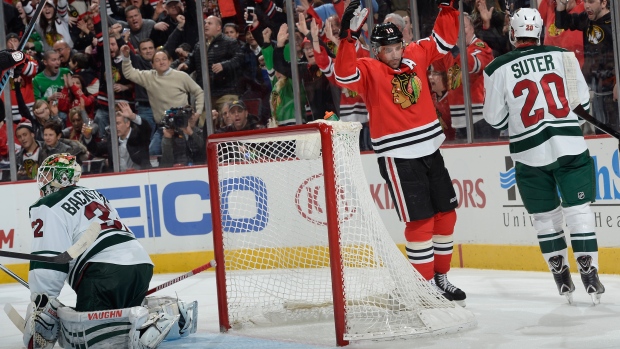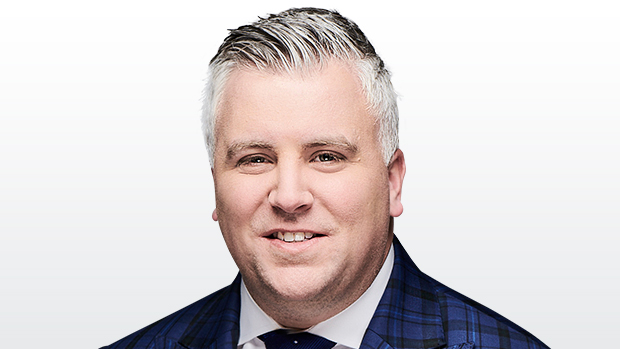 Before the Blackhawks even hoisted the Stanley Cup for the third time in six seasons, Patrick Sharp was floated as Chicago's next salary cap casualty.
For such a long-rumored move, the message emanating from Friday night's deal still ended up being a bit of a surprise.
By acquiring Trevor Daley and Ryan Garbutt from Dallas, Hawks general manager Stan Bowman made a strong declaration: Chicago is re-loading next season, not starting a mini-rebuilding process.
"Sometimes, when you make a trade of players who make a lot of money, you're just trying to get draft picks back," Bowman said in a conference call. "But the key thing for us was to try to make our team better in the process."
Bowman called it "more of an old-fashioned hockey trade." The Stars took Sharp at his full $5.9 million cap hit for the next two seasons and were willing to eat half of Garbutt's $1.8 million hit.
Daley, 31, is a top four addition in Chicago who will likely replace free agent Johhny Oduya and provide more offence. Daley struggled with advanced possession metrics, but only four players - Erik Karlsson, Oliver Ekman-Larsson, Dustin Byfuglien and Brent Burns - netted more goals from the blueline (16) than him last season. Daley carries a $3.3 million salary cap hit for the next two seasons and needed to approve a trade to Chicago via his limited no-trade clause.
In addition to Sharp, Bowman sent promising defensive prospect Stephen Johns, 23, to the Stars. He shipped another big, booming, college-bred defenceman - 22-year-old Michael Paliotta - to the Blue Jackets in the June 30 trade involving Brandon Saad.
Both Johns and Paliotta could've contributed to the Hawks' blueline next season. Johns had seven points in eight AHL playoff games this spring. Paliotta was a "black ace" who lifted the Cup with the rest of Chicago's scratches.
The focus in Chicago is on a fourth Stanley Cup, not necessarily on the long-term future. Look at Chicago's two other deals around the trade deadline for further proof.
Bowman sent a first-round pick and defenceman Klas Dahlbeck, a 24-year-old "AAAA" tweener, to Arizona in exchange for 39 games (and four important goals) from Antoine Vermette.
He was willing to give up two second-round picks to the Flyers for 40-year-old Kimmo Timonen, who played sparingly throughout the Stanley Cup playoffs.
Timonen announced his retirement before his last game. Vermette signed back in Arizona. The Coyotes ended up with Kelowna Rockets star Nick Merkley at No. 30 overall; the Maple Leafs snagged that No. 61 pick from the Flyers and drafted Jeremy Bracco. Only time will tell whether Johns, Paliotta, Dahlbeck, Merkley or Bracco amount to bonafide NHL players.
"It's always tough to give up on young defencemen," Bowman said. "But sometimes it's required in order to make a deal. We've got a number of prospects in our system that we're still very high on. There's other things we've talked about and haven't finalized.
"It's an ever-changing game. I don't know if you can ever get too locked in on one player or one name or one grouping of players. Because you may acquire, over the next little bit of time, some young assets. I think it's hard to judge things on a one-off basis.
"You can't be too rigid and say 'this is a player I'll move, that player I can't move.' It's all about managing your assets in today's game."
It's tough to cast even a shadow of doubt in Bowman's direction given his fistful of Stanley Cup rings. Sharp joins a playoff-worthy roster of cast-offs from Chicago's 2010, 2013 and 2015 championship teams, including Dustin Byfuglien, Andrew Ladd, Brian Campbell, Antti Niemi, Dave Bolland among others.
Sharp was different than the rest. He had been there longer than anyone, arriving in 2005, when the Blackhawks were getting beat up on a nightly basis. They were 22 games under .500 in Sharp's first three seasons (97-119-30, .394) and never sniffed the playoffs. The United Center averaged just 14,286 paying customers those three years and finished second-to-last in attendance two of those years, a far cry from the 22,000 frenzied souls that have made the Madhouse on Madison a thing again the last half-decade.
Sharp posted 239 goals and 272 assists for 511 points in 679 regular season games with Chicago. He was on the cusp of Top 10 in goals and points in their 89-year franchise history, but wasn't consistently effective last season and during the playoffs.
Johnny Oduya, 33, is likely to join that impressive list of casualties now, too. Like Daley, he is a left-shot defenceman. He held out signing with another club since July 1, waiting to see if Bowman could clear enough cap space to keep him.
"It's still sort of a fluid situation," Bowman said. "We're getting closer to where we can say that this is officially our team. But we're not there yet. Trust me, there's been countless phone calls over the past three weeks trying to find the right deal (for Sharp). This one finally made sense. I'm not going to rule anything out or rule it in. There's a lot of factors still in play."
One factor, certainly, is whether Bowman believes he can re-sign anchor Brent Seabrook. Now eligible to sign an extension, Seabrook is due to earn at least Dion Phaneuf-type money, in the neighbourhood of seven years and $49 million.
Even after moving Sharp, Friday's trade opened up just $1.7 million in space for Chicago.
Bowman said it wasn't easy. Deals today never are. The teams that do have salary cap space aren't necessarily allowed to spend to the limit, operating on internal budgets set by tight-pocketed owners. Even then, they would've had to like Sharp.
And the Blackhawks would've had to been interested in only draft picks or prospects to clear more room.
"It wasn't trying to just get things that would help us down the road," Bowman said. "We like our team as it is right now. It led us to a Cup just a month ago."
Frank Seravalli can be reached at frank.seravalli@bellmedia.ca.