Silverman excited to captain Mackenzie Tour at Aruba Cup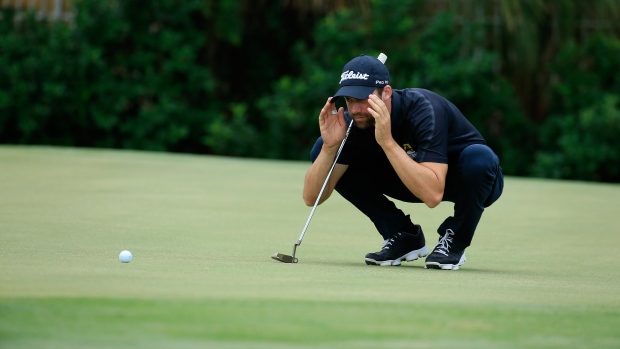 When it comes to intensity, pressure and rivalry, no one is going to mistake the Aruba Cup for either the Presidents or Ryder Cup. But the competition between members of the Mackenzie Tour and PGA Tour Latinoamerica, which is set for its second running next week at the Tierra del Sol resort on the Caribbean island, is still a full-out grudge match.
That's why Ben Silverman is taking his job seriously. The Thornhill, Ont., product and newly minted PGA Tour player will captain the Mackenzie Tour side and, as a graduate of the Canadian circuit, can certainly relate to each member of his team.
Still, he wasn't thinking he would be heading up this team.
"When they called, I was a little surprised and thrilled at the same time," said Silverman. "I didn't realize that the Tour viewed me in that way. I didn't think I was a big enough name or anything like that so it was flattering to get that call. I'm excited to take the captain's role and share my experience with the players and help them win that week."
The reaction from the 30-year-old is not just because he's a humble Canadian; it's also because he was never one of the country's high-profile, can't-miss products. He never played on a Canadian national team, wasn't on Golf Canada's development team, didn't fare extraordinarily well in any amateur tournaments and wasn't a highly scouted prospect by U.S. colleges.
And yet he has a PGA Tour card tucked into his wallet and has plenty of experience to share.
"It's been a definite round-about journey to get to the PGA Tour but it was almost no choice because I got to the game so late," said Silverman, whose first athletic endeavor was playing Double-A hockey in the Greater Toronto Hockey League. "I just did what I had to do to get better and try out everything I could."
Like many other Canadians who have made the PGA Tour, Silverman decided that his physical size was perhaps better suited to non-contact sports and around the age of 15, put his efforts into golf. And by efforts, we mean total and complete. When his hockey equipment went out the door he was all-in for golf, declaring his goal to be nothing less than the PGA Tour.
"There was no plan B," admitted Silverman. "I had a million questions about that too. 'What happens if this doesn't work out?' 'Do you know how difficult it is to reach the PGA Tour?' I didn't care. I told myself I'm going to get good, I've been an athlete my whole life. I'm going to train and figure this out."
And he did, first grooving his game on courses around the Greater Toronto Area, then playing his way on to the team at Johnson and Wales University in Miami, and finally Florida Atlantic University.
He turned pro after that but rather than returning to Canada to follow the tried-and-trusted path of the Mackenzie Tour, he remained in Florida and teed it up on the Minor League Golf Tour, a mini-tour where the purses essentially comprised of the combined entry fees. It's a tough way to make a buck. Silverman, however, dominated that circuit winning 34 times and earning $127,000 during his tenure.
He admits his time there may not have been glamourous - there are no caddies; cart fees are included in the entry - but it did teach him how to score, how to make a lot of birdies. That was the only way to cash a cheque in fields that were littered with young, talented golfers.
He eventually made his way to the Mackenzie Tour in 2014 and moved up to the Web.com Tour in 2016. He struggled in his first year, missing the cut in 10 of his first 11 starts, and was forced back to qualifying school. His second time around was much better as he earned his first victory along with five top-10 finishes and locked up a spot on the PGA Tour.
In the five tournaments in the fall series, Silverman posted two top-10 finishes and made all five cuts. He also earned $338,000 or more than twice his career earnings on the Minor League Golf Tour.
The transition to the top rung in golf has been an easy one for Silverman, who seems comfortable reaching his long-stated goal.
"I credit the Mackenzie Tour and the Web.com Tour for that because they've done a great job replicating how the PGA Tour is run," he stated. "It's because of that, it's been a seamless transition to go from one tour to the next. There's obviously little differences between each tour but in general it's been pretty easy to adjust so far."
Some of those little differences include luxury courtesy cars, sumptuous player dining and a feeling of prestige. It's a nice life at the top, for sure.
With his unusual road traveled, Silverman isn't yet a household name as would be, say, Corey Conners, the other Canadian rookie on the PGA Tour who has already teed it up in the Masters, but fans are beginning to notice.
"In Vegas I was walking through the parking lot with my caddie and a couple of spectators happened to be walking near us and they were talking and said something. Then we walked past them and they saw my name on the back of my caddie's bib and they were like, 'Oh you're Silverman? Awesome, we're from Winnipeg.' Then the next day, my walking scorer introduced himself as his name and a fellow Canadian. Then he said, 'I'm rooting for you.'"
It's likely in the coming weeks and months a lot of Canadians will be rooting for Silverman. He's a friendly guy with lots of personality and a story that fans in this country can appreciate. He also has a heck of a golf game.
"I hope it says that once I put my mind to something that I'm going to achieve it," he said of his long, grinding road to the top. "If that's just one thing that it says, then hopefully that's what it says because that's really what I've done."