Situational distress could decide Pens/Caps series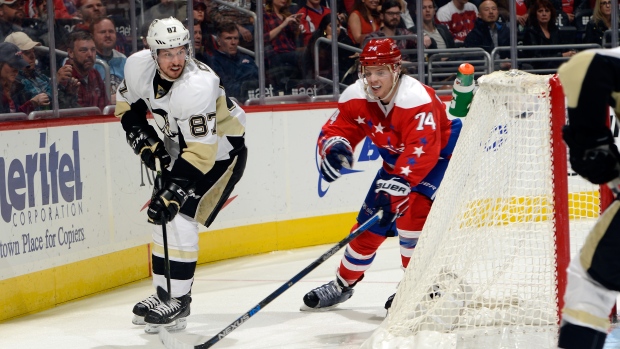 No doubt about it, the elimination of some of the NHL's marquee hockey cities – Chicago, Los Angeles and large swaths of the New York area – in Round 1 is causing a bit of consternation for the league. Add to that the fact that all of Canada was eliminated during the regular season, and you have legitimate reason for ratings concerns.
But what the NHL currently lacks in representation of hockey-mad markets in Round 2 can be made up for with intriguing, up-tempo, star-powered matchups.
Enter the Washington Capitals and Pittsburgh Penguins.
The puck hasn't even dropped on this series, yet it already feels like it has been dissected in every imaginable way. A lot of this is driven by the fact that you are getting the highest level of billing for a head-to-head matchup – the greatest goal scorer and greatest playmaker of this generation facing each other on a quest for this year's Stanley Cup.
Understandably, Alex Ovechkin and Sidney Crosby are going to draw incredible amounts of attention. But the forward talent in this series spans far beyond those two generational talents. Nicklas Backstrom, Evgeni Malkin, Evgeny Kuznetsov, T.J. Oshie, Phil Kessel, and Patric Hornqvist are damn fine players in their own right. And that's just the tip of the iceberg.
I think a lot of time is going to be spent analyzing how the forward groups stack up against one another, but I'm more intrigued about what Barry Trotz and Mike Sullivan do with their defensive pairings. Relatively speaking, there isn't much depth and competency on the blueline of either team, and that's going to create some situational distress.
From a Washington perspective, there's going to be a ton of Karl Alzner and Matt Niskanen. They are far and away Washington's most reliable pairing and did a bang-up job shadowing the Claude Giroux group in the first round.
From a Pittsburgh perspective, anywhere you put Kris Letang is going to be mega value added.
After that, there are question marks. Significant question marks.
I'll illustrate that point by pulling out how each regular pairing performed in their Round 1 matchups. I'll also note that said performance came against inferior competition.
Here were the Capitals regular pairings against a very top-heavy Flyers club: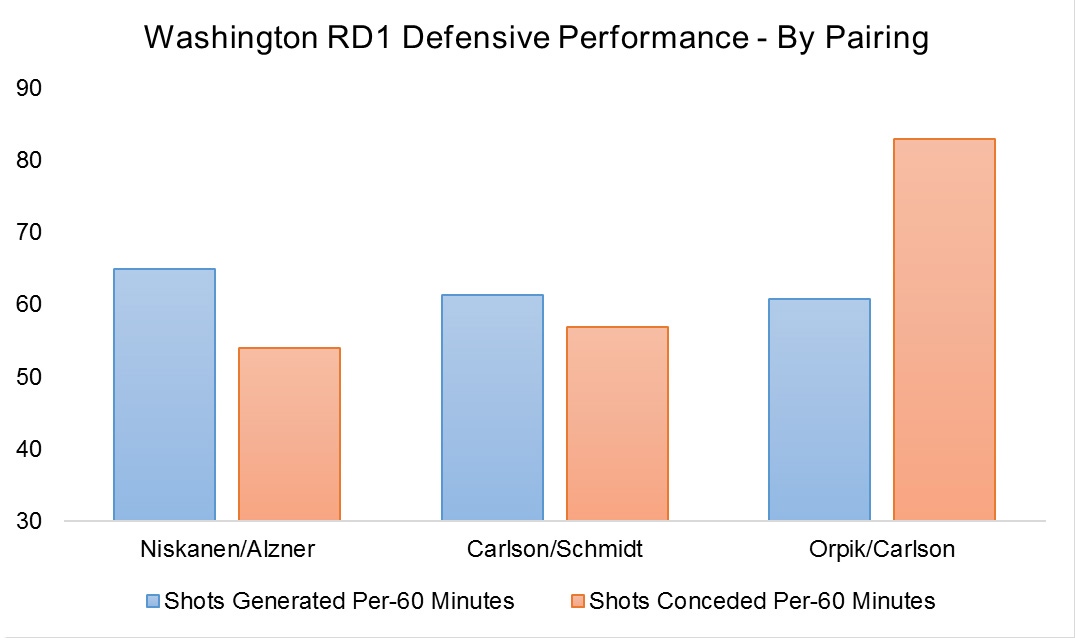 First, some housekeeping: John Carlson appears twice because of how Washington juggled through their pairings. They sparingly used Taylor Chorney and Mike Weber after Brooks Orpik went down with a suspected concussion. Orpik's return is very much up in the air for Round 2, though he has resumed skating in preparation for the Pittsburgh affair.
That said, it's hard not to notice the kind of impact Orpik had on other defenders. When Carlson played with him, he bled shots against and scoring chances against. When Carlson switched partners and played with Nate Schmidt, the two fared reasonably well, coming out slightly ahead in the shot battle.
I think this raises a curious question: if Orpik is dragging down Washington's performance, and assuming neither Taylor Chorney nor Mike Weber are serious big-minute options for the Capitals in Round 2, how do the Capitals arrange their blueline? To me, the answer is either that Orpik is going to see a ton of minutes if healthy (possibly to the detriment of his team), or Orpik's minutes are scaled back/he's unavailable, pushing third-pairing and replacement-level defenders up the lineup.
Either way, you start to realize that there may not be a big enough stable of defenders for the Capitals to truly slow down the Penguins attack.
But, the other side of the coin is just as important. Let's look at the Penguins regular pairings and how they performed against a Rangers team that was caved in territorially all season long by all degrees of competition: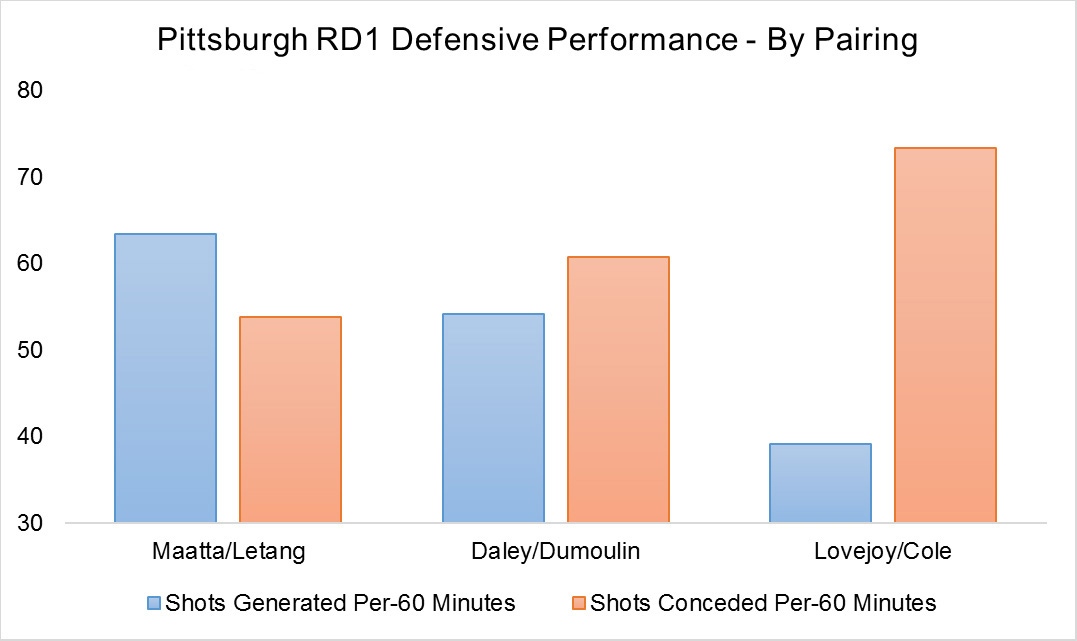 Olli Maatta had his fair share of skating gaffes in Round 1, but it's amazing what happens when you play with a Norris-level talent like Letang. The Penguins top pairing crushed the Rangers at 5-on-5 when they were on the ice, and that territorial dominance translated well to the goals column. The pairing played in excess of 60 minutes against the Rangers and conceded all of one goal against during that time span, a ridiculously impressive number.
Like Washington, it gets bleaker as you go down the list. Playing on Pittsburgh's second or third pairing generally means less time with a forward who can move the needle like Crosby or Malkin, but it also means easier forms of competition – those minutes coming against the Rangers depth forwards. Trevor Daley and Brian Dumoulin struggled to reach break-even at 5-on-5, and the duo of Ben Lovejoy and Ian Cole were – from a possession standpoint anyway – pretty much a disaster.
So while the Capitals don't seem to have a great answer for how to allocate blueline minutes after their top pairing, the same is probably true for this Pittsburgh group.
The Takeaway
It's hard not to look at the numbers and the potential head-to-head battles in Round 2 and wonder just how much the head coaches can escalate the ice time of their top pairings. With all due respect to the bottom-pairing guys trying to grind their way to respectability, we might see record ice times for guys like Alzner, Niskanen, and Letang.
If we don't? Well, we might see a pile of goals. A win-win proposition if you are a hockey fan!