Sloan set for second PGA Tour run
Canadian feels more prepared and ready for the challenge this time around after a strong year on the Web.com Tour, Bob Weeks writes.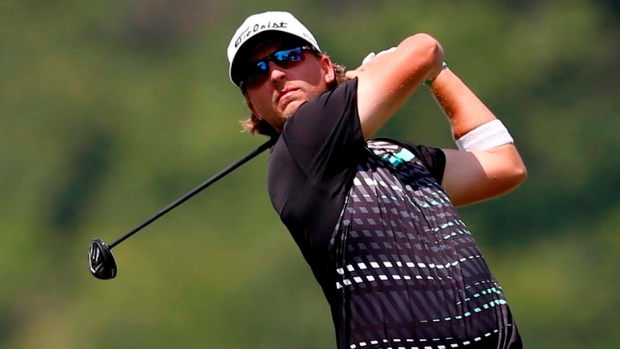 Roger Sloan was channeling a little bit of Clark Griswold as he put up the Christmas lights on his house last week. The only difference was that he was doing it in shorts and under the warm temperatures offered in Houston.
Sloan, the Calgary-born, Merritt, B.C.-raised golfer now makes his home in the Lone Star State, which is a little more conducive to playing golf year-round.
"My family is making the trek down [from Canada] to Texas this year so it will be a nice Christmas in the sun, sipping on lemonade," he said, admitting it to be a little unusual for a guy used to snowy Decembers.
It will also be a nice New Year for Sloan, who is back playing the PGA Tour for the first time since the 2014-15 season. He advanced to the top circuit via his play last year on the Web.com Tour. Looking back on the previous season, he was more than satisfied.
"I guess I'd say the goal of getting to the PGA Tour accomplished," Sloan said. "I've just been pleased with my progression as a professional every year. I continue to get better every year and 2018 was no different. I'm looking forward to 2019 and continuing that trend and getting a little bit better."
Sloan played well enough in the Web.com Tour playoffs to gain status on the PGA Tour where he played in 2014-15. That year didn't go so well as he played 20 events and missed the cut in 13 of them. His best finish was a tie for 18th.
But this time around, he feels more prepared and ready for the challenge.
"It's great to be out here with guys I'm familiar playing with so there's definitely a lot more comfort this time around," said Sloan. "Obviously you know what you're getting into. Now my sights are a little bit more focused rather than being that wide-eyed child in the candy store."
This time, Sloan will play courses he's seen before and know his way around life on the PGA Tour. He's also a few years older and wiser about his game, and learning from his experiences is something that always drives him to play better.
Case in point: at the first event in the Web.Com Tour playoffs, Sloan sat tied for 12th heading into the last round. It was a great opportunity to earn some money and move into position for a PGA Tour card. Instead, he shot 81.
"You could say that I kind of choked or crumpled under the story line of the situation," he related. "But I was able to take a week off and make immediate adjustments and the very next week I was T12 going into Sunday again and because of those adjustments that we made we were able to shoot 63, finish T2 and lock up a PGA Tour card."
He also knows this time around that his game is good enough to compete on the Tour. Last time he played the big circuit, he went looking for changes he thought he needed. This time, he'll just keep refining the game that brought him here.
"Golf comes full circle," he said. "Sometimes you end up working on something you were working on five years ago but it's a process of improvement. It's really no different than people in the business world who are familiar with the same type of process."
Sloan is looking forward to seeing lots of friends on the PGA Tour, including the gaggle of Canadians who usually have one topic of conversation when they meet.
"We're always jabbing going back and forth because everybody cheers for the wrong hockey team," said the Calgary Flames fan. "There's great camaraderie between us all. Svenny [Adam Svensson] and I graduated together this year and played together. I know Ben [Silverman] from the previous couple of years, obviously Adam [Hadwin] and Nick [Taylor] and I go back all the way to when we were 16 years old. David Hearn and I have known each other since my time on the PGA Tour, so there are a lot of really good Canadian guys and we all stay in touch."
Sloan played five events in the fall, making the cut in two. He'll re-start in 2019 in Hawaii at the SONY Open and, with his exemption status, should play three more events on the West Coast swing.
Until then, however, it will be a Texas Christmas for the Canadian.