Soshnikov returns to practice facing uncertain future
The Maple Leafs winger remains on injured reserve, delaying a tough roster decision for the franchise, Kristen Shilton writes.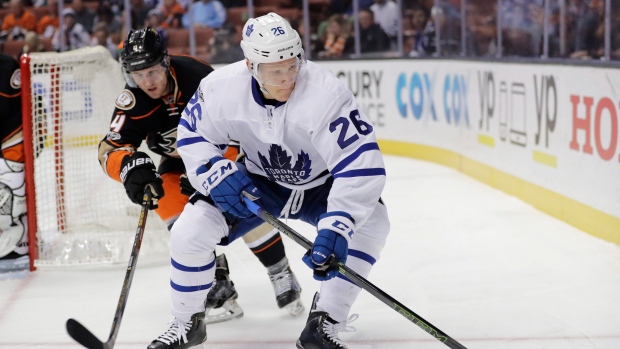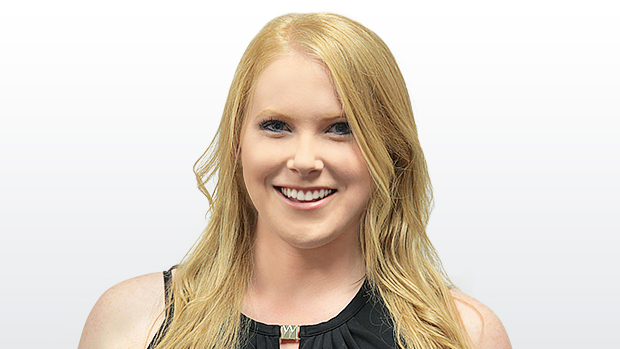 After taking a day off on Monday following the completion of his five-game American Hockey League conditioning stint, Nikita Soshnikov resumed practising with the Maple Leafs on Tuesday. Yet his future with the club remains unclear.
Soshnikov has been on injured reserve since Dec. 12 with a lower-body ailment. While keeping him on IR, the Leafs assigned Soshnikov to the Toronto Marlies last week on a long-term injury conditioning loan.
Toronto's decision to recall Soshnikov without removing him from IR – which would necessitate a corresponding roster move – ignited debate around the hockey world over whether general manager Lou Lamoriello was following the rules of the collective bargaining agreement.
Despite putting up two goals, three assists and 17 shots on net during his stay with the Marlies, Soshnikov said Tuesday he's still not where he needs to be physically.
"I feel pretty close, pretty good," he said. "I just need a couple practices with this team to get back and get settled and see what happens after that."
Following his injury, Soshnikov had skated with the Leafs in one workout, on Jan. 16, before disappearing again for a stretch, and then resurfacing two weeks ago. At that point, Leafs coach Mike Babcock said all options would be examined in the best interest of Soshnikov's recovery, practically guaranteeing he'd do a conditioning stint.
While players like Nikita Zaitsev or Auston Matthews have stepped right back in with the Leafs after long injury absences, Soshnikov felt the second conditioning stint of his career (he had a similar assignment last fall) was beneficial.
"Those games help me a lot in getting back on track and getting in shape again," he said. "The Marlies are playing really good hockey now. Some games, after the second period, you don't want to play anymore because the score is really big. But it was fun and good for me."
Soshnikov spent 19 games with the Marlies to start this season when the Leafs didn't have a roster spot for him out of training camp. He remained in the AHL right up until mid-November, when a looming contract clause would have allowed Soshnikov to depart for the KHL if he wasn't on an NHL roster.
There are precedents from around the league just this season where players were sent on conditioning stints and then remained on IR afterward. Minnesota Wild forward Zach Parise returned from the AHL and stayed on IR four more days; New Jersey Devils forward Micro Mueller was still on it eight days after his recall.
In Toronto's case, buying extra time with Soshnikov means delaying a tough decision.
Kasperi Kapanen was recalled to replace Soshnikov when he got hurt, and could still be returned to the minors without waivers. But in mid-January, Kapanen took hold of a regular lineup spot and the Leafs have won eight of nine since, making the likelihood of his return to the minors rather slim.
All things being equal, that would mean one of Soshnikov, Matt Martin or Josh Leivo is headed for waivers when Soshnikov is activated off IR, a prospect Toronto will put off as long as possible.
Babcock didn't offer any insight into Soshnikov's standing with the team on Monday, and general manager Lou Lamoriello would only confirm he's remaining on IR for now. The issue for Soshnikov may not even be about getting healthy, but whether he can stay that way long enough to have an impact on the Leafs.
Since bursting onto the scene as a free agent signee in 2015-16 with five points in 11 games, Soshnikov has battled through three long-term injuries (and a couple other short-term ailments) over the last season and a half – a groin issue last fall held him out for a month, a concussion in March robbed him of another month, and now this lower-body problem has stolen two months of a season.
Even before the injury, Soshnikov had played just three NHL games this season, the last on Nov. 24, with no points.
The Leafs' organizational depth on the wing means Soshnikov faces an uphill battle to secure another NHL opportunity if he remains a Leaf after being activated.
"I think the big thing is, he has to earn his confidence back," said Babcock. "That's by getting in, that's by doing good things, that's by feeling good. He's been injured for a long time here and hasn't felt good; you can just tell mentally the wear on [him]. Probably hasn't been a ton of fun, but ideally he'll get his game back and get feeling get about himself and that'll show on the ice."​