Sparks makes unexpected return to Maple Leafs
Embattled backup goaltender will travel with the team to Boston for Game 1 with Michael Hutchinson away for the birth of his first child, Kristen Shilton writes.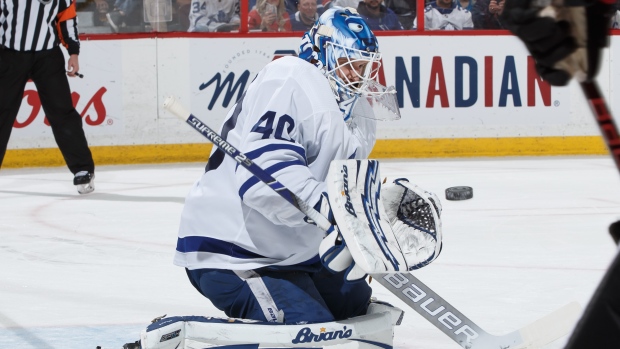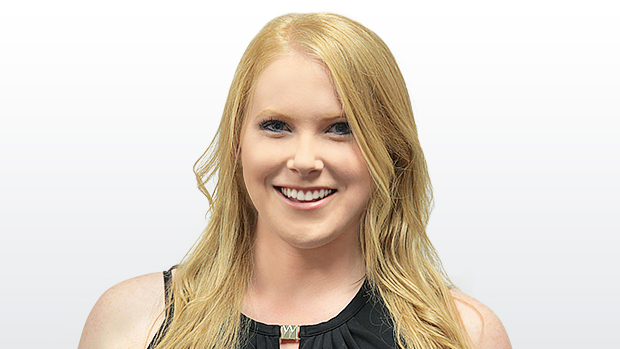 TORONTO – Embattled goaltender Garret Sparks unexpectedly returned to Maple Leafs practice on Wednesday, but his reappearance on the roster will be temporary.
Sparks was sent away from the team last Friday, told to improve his declining play with goalie coaches Steve Briere and Jon Elkin. Michael Hutchinson was recalled from the Toronto Marlies to serve as Frederik Andersen's backup for at least 10 days, which carry into the team's first-round playoff series against the Boston Bruins.
Hutchinson missed Wednesday's practice for a personal reason, later revealed to be the birth of his first child. That means Sparks will travel with the Leafs to Boston ahead of Game 1 on Thursday.
"Really [Sparks] is not back here any sooner in my mind," said Leafs' coach Mike Babcock. "He's filling in for a day or two here while Hutch and his wife welcome their child. But the 10-day program he was on, he's still on. We won't deviate from that."
Sparks hadn't commented publicly on his removal since the Leafs made their decision a day before the team's regular-season finale in Montreal. Sparks explained why this season has been so challenging during a brief news conference Wednesday that the Leafs' PR staff cut off after seven questions.
"Well you don't do this in the AHL," he said, surveying the dozen media members in front of him. "That's one component. [The NHL has] better players, tougher schedule. There's a lot going on. So, that's it."
The 25-year-old was believed to be ready for the pressure of an NHL job when general manager Kyle Dubas picked him over veterans Curtis McElhinney and Calvin Pickard for Toronto's backup job at the conclusion of training camp in October.
Dubas had previously been the Marlies' GM for three seasons, watching Sparks develop into the goaltender who backstopped the club to its first Calder Cup championship last spring and earn the AHL's most outstanding goalie award for his regular-season play (31-9-1 record, .936 save percentage, 1.79 goals-against average).
Sparks also played 17 games for the Leafs in 2015-16, posting a 6-9-1 record with .893 save percentage and 3.02 goals-against average.
With time in between to hone his craft, the goalie's second go-around in the NHL began with four wins in his first five starts. It wasn't until Christmas that the cracks began to show.
Sparks has appeared in 12 games since Dec. 28, compiling a 3-8-0 record with a .898 save percentage. His play became increasingly erratic down the stretch, punctuated by tendencies to chase pucks and be too aggressive in his positioning.
Dubas still signed Sparks to a one-year, $750,000 contract extension on March 5. But two weeks later, during a particularly bad stretch for the Leafs where they allowed 23 goals in four games, Sparks was so frustrated he publicly chastised his team for not showing enough emotion in a 6-2 loss to Ottawa.
Sparks ended his season on a sour note, dropping a 4-1 decision to the Carolina Hurricanes on April 2. Two days later he was banished.
"I'm in agreement that I haven't played to the degree we all know I can play," Sparks said Wednesday. "Extra work isn't a bad thing. They just [told me] Hutch would be up for a little bit and it was on me to go do some work. It's all part of being a pro."
The continuing drama has come at an awful time for the Leafs, pulling focus away from what the team is trying to accomplish on the ice.
Plus there's always a chance Sparks could be called into action on Thursday night if he's the backup and Andersen gets hurt or struggles. (Andersen was pulled from Game 2 of last year's series against Boston in favour of McElhinney after ceding three goals on five shots).
There's no way to know how Sparks would perform in such a pressure-packed position after the turbulence of this past week, but Babcock tried to minimize his storyline by insisting Hutchinson won't be away from the Leafs for very long.
"He'll be available as soon as he can be," Babcock said. "Being there for the birth of your child and supporting your wife is more important."