Spieth's sweet swing returns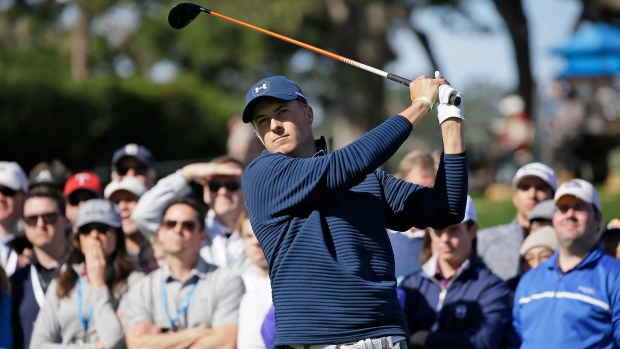 Everyone knows Jordan Spieth is a great putter. What often gets missed in his arsenal, however, is his ball-striking, which can be among the best on the PGA Tour.
Spieth won the AT&T Pebble Beach on Sunday with some sensational play on the greens, such as the 29-footer he holed on the 17th hole in Sunday's final round. But if there is a marked improvement in his game over last year, the one that was the key to his latest victory, it's between the tee and green. The 23-year-old is currently ranked first in greens in regulation percentage, hitting an astounding 84.72 per cent of the greens. Last year, he finished 145th in that same category.
After a sensational 2015 season, Spieth's game fell off last year by some measurements. Off the tee, he often battled a two-way miss. And there was that collapse at the Masters.
However, it would be hard to call it a failure. All he did was win twice and post eight top-10 finishes. For some golfers, that's a great career. It's just that Spieth's 2015 was one of the best years in PGA Tour history – five wins, including two majors and top-five finishes in the Open Championship and the PGA. That's a hard act to follow.
"I don't think comparing to 2015 as being the standard is fair because that would be comparing to someone who would win 45 majors and almost 100 events," Spieth said after his win at Pebble Beach. "So I don't think of that as the standard. I think of that as [trying to] put ourselves in the right position and obviously try and capitalize each time, because we had a lot of fun that year."
The other difference between the two years was that Spieth played a lot at the end of 2015, hardly taking any down time. He didn't make that mistake this past winter, choosing to take a break from tournament play and international travel, while also working hard with his coach, Cameron McCormick, to shore up the ball-striking.
When asked what he learned about the past two years, he was candid on his reflection.
"I've seen the lows. I've seen even more highs," he stated. "Every win you gain a little more confidence off the last one. And then when you have tough losses you, obviously, figure out a way to learn from those. And my ball-striking's been much improved."
That improvement may mean a return to the winner's circle more often including possibly the Masters. He's been T2, first and T2 the last three years. And, according to the odds makers, he's now a 6-1 favourite to win a second Green Jacket.
---
Nick Taylor's tie for 10th spot at Pebble Beach marks the first time since last March that he has cracked the top 10. It was nice to see the Abbotsford, B.C., product with a solid finish, something that's been expected for some time. In fact, the expectations on Taylor have been high – perhaps unfairly so – since his amateur days when he was the top-ranked amateur in the world and set the mark for the lowest score by an amateur at the 2009 U.S. Open.
It appeared he would deliver as a pro when he won the Sanderson Farms Championship just a few events into his PGA Tour career. Since then, however, like many rookies, he's battled periods of inconsistency, missing 11 cuts his rookie year and then 10 last year. But in each of those years, he's shown signs of growth in his game and is starting to look very comfortable on course.
Learning about those ups and downs that occur during a season and understanding that everyone experiences them, may be one of the most important lessons the 28-year-old has learned in his brief career.
"It's pretty easy to have the mentality coming from PGA Tour Canada," said Taylor earlier this season, "because I had some success there, only played nine or 10 events, rarely missed the cut, had some top-10s. But the more you move up, the deeper the fields and it's just not realistic to not miss the cut or have top-10s every week. You just have to know you're going to have stretches of two or three tournaments where you're great and then you might be in a rut for a couple of weeks. It's just a learning curve as you move up."
Taylor will attempt to build on his good play at Pebble Beach this week at the Genesis Open. He'll be joined by Graham DeLaet, David Hearn, Adam Hadwin and Mackenzie Hughes as Canadians in the field.