Stone's journey to Calder contender
After sitting through nearly six full rounds of the 2010 Draft, Mark Stone finally got the call from the Ottawa Senators. With days to go before the next crop of future NHLers, the Sens standout now finds himself watching the next crop sweat it out while he thinks about potentially winning some of the league's top hardware.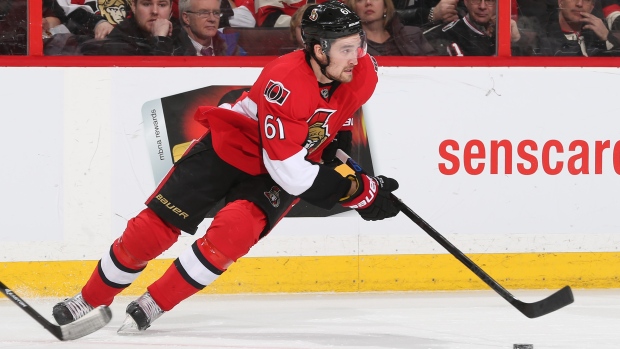 Mark Stone finally had enough and clicked off the television inside his family's cabin.
He had patiently waited to hear his name called at the 2010 NHL Draft in Los Angeles, but through four rounds, he had yet to be selected. His agent, Craig Oster, had told him not to bother going to the draft in person at the Staples Center because he wasn't a highly-rated prospect.
"I made up my mind pretty quickly that I wasn't going to go," recalls Stone. "I didn't want to have to deal with sitting there and wasting all that time. My agent suggested that I shouldn't go and I was on board with that."
But even watching from afar in Manitoba was becoming a nerve-racking exercise for the teenager. Two years earlier, his brother Michael was taken in the third round by the Coyotes, so he was definitely not going to be the highest-drafted player in his family. So Stone turned to his mother, father and brother and said, "Alright, let's go do something else. I'll bring my phone with me."
They headed down to the dock by the water to focus on something other than the NHL Draft on television.
--
While Stone was getting antsy about his draft status, the Ottawa Senators scouting staff were feeling slightly dejected themselves at their table inside the Staples Center.
The Senators had already traded away their first-round pick to St. Louis in exchange for David Rundblad. The club was also without a pick in the second round because of an earlier trade with the New York Islanders to acquire defenceman Andy Sutton during the season. The amateur scouting staff was feeling a bit short-changed because their input was unnecessary in the early rounds.
"Not having a first rounder, you just sit there and watch these guys get picked and you wish you could have them, or at least the opportunity at them," said Bob Lowes, who was the club's western scout at the time. "But you just kind of suck it up."
Pierre Dorion was in his first year as the director of player personnel with the Senators at the 2010 draft and he admitted feeling sorry for his scouts sitting around him at the table. "These guys work so hard throughout the whole year; you almost get your cake at this time. You reap the rewards for your year of hard work and then you don't get to make the selection. So for sure, it's disappointing for the scouts," he said.
But Dorion also recalls a conversation he had with general manager Bryan Murray just prior to the draft.
"I told Bryan I worked 15 years in the league and I think this was one of the worst drafts," Dorion said. "The draft didn't have a lot of depth to it, so it wasn't a problem for us trading picks that year."
While Lowes may have been slightly unhappy with having no input into the early rounds, he would soon have a chance to influence the draft in a way that could alter the Senators franchise for years to come. He would later find out that the 2010 draft class had a little more depth than he thought.
"Let's face it, if we had known that Mark Stone would be this good we would have taken him in the first round," Dorion said with a chuckle.
--
At some point in the late fourth or early fifth round of the draft, assistant general manager Tim Murray and Dorion finally put their amateur scouts to work by asking a question to the group.
"We need a bigger CHL forward. Are there any still out there?" they asked.
Bob Lowes immediately brought up Stone's name.
Dorion turned to Lowes and asked, "Does this kid have a dimension?"
"He's got size and skill," responded Lowes.
While Stone's game possessed those qualities, there was something sorely lacking. It was a red flag that had dogged Stone for a couple of years: his ability to skate. In his draft year, Lowes watched Stone suit up for the Brandon Wheat Kings on numerous occasions and paid particular attention to his skating. The scout noticed that Stone's skating was fine for the first 20 seconds of a shift, but his stride would break down after that.
Lowes was adamant that Stone's skating could improve and projected him to fit nicely into a bottom-six forward role at the National Hockey League level. Still, the Senators brass was on the fence about Stone because of the questions surrounding his athleticism.
"When you saw him during his draft year, Mark never had what you would call the most athletic body," Dorion said.
Stone did not suit up in the annual prospects game and he hadn't attended the NHL scouting combine a few weeks earlier, so the organization had very little to go on. Even when the Senators brass watched him in person at the 2010 Memorial Cup, they weren't sure what to make of him. Stone got into a fight in the opening game of the tournament with Windsor's Craig Duininck, which left Dorion puzzled.
"I turned to Bob and said, 'You tell me to watch this guy because he's a skill guy and instead he's getting into fights,'" said Dorion.
"I used to get into the odd scrap in junior," Stone said with a laugh. "I had more of a temper than I do now."
Stone's role on that Brandon club which hosted the Memorial Cup was minimal at best. He had started the season playing on a line with Brayden Schenn and Scott Glennie – two players who were taken in the first round of the previous NHL Entry Draft. But a mid-season concussion sidelined Stone for an extended period of time and he lost his spot on the top line. Instead, he was relegated to fourth-line duty when he returned and he failed to register a single point in five Memorial Cup tournament games.
But this is where Lowes' history in the Western Hockey League entered the equation. He had been a coach in the WHL for 12 years, including nine years as head coach of the Wheat Kings. He used his connections to conduct interviews about Stone's character and work habits. If he couldn't skate at the NHL level, was this the type of kid who was willing to put in the hard work to change that? Lowes set out on a fact-finding mission to get the answer.
"I can find out information when I need to find it," said Lowes, who had extensive conversations with Wheat Kings head coach Kelly McCrimmon about Stone in the weeks leading up to the draft. "I just did some background based on people I knew in Brandon and everything checked out."
For his part, Stone was aware that these conversations were going on between Lowes and his junior coach.
"Bob – since he was part of the Wheat Kings organization for so long – he really trusted Kelly and what type of character I had," said Stone. "He did his research on me."
And what was the overriding message from McCrimmon and the Wheat Kings organization about Stone?
"They believed he was underappreciated," Lowes said.
--
When it came time to make their sixth-round selection, Lowes felt confident enough to push even harder to draft Stone. The Senators only had two picks left in the draft and time was running out to take a gamble on the kid from the Wheat Kings.
Lowes recalls one other name brought up at the time – he thinks a big forward from the Ontario Hockey League. "Our guys asked me what I thought and I said, 'I think Stone is better than the other kid.'"
"In the late rounds, you have to pick one thing about a player that you like and could give him an opportunity to play," Lowes said. "With the guys taken higher, you are probably checking off three or four boxes on things they have. But in the late rounds, you have to find something."
And that something with Stone was his hockey IQ. In his final sales pitch for Stone, Lowes reiterated the intangibles he brought to the table.
"It's a hard thing to teach, because there is no way to teach hockey sense. His anticipation and his ability to think ahead you can't teach," Lowes said. "I always said when we drafted him that if he skated better, he would have probably been a top-three round pick."
Stone acknowledges the doubts about his skating – which he believes linger to this day. But he was confident that he could become an NHL player without being an elite skater; relying on his on-ice intellect to compensate for any shortcomings in that area.
"It was tough. I still think people are questioning on it, but I always knew I could compete just by using my brain," says Stone.
So when it came time for the Senators to make their sixth-round selection, there was little hesitation whose name they would end up calling. They were going to take the kid who had the skill, the size and the smarts – if not the skating.
"Without a doubt, Bob Lowes was pushing for Mark Stone," recalls Dorion. "That's one name Bob really pushed for."
--
Mark Stone was standing on the dock by the water near his family's cabin when his phone started to ring. The number on the call display was from his agent, Craig Oster.
"Congratulations, you've been drafted," Oster told him.
"Where did I go?" Stone asked.
"178th overall – to Ottawa."
Stone remembers his immediate reaction was one of surprise. "Being a bit of a Leafs fan, I was like 'Huh. This will be interesting to be a part of the Ottawa organization,'" he said. On his pre-draft questionnaire, Stone wrote that he most likely would project out to be a forward like Alexei Ponikarovsky of the Maple Leafs.
"I always liked him because he would play with Sundin. I thought I could play that similar role and be in front of the net and find that slot area."
But Stone wants to make it clear that he didn't have a passionate, die-hard love for the Maple Leafs.
"I didn't hate Ottawa – I just loved Mats Sundin," he said.
He hung up the phone with Oster and a few moments later, it began to ring again – this time from a number he didn't recognize.
Usually, Dorion is the one who makes the congratulatory phone calls to draft picks not present in the arena. But on this date, he broke from tradition and gave that honour to Lowes.
"I let Bob do it that day because he was so instrumental in getting Mark," says Dorion.
Lowes admits he doesn't remember much from his phone conversation with Stone that day, other than he officially welcomed him to the organization. The details on that call are also a little bit fuzzy from Stone, but one portion of the conversation still sticks out in his mind.
"I remember Bob telling me, 'It starts now. Don't worry about where you were drafted. A lot of guys have made it. You need to improve your strength and you'll be an NHL player someday.'"
--
When Mark Stone attended the Senators first training camp in the fall of 2010, it was clear that he was not anywhere close to being NHL-ready. The club quickly returned him to Brandon, where something seemed to click in his game. He exploded for a 106-point campaign, and was so impressive in the early stages of the season that he earned an invite to Team Canada's selection camp for the 2011 IIHF World Junior Hockey Championships.
Stone overcame the criticism of his skating and quickly blossomed into Canada's most consistent goal scorer at the tournament. He opened with a hat trick against Finland and ended up leading the team with seven goals en route to a bronze-medal finish. While the rest of the hockey world was just learning about Mark Stone, the Senators were counting their blessings that he was already in their fold.
"To me, where it clicked was the year after we drafted him," Dorion said. "It was the world juniors; he was one of the best forwards for Team Canada. And I thought, 'This guy is really going to be a player for us down the road.'"
Stone started realizing his NHL dream could become a reality around the same time. "I didn't think it was a stretch after my third and fourth year in junior," he said. "I was pretty comfortable with how I progressed. I knew I could become a better player than most people thought.
Lowes also noticed a marked improvement in Stone's game just a few months after he was a sixth-round draft pick.
"I went and saw him during his 18-year-old year," recalls Lowes. "He had a six-point game and I said to myself, 'I think we've got a better player than we initially drafted.'"
But after a slight pause Lowes adds, "But even I never thought it would come to this."
--
What it has come to is a Calder Trophy nomination for Stone following his first full season in the National Hockey League. He scored 26 goals and 64 points, becoming the offensive catalyst for the Senators during their improbable march to a playoff berth down the stretch.
In the regular season finale – in which the team clinched a playoff spot in Philadelphia – Stone tallied two goals to secure the win. The insurance marker in that game was a quintessential Stone goal. He used his uncanny ability to force turnovers to strip the puck away from Jakub Voracek and then tuck it behind Flyers' netminder Steve Mason. The kid who believed he could compete just by using his brain ended up leading the NHL in takeaways in his first full season.
What Senators fans saw that afternoon in Philadelphia was the finished product; a player who spent countless hours in the past few summers working with team skating coach Marc Power to improve his stride. He also did extensive off-ice training with strength and conditioning coach Chris Schwartz to improve his hip mobility.
Lowes initial assessment that Stone could only skate for 20 seconds at a time can now be tossed into the recycling bin.
"I knew I had to get faster, which I was able to do," said Stone. "I think now I can overcome that choppy stride and play a longer shift."
The same can be said for Dorion's view on Stone's physique. He may not have had the prototypical hockey player's body as a teenager, but he has completely erased any doubts about his skating by simply working harder than anybody else.
"He's become a really good athlete, because he's worked on his conditioning," Dorion said. "He was never the fleetest of foot, but because he's worked on his strength and skating, he's been able to become a player."
As for the man who pushed so hard for Stone at the draft table inside the Staples Center, even he admits he could never have envisioned a Calder Trophy nomination after his rookie campaign in the NHL.
"I would have had a tough time believing it. That's nothing against Mark, but I think he would feel the same way. He's exceeded expectations," said Lowes.
And Stone is now willing to re-write that initial comparison to Alexei Ponikarovsky, believing his ceiling is higher. "Looking back on it now, I think I could become more," he said. "I think I can become one of the better players in the league.
--
On Wednesday night, Stone will attend the NHL Awards show at the MGM hotel in Las Vegas. One of his good buddies from Winnipeg and Ottawa Senators teammate Cody Ceci are tagging along.
Word has leaked out that former Senators captain Daniel Alfredsson will be a special guest presenter for the Calder Trophy that night for the top rookie. Alfredsson himself is the only member of the Senators organization to win the award, taking the honour back in 1996.
Stone has allowed himself to think about the possibility of receiving the award from Alfredsson.
"If I could have that moment, it would be special," Stone said. "He's the only guy who's ever won it for Ottawa and a guy who went on to do so many amazing things. Obviously, I've got my fingers crossed, but whatever happens, I'm just going to enjoy the experience."
And, of course, his parents – Rob and Jackie – and his brother Michael who plays for the Arizona Coyotes will also be in attendance for the awards show in Las Vegas. The same tight-knit family that had to turn off the television inside their cabin five years ago will once again be immersed in drama and tension involving the youngest sibling at an NHL event.
Only this time, Mark Stone doesn't have to worry about whether or not anybody will call his name on the stage. He already knows he has arrived as an NHL player.