Stroman adjusts delivery to get back on track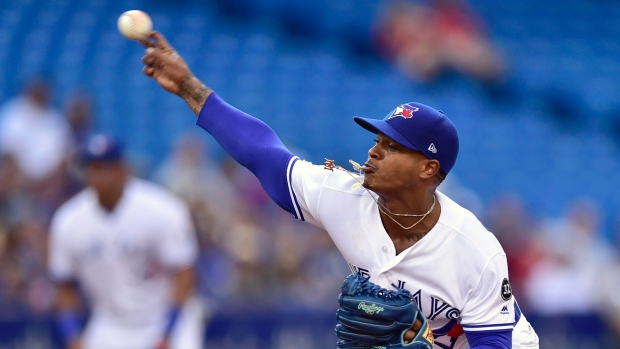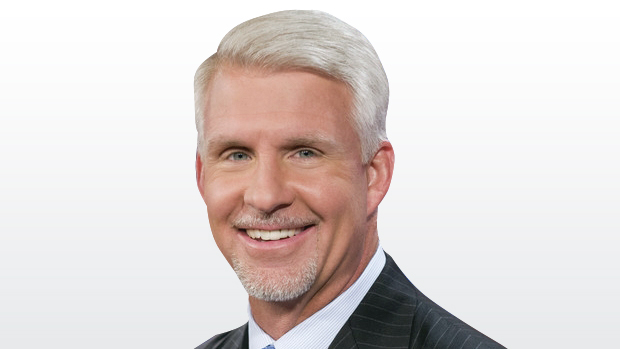 Toronto Blue Jays starter Marcus Stroman returned from the team's disabled list on June 23 having healed from his right shoulder inflammation. He has made four starts since his return, with three of them high-quality outings.
When a pitcher is struggling, there are two obvious questions: Is he healthy? Are there mechanical flaws in his delivery? Prior to Stroman going on the disabled list, I questioned whether he was healthy as his pitches seemed elevated and lacked life. He had shoulder inflammation in spring training so it was reasonable to wonder whether that had cropped back up again.
I also noticed a mechanical flaw that had cropped up again in his delivery. It was one that affected him in early 2016 and was corrected in late June of that year.
Essentially, what Stroman was doing was when his leg kick went up over the pitching rubber, his hands were linked and moved to the sky, rather than his ball hand being removed from the glove and starting the loop down in his delivery. He wasn't able to release the ball as far out in front of his body as he needed to because when he was taking his hands up instead of down he wasn't leaving himself enough time for his arm loop. This flaw wasn't allowing him to get on top of his sinker or slider, causing these pitches to be up in the strike zone while lacking the appropriate and necessary movement.
Take a look at his mechanics from earlier this year and his recent adjustment: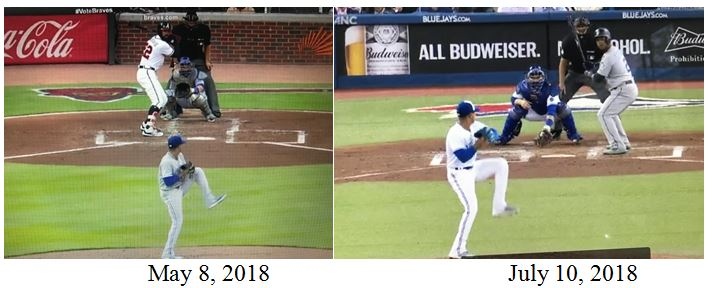 The pitch charts that I have seen over these four starts in comparison to the preceding starts this year show that his release point is a bit lower, indicating that his arm is more in front of his body and that he is getting on top of his pitches better. Plus, the pitches have more depth and movement now that early in the season.
Whether Stroman's shoulder inflammation led to the mechanical flaw or the mechanical flaw led to the injury is unclear. The key is that it appears that he has fixed both issues upon his return. Now, it will be about maintenance.
Stroman and Aaron Sanchez are both critical to the Blue Jays in 2019. If they both don't get straightened out and maintain a level of success in the final two-and-a-half months of the season, the Jays are in trouble.
Heading into the off-season and into 2019 the Jays need to have predictability with their two young guns. If they flounder over the rest of the season, then Toronto really has no reason to hope to compete in 2019. If the Jays can only look at either or both of the young starters as No. 4 or No. 5 starters going into the season next year, then the off-season plan may need to be less ambitious.
Stroman appears headed on the right track; now Sanchez needs to re-emerge as a front-end-of-the-rotation consideration.
---
Heavyweights do battle for AL East title
The Boston Red Sox and New York Yankees must feel like two heavyweight fighters that have been sparring for three-and-a-half months, but are on the verge of standing in the middle of the ring toe-to-toe, pounding on each other.
As of today, the Red Sox are three-and-a-half games ahead of the Yankees in the AL East. They are both really good teams that will make the playoffs. But they can't both win the division title. One will – the other will likely be the first wild-card team. As it stands now, the club that ends up the wild card winner would have to face lefty ace James Paxton of the Seattle Mariners. And then if they win that game, they would face the Houston Astros in the ALCS. That would make for a very tough road to a World Series.
As currently constituted, the Red Sox are the better team. Both Boston and New York have stellar offences. The Red Sox have outscored the entire league and have the highest OPS (.801) in the league. The Yankees have scored the third-most runs by hitting the most homers in baseball. The Red Sox, who ranked 27th in homers a year ago, are second this year. They signed J.D. Martinez to add power to their lineup and he has been the best free agent pickup of the year. He has changed their whole offence. The Red Sox are not solely a power-hitting team; they also lead the league in stolen bases.
The Red Sox have a better and deeper starting rotation than the Yankees. The Sox are led by Chris Sale (10-4, 2.23 ERA) who has set a record with five straight starts of 11 or more strikeouts with zero or just one walk. Rick Porcello (11-3, 3.58 ERA), the 2016 Cy Young Award winner, is having a nice season, as is lefty Eduardo Rodriguez (11-3, 3.62 ERA). Former Blue Jay David Price (10-6, 4.42 ERA), has been great at times and not so great at other times.
The Yankees are led by young fireballer Luis Severino (14-2, 2.31 ERA), one of the best young pitchers in baseball. After Severino, the Yankees' rotation is questionable. CC Sabathia (6-4, 3.34 ERA) is still effective even though he isn't nearly the same guy he used to be. At this stage of his career, he isn't likely to go more than twice through the lineup. Veteran Masahiro Tanaka (7-2, 4.68 ERA) isn't as dominant as he once was, be he is serviceable. He keeps the Yankees in the game and allows their big offence to do their thing. Right-hander Sonny Gray, acquired last season at the trade deadline, has been a disappointment. He is 3-0 with a 2.00 ERA in three starts against the Baltimore Orioles and has a 6.14 ERA against everyone else. Gray has not performed well at all.
The Yankees bullpen is the best in the AL with a 2.72 ERA and 20-11 record. Aroldis Chapman, their closer, has saved 25 of 26 chances. The Yankees have depth and plenty of options for manager Aaron Boone. The bridge to get from the rotation to the closer is littered with power arms. The Red Sox aren't far behind as they have the third best pen in the AL (19-8, 3.23 ERA.) Their closer, Craig Kimbrel, is elite and has saved 29 of 31 chances.
The Yankees have more needs than the Red Sox do headed to the traded deadline. The Yanks need a starting pitcher to slot in behind Severino. A quality starter may help the Yankees win more regular-season games and capture the division. Guys like Toronto starter J.A. Happ are on their radar as are Cole Hamels, Michael Fulmer and Chris Archer. Either way, a quality starter would help them once they're in the playoffs to match up with the depth of pitching that the Indians, Astros and Red Sox all have.
Both the Red Sox and Yankees need to add another lefty reliever. The big name on the market is Baltimore's Zach Britton. It may turn out that whichever of the two teams can land Manny Machado could also get Britton. The Orioles are thinking of coupling their shortstop with Britton to maximize their value. Both the Sox and Yanks have been rumoured to be interested in Machado. The Yankees have made a "serious" offer while the Sox have at least kicked the tires on a possible deal.
The level of interest in Machado from both clubs is a bit perplexing. Neither of them need the 26 year-old. The Sox have 21-year-old Rafael Devers (.241, 14 homers and 48 RBI) who has a bright future and the Yankees have 23-year-old Miguel Andujar (.282, 12 homers and 39 RBI) playing third base. The Yankees may be evaluating the underwhelming starting pitchers market and feeling like the best way to improve the team is to add offence in Machado and deepen the bullpen with Britton. I think the Red Sox interest is solely to run up the asking price on the Yankees.
Getting Machado may help the Yankees win the division but it won't set them up to win in the postseason. In a short-series starting pitching is critical. A game and series can be lost in the early innings. A deep bullpen will help support a lesser starting staff but it may not be enough. Yankees GM Brian Cashman may need to get very creative to improve his starting pitching the way they truly need.
---
Spitting Seeds
-In a shocking development, former Heisman Trophy winner and NFL quarterback Tim Tebow made the 2018 Double-A Eastern League All-Star team. He went one-for-four with a double in the game. Tebow, 30, a New York Mets minor league outfielder in just his second season in the minor league, is hitting .270/.337/.390 with five homers and 33 RBI for the Binghamton Rumble Ponies. He has made some adjustments to his swing and in the month of June has really heated up, batting a robust .323/.356/.417. He has, however, struck out 95 times in 241 at bats. After a rookie season in which he hit a meagre .226/.309/.347, I never could have imagined he would have this level of success. It just proves what hard work and determination can do. He still looks like a football player who's playing baseball but you have to admire the seriousness of his efforts.
--
There is speculation in New York that he might even get a promotion to the majors in September. Normally I am not a fan of gifting major-league experience to players – I prefer it to be earned. Tebow's skills and performance are not yet worthy of a promotion, but every team is better with Tim Tebow on it. In fact, baseball is better with him playing the game and I would fully support his call-up. He never ceases to amaze.
--
-The Houston Astros sent closer Ken Giles to the minor leagues. Giles, 27, is in his fifth major league season and has had a tough season with a 0-2 record and a 4.99 ERA. In 34 games, he had pitched 30.2 innings, allowing 36 hits and striking out 31. The fiery right-hander has had difficulty controlling his emotions in his career. That is not usually a good trait for a closer.
--
Closers show their mettle not by successfully saving games, but rather handling the blown saves with a short-term memory. Giles has been prone to meltdowns after failures. He came unglued so much in the playoffs last season that Astros manager A.J. Hinch had to avoid using him in their most important games. Earlier this year, Giles actually punched himself in the face multiple times while leaving the field after a tough outing. On Tuesday, Giles was seen cursing at his manager after being removed from a 4-1 game in which he had allowed three straight hits and a run. That was the breaking point for the club. With the deadline approaching, It makes me wonder whether he will be traded before a return to Houston is warranted.
--
-Baseball players are the best at coming up with nicknames. Every player typically has a nickname that their teammates and coaching staff use when referring to them. The Cleveland Indians lack creativity when it comes to assigning nicknames for their players and it caused a big problem on Tuesday night in a game against the Cincinnati Reds.
--
In the ninth inning, the Tribe saw a 4-0 lead dwindle away. The Reds were rallying and had closed the gap to 4-3 against closer Cody Allen. Indians manager Terry Francona studied the Reds' lineup card and wanted to have a pitcher ready in case Reds slugger Joey Votto came to the plate. He told his pitching coach Carl Willis to call the bullpen and "Get O.P. ready." O.P stands for lefty reliever Oliver Perez. Unfortunately, Willis thought Francona told him to "Get O.T. ready." O.T. is the nickname for righty reliever Dan Otero. When Francona went to the mound and signalled for the lefty from the pen, he was shocked when Otero came running to the mound. Baseball rules stipulate that a pitcher has to face at least one batter when entering the game. Otero promptly gave up a bases-clearing double to Votto. The Indians went on to lose the game 7-4. Francona accepted responsibility and apologized to his club. He is one of the best in the game. This sort of mistake can happen and the longer one manages, the more likely they will experience this sort of embarrassing moment.
--
-Offence in baseball has changed dramatically over the last decade. Home runs, base on balls and strikeouts have all gone up substantially. Batting average has dropped significantly. The average MLB batting average today is .247 while in 2008 the average batting average was .264.
--
Defensive shifts are one of the reasons for the decline in base hits. Clubs have studied the tendencies of opposing hitters and align defenders where they most likely will hit the ball. Hitters have not made adjustments with directional contact to counter the shifting. Instead, batters try to hit the ball over the shifted infielders. Another adjustment is that clubs believe there is a better chance to score a single run in an inning by having three players trying to hit a home run as opposed to three hitters trying to hit singles.
--
Commissioner Rob Manfred is bothered by these trends in offence and is considering banning shifting. I am completely opposed to that. I have no problem with changes to equipment and facilities, but I think it is inappropriate to tell a manager to win a game you can't do this or that. You can't move your shortstop to the right side of the infield. Clubs aren't cheating. They aren't doing anything more than trying to win a game. It's not fair to punish clubs that have figured out how to win more games by shifting. Instead, leave it to the clubs who feel like they are suffering to make an adjustment to counter the shifting.
--
-Washington Nationals outfielder Bryce Harper made the All-Star team despite his .213 batting average and 99 strikeouts in 319 at-bats. This season has been a real struggle for the 2015 NL MVP. Harper's agent Scott Boras has chimed in that defensive shifts are "discriminatory" to left-handed hitters. I am sure he is concerned about that loud crashing sound in the background which is Harper's free agent value. Clearly, he is preparing to make his case to general managers this off-season, explaining the slumping star's performance. Boras should remember he represents pitchers as well who are benefiting from the new defensive alignments. Complaining about the impact on Harper and campaigning for a change may help his pending free agent outfielder, but it will hurt some of his other clients. Then again, none of his pitchers will likely make him as much in commissions, so never mind.
--
-The Philadelphia Phillies and Milwaukee Brewers took advantage of some injuries to give opportunities to a couple of young pitchers. The Phillies called up 23-year-old Enyel De Los Santos to make a start against the New York Mets on Tuesday and he got the win, tossing 6.1 innings, allowing five hits and three runs while striking out six. He was immediately sent down to Double-A again after the game to make room for starting pitcher Vincent Velasquez's return from the disabled list. The Brewers called up 23-year-old Corbin Burnes from Triple-A and he got the save in Tuesday's game against the Miami Marlins. The importance of these call-ups has less to do with what they can offer the major league team the rest of the season, but more importantly it was marketing for scouts who are following the two clubs in preparation for possible deals at the trade deadline. Look for both of these young men to change organizations by the end of the month.
--
-The Texas Rangers and San Francisco Giants made an odd trade this week. The Rangers acquired veteran outfielder Austin Jackson and pitchers Jason Bahr and Cory Gearrin for a player to be named later or cash. This deal is strictly a salary dump by the Giants who are trying to create financial flexibility under the luxury tax threshold. Jackson signed a two-year, $6 million deal this past off-season. He has about $4.5 million remaining between this year and next. Gearrin is making $1.68 million this season and is under control for next season as well. The Rangers effectively bought pitching prospect Jason Bahr by taking the money remaining on the contracts for Jackson and Gearrin. Texas has designated Jackson and will likely release him. The Giants found a creative way to free up some payroll so they can make some trades at the deadline to improve their club while staying under the luxury tax threshold.