Supporting cast comes through as Raps break Game 1 curse
They've still got work to do before some are fully convinced, which is fair, but Saturday's series opening win should go a long way in proving that these aren't the 'same old Toronto Raptors.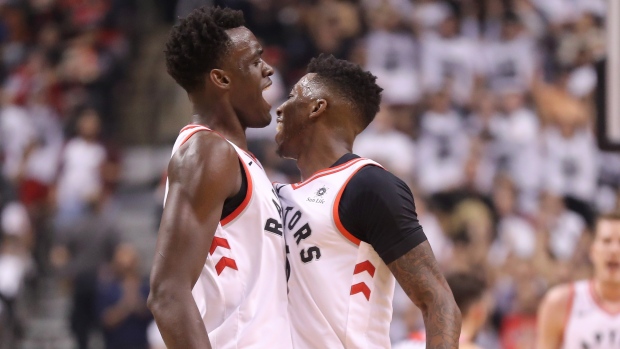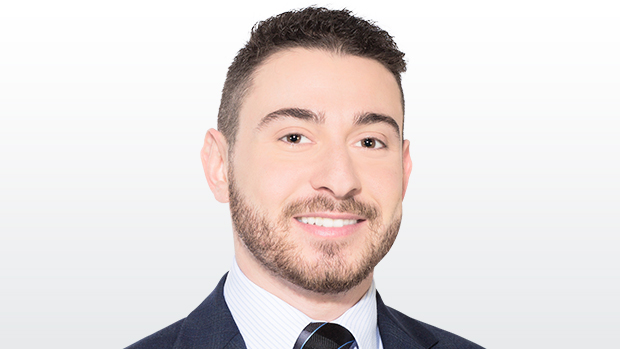 TORONTO – They've still got work to do before some are fully convinced, which is fair, but Saturday's series opening win should go a long way in proving that these aren't the 'same old Toronto Raptors'.

For the first time in 17 years they started a playoff series with a win. It was the franchise's first ever Game 1 win on home court and the first time they've opened the postseason with a victory.

It was a bizarre streak of attrition, to be sure, and one that began long before DeMar DeRozan, Kyle Lowry and Jonas Valanciunas put on Raptors jerseys, though those three were around for seven straight Game 1 losses. They tried ignoring it, they tried facing it head on but, whether they wanted to admit it or not, it's something they thought about.

"We've lost a lot of Game 1s," Lowry said on Friday. "So we've got to play [Saturday's game] like a Game 7. That's the mentality we have to have."

Lowry and DeRozan played well, better than their numbers would indicate, but some of Toronto's biggest difference makers were the guys that hadn't been around long enough to feel the weight of all those Game 1 losses.

Serge Ibaka, who only experienced two of them after being acquired in the middle of last season, turned in one of his best performances as a Raptor, scoring a team-high 23 points to go along with 12 rebounds. First-year Raptor C.J. Miles hit four threes and had 12 points off the bench. OG Anunoby also scored 12 in his NBA playoff debut. Delon Wright, who had played just 12 career postseason minutes coming in, was brilliant, stuffing the stat sheet with 18 points, four assists, three steals and a block.

For them, this wasn't a Game 1 or a Game 7. It was just another game.

"We're definitely not the same team as last year," Wright said. "It's definitely a sigh of relief. I know the fans are more relieved than we are. They've been dealing with [the Game 1 losing streak]. We did what we were supposed to do. It's a new year."

"I think the biggest thing is starting off on the right foot, protecting your home floor," said the veteran Miles. "[It's] the first step in the journey. The biggest thing is to get a good foot forward and understand what we're trying to do, understand that the game plan our coaches are putting in front of us is going to work. It just builds confidence in every single thing down the line."

The Wizards started the opener looking to put defensive pressure on DeRozan and Lowry at every opportunity, as you knew they would. They threw blitzes at them and trapped them on pick and rolls. After all, it worked when Washington deployed similar coverage in its 2015 first-round sweep of the Raptors and it has worked when just about every other team Toronto has faced since has done it.

The thinking is simple: force their best players and primary creators to give the ball up earlier than they'd like and make the guys around them beat you. It proved to be a pretty nifty strategy when Toronto's all-stars didn't fully trust their supporting cast and, not unrelated, the team's role players couldn't hit their shots and make the defence pay.

But these aren't the same old Raptors.

DeRozan only scored 17 points, which would have meant certain defeat in past years. With the team's new, free-flowing offence – made possible by DeRozan's unselfishness and improved ability to see the floor – that's no longer the case. DeRozan had just 13 points in January's 34-point over Cleveland. The following month he scored 15 in a 20-point win over Boston. He had 16 in another win over the Celtics a couple weeks ago.

He had six assists on Saturday. Lowry, who scored 11 points on just nine shots, had nine assists. Neither of them forced their games, as they might have before. They were both patient and methodical in their approach, often making the right play and finding other ways to make an impact.

The big question going into the playoffs was if the Raptors would stick with their new offensive system or revert back to their old, isolation-heavy ways when adversity hit. Well, they had 26 assists as a team – more than they recorded in all but two of their 10 playoff games last year. They took 30 threes – more than they attempted in any postseason game last year. Even when the Wizards threw their punch, going on a 15-2 run in the second quarter and taking a four-point lead into the half, Toronto stayed true to its offensive principles.

"We've got the utmost confidence in our teammates, the way we've been playing all year," DeRozan said. "The style we've been playing all year is having trust in our teammates to make the next play. You see it. We invite the traps on us honestly; it kind of takes the pressure off us. Understand we'll make the right pass and everyone else to going to make the right play, and guys did."

The other big difference is that the supporting has earned their trust. The Raptors shot 53 per cent from three-point range, hitting 16 treys. Anunoby knocked down a couple in the first quarter, Wright hit three of his four attempts from deep and even Pascal Siakam got one to fall. Is that sustainable? No, probably not. They only have three, maybe four reliable three-point shooting threats on the roster. One of them, Lowry, shot 1-for-4 and another, Fred VanVleet, was out with a shoulder injury. VanVleet is expected back soon and eventually those guys are going to get hot. If the other guys continue to hit their shots, or find other ways to take advantage of the open space they're seeing, Washington (and future opponents) will have to think twice about throwing the kitchen sink at the two guards.

"In the past, everybody always got on those guys for being double-teamed and trapped but guys have to make plays when they give it up," Dwane Casey said. "Tonight, guys did. C.J. made some shots, Delon hit some shots, and that's what you have to do. They were willing passers. That's what I liked. Again, it kind of goes with the theme we've tried to develop the entire year of ball movement, man movement, and it's not just two guys outscoring the opponent, it's the Toronto Raptors outscoring the other team."

Even without VanVleet, Casey used 11 players on Saturday. Generally, most teams short their rotation to eight or nine guys in the playoffs. Casey, as he promised he would, stuck to his – which expanded to as large as 12 during the regular season. Few, if any, teams have that kind of depth and, to his credit, Casey continues to do a commendable job at using it the right way.

Trailing by one point early in the fourth quarter, Casey turned to sparingly used third-string centre Lucas Nogueira. Despite scoring just one point and without taking a single shot, Bebe gave the Raptors nine quality – and unexpected – minutes, helping turn the game with his energy on the defensive end.

Casey has never had this many weapons to work with. DeRozan and Lowry have never played with so many guys capable of taking the pressure off.

The Wizards will not go away quietly. They're probably only an eighth seed because their best player, John Wall, missed half the season. They're a good, albeit often underachieving, team and the competition will only get tougher from here, with LeBron James and the Cavs lurking.

This is only one of the 12 wins they'll need to reach their goal of coming out of the East. Do they have a real shot? That remains to be seen. But, whether they succeed or fail, this version of the team will do it on their own terms, because they aren't the same old Raptors.