Sweep in Chicago all but ends Jays' slim wild-card hopes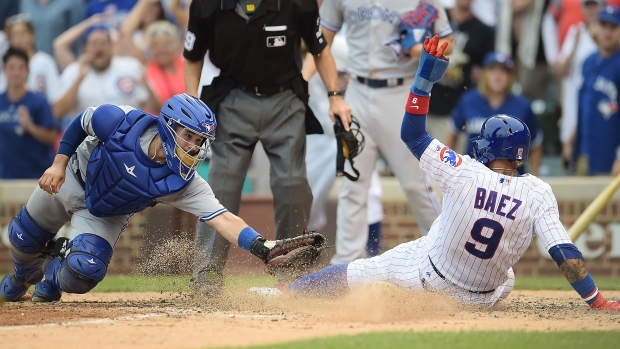 One step forward, two steps back.
That's been the modus operandi for the Toronto Blue Jays since the season began.
Needing to play consistent, .600 baseball (at the very least) for the remainder of the season just to stay in the wild-card mix, the Jays did exactly that with a 7-3 homestand.
Then they arrived on the north side of Chicago and erased all that goodwill and made-up ground.
The fact it ended in dramatic fashion with a blown save by Roberto Osuna, allowing the Cubs to walk away with the three-game sweep, was just a cherry on top of a disappointing Sunday.
It likely ends any hope the Blue Jays had of hanging around in the wild-card race.
After climbing to within three games of .500 – a record they haven't seen since the day the season began – and winning three straight series for the first time since May 23-31, the brooming by the Cubs sunk the Jays back to 59-65 and five games back of the second wild-card spot heading into their off-day Monday.
Time is ticking and just 38 games remain in the regular season. Save for some sort of prolonged eight- or nine-game winning streak – a run that's tough to envision given their season-long streak is just five games – the Jays simply don't have enough time to chip away and tread water, which is what they've been doing since May came to a close.
With Russell Martin (oblique) and Aaron Sanchez (blister) still without timetables, that endeavour becomes even tougher.
Prior to heading out on this road trip, one that will continue Tuesday in Tampa, Martin, relegated to playing video games in the clubhouse these days, had no idea how long he'd be out, while Sanchez just started playing catch over the weekend in Chicago, the first time he's picked up a baseball in a month.
If Sanchez returns, it'll likely be in the bullpen since there isn't enough time to build him back up as a starter.
Even with a fully healthy roster, .600 baseball for 38 games seems far-fetched.
And .600 baseball won't even do it now. A six-game streak is needed just to get back to .500.
In order to reach the 86-win mark, the fewest number of wins its taken for an American League team to secure a wild-card spot, John Gibbons' club needs to go 27-11 (.711) to finish out the regular season.
Not happening.
Even a 23-15 (.605) record to finish the season 82-80 is unrealistic and wouldn't allow them to jump the seven wild-card challengers ahead of them anyway.
The margin for error was razor-thin heading into the Windy City, and the defending World Series champions likely just sliced the Blue Jays out of the playoff picture altogether.​