Swiss players still believe they can upset Canada
Their coach doesn't believe an upset of Canada is possible, but Team Switzerland's players are still holding out hope of a quarterfinal upset. TSN's Mark Masters has the latest from Team Canada as they prepare to embark on the medal round of the 2018 World Junior Championship.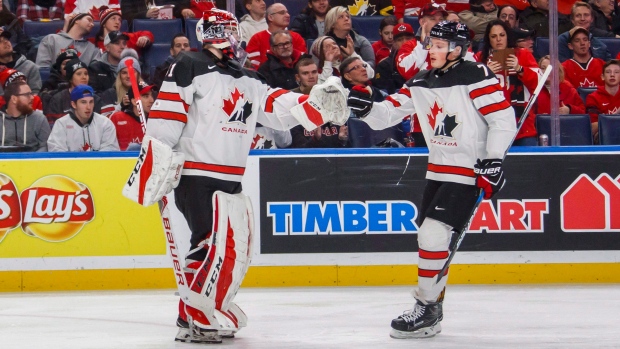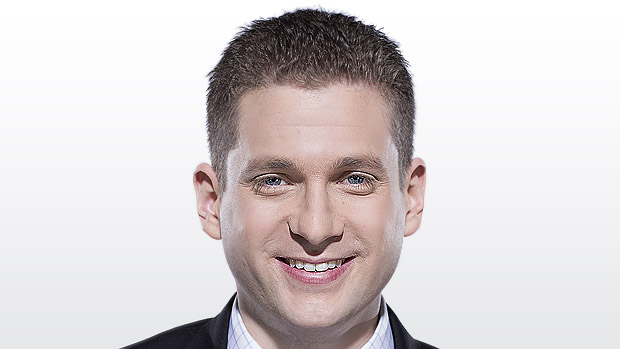 Their coach doesn't believe an upset of Canada is possible, but Team Switzerland's players are still holding out hope.
"It's a huge challenge, but I think it's possible," said forward Justin Sigrist, who plays for the Kamloops Blazers. "If we have a good day everything is possible for us."
After Sunday's loss to the Czech Republic, Swiss head coach Christian Wohlwend surprised reporters by saying he expects Canada to dominate Tuesday's quarterfinal much like they did in an exhibition game a couple weeks back. Switzerland was throttled by Team Canada on Dec. 22 in a pre-tournament game in Hamilton, Ont. getting outshot 61-7.
"We can play a lot better than that," said forward Philipp Kurashev, who has 31 points in 33 games for the Quebec Remparts. "We let up too many shots. We have to play 60 minutes not just a period or something. We know how they play so we just have to play a lot better than we did then."
With all the pressure on Canada, much of Switzerland's strategy, the players say, hinges on frustrating the skilled Canadian players and winning the special teams battle.
"We have to play hard against them," said defenceman Nico Gross, who plays for the Oshawa Generals. "They don't like it when we play hard against them. We have to chip the puck into their zone and pressure them. We have to play hard, really aggressive. If we do we have a chance."
As for their coach's brutally honest assessment, Gross says that frank conversations are just part of what makes the Montreal-born Wohlwend an effective leader.
"He's a really good coach," Gross said. "He's sometimes yelling at us when we're doing mistakes, which is good because it helps us to do it better next time."
—-
As the Canadian fans left the KeyBank Center after Saturday night's 8-0 blowout win over Denmark, many felt like singing and the song of choice was one they had heard quite a bit during the game. That would be, "Hey Baby" by DJ Ötzi, which is the controversial choice for goal song by this year's Canadian team.
The players heard the fans singing while they did their post-game interviews and were loving it.
"It's funny, because, we were getting questioned about it at the start," said captain Dillon Dube, "but now that we're doing well, everyone's liking it. I think at first they didn't realize what was playing, they were kind pumped up and then, once they listened to it, it's catchy and that's what we want, we want people singing along."
But just how the group of teenagers settled on the song remains a mystery. The original 'Hey Baby' song by Bruce Channel was recorded in 1961 and was featured in the 1987 movie 'Dirty Dancing.' The remix by Austrian artist DJ Ötzi, which Canada is using, was released in 2000.
"We probably went through about 100 songs, everybody was yelling them out at once, and then right when we started playing that song everyone started laughing," said Dube. "We want a feel-good song that everyone can sing to."
Early in the tournament Canada's leadership group was taking heat over the pick. Top-line winger Jordan Kyrou even suggested a change should be made. But the outdoor game was the turning point as the huge Canadian contingent in the crowd started singing along after goals.
"After the outdoor game we were all on board with it," said centre Robert Thomas. "And then the chants carried into the Denmark game, so it's pretty good and we're all on the same page about it now. At the start we were kind of a little skeptical about it, but at the outdoor game, we could hear the fans chanting it after we scored, so we're happy with how it's going."
So, who made the final call?
"We did have a meeting," said forward Boris Katchouk. "We had a vote and then (smiles) these two players decided to pick it on their own, but we all like it, so it's good. I love it. It's something different. No one else has it."
Nobody is willing to reveal which two players went rogue and submitted the song to tournament organizers.
"I wasn't the guy selecting," Dube insisted. "I obviously helped a little bit."
"I don't want to sell anybody out, but there's a couple guys," said Brett Howden. "At first all of us were kind of questioning it, but at the outdoor game it sounded pretty sweet with the crowd and now everyone's kind of catching on to it."
As for the team's no-nonsense coach, even Dominique Ducharme got a chuckle out of the song saga.
"I didn't realize that, that was the song," he said. "I guess I'm too much into the game. It's a pretty good song. I guess people like it."
And the coach is actually quite familiar with being part of a team with an unusual celebratory ballad.
"I remember one year, (coaching) in Junior A, it was 'Love Generation' (by Bob Sinclair), and I think we played until May, we went to the RBC Cup and it was still playing so guys were stuck with that. Sometimes the song gets the guys together and people together and it's just kind of fun."
—-
Quinton Howden won a silver (2011) and bronze (2012) medal for Canada at the World Juniors and now his brother, Brett, is looking to win his family that elusive gold medal. Has Quinton told Brett to complete the family set?
"He hasn't said that, but I know he's thinking it," said Brett, who scored twice in Saturday's win over Denmark.
Quinton, who scored five goals at the World Juniors, is currently playing in the KHL for Minsk Dynamo so there hasn't been too much communication between the siblings during the tournament.
"He's giving me my space a little bit," said Brett. "He's talking to my parents a lot. It's tough, because he's playing over there and the time change is messed up. He's leaving me texts here and there."
What's been the biggest piece of advice from big brother?
"Just enjoy the experience. He went through it twice and he told me there's nothing like it. So, he was really happy for me when I made the team and he's excited I get to go through it."
---
Team USA forward Logan Brown (lower body) has missed the last two games, but the Senators prospect could return for Tuesday's quarterfinals.
"That will be a Tuesday morning thing, so don't ask me tomorrow," said head coach Bob Motzko. "I won't know tomorrow and even if I do, I'm not telling you guys (smile)."