Switch to pitcher leads to Leach being first Canadian drafted this year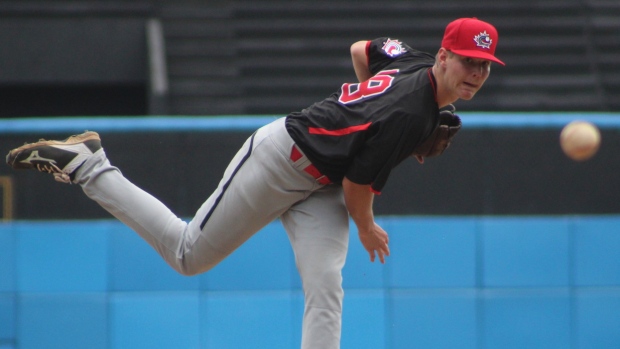 You'll have to excuse Landon Leach for taking a moment to let everything sink in.
A couple of years ago, Leach was a 15-year-old catcher with the Toronto Mets just trying to develop his baseball skills in any way possible.
These days, after being the first Canadian to go in the 2017 MLB Draft at pick No. 37 to the Minnesota Twins, life has been a bit of a whirlwind for the 17-year-old Pickering, Ont., product.
It was the position switch that set all of this in motion.
Quickly moved from behind the plate to the mound when Mets coaches noticed the arm strength that allowed him to reach 96 mph in his pre-draft workouts, the first time Leach dreamed of being a Major Leaguer wasn't all that long ago.
It was last Monday evening, in fact.
"Honestly, probably when I was picked," Leach said with a slight chuckle.
It was earlier than he expected, too.
Ranked 101st by MLB Pipeline and 86th by Baseball America heading into the draft, Leach heard his name called shortly after the first round came to a close.
"I don't really watch the rankings, but I have been sent the rankings, so I obviously know," Leach said. "I was supposed to go around the third round, I think it was, but I knew I was capable of going higher. It was a shock to go at 37th, though."
With a commitment to the University of Texas in his back pocket, Leach will now have until July 7 to work out a deal with the Twins, something he hopes will happen.
The slot value assigned to pick No. 37 checks in at $1,846,100, so there's obvious monetary incentive to sign a contract and enter the ranks of professional baseball immediately.
Leach just wants to get on the field and begin his pro journey.
"Obviously you want to start your career early and play pro ball because that's your dream, to get to the major leagues," Leach said. "I'd rather start now than later.
"This is my dream and I want to play."
It's easy to see why the Twins were high enough on Leach to call his name earlier than most expected.
Standing 6-foot-4 and 205 pounds, the big right-hander is already armed with a power fastball-slider combo, but the upside that comes along with such little mound experience is where the intrigue lies.
"This is just my second year pitching so I kind of need to develop a little more into an actual pitcher," Leach said. "But I feel like I already have the basic skills. I can reach 96 mph and I feel like with only two years of pitching that's pretty good. My off-speed's really good, especially my slider. My changeup is something I'm working on and improving everyday."
Leach gained valuable experience back in March during the Canadian national junior team's annual spring tuneup against the Toronto Blue Jays — shortstop prospect Bo Bichette took Leach off the wall for a double — but that won't be the matchup his parents, Tracy and Bob, will be waiting on down the road.
Trips to the Rogers Centre weren't frequent for the Leach clan.
"Not too many because we're not really Jays fans, we're Orioles fans," Leach said. "That was my dad. Brooks Robinson and all those guys, so growing up all I had was Orioles gear."
Jays happy with haul
The first draft led by Steve Sanders, hired by the Blue Jays as director of amateur scouting last September, was an arm-heavy haul.
A total of 22 pitchers were drafted — 15 right-handers and seven lefties — along with seven outfielders, five catchers and three shortstops, which included first-rounder Logan Warmoth.
"College pitching is an area that we wanted to get as many as possible that made sense and we feel we were able to do that," Sanders said.
The Jays drafted 41 players over the three-day process, and 19 of them ended up being pitchers from the college ranks.
Sanders also drafted a pair of Canadian outfielders in Sherwood Park's Tanner Kirwer (20th round) and Mississauga's Cooper Davis (25th round).
"Obviously, we're in a unique situation as the only major league team in Canada and the pride certainly plays into it," Sanders said. "Tanner and Cooper were two guys we really liked and hoped to have a chance at. Both guys are outfielders with speed and good bats, instincts."
Canuck content down
The high-water mark for Canadians being selected in the MLB Draft still sits at 48 from the 2002 selection process, and this year's total of 20 represents a slip from the 25 Canucks drafted in 2016 and 30 in 2015.
Here's a look at which teams took chances on the 20 Canadians:
RHP Landon Leach, Pickering, Ont.: Second round, 37th overall, by the Minnesota Twins
SS Adam Hall, London, Ont.: Second round, 60th overall, by the Baltimore Orioles
RHP Zach Pop, Brampton, Ont.: Seventh round, 220th overall, by the Los Angeles Dodgers
RHP Daniel Procopio, Toronto: 10th round, 295th overall, by the Los Angeles Angels
OF Jonathan Lacroix, Montreal: 12th round, 361st overall, by the Houston Astros
OF Eric Senior, Toronto: 13th round, 403rd overall, by the Washington Nationals
OF Clayton Keyes, Calgary: 15th round, 442nd overall, by the Arizona Diamondbacks
2B Jared Young, Prince George, B.C.: 15th round, 465th overall, by the Chicago Cubs
RHP Cade Smith, Abbotsford, B.C.: 16th round, 466th overall, by the Minnesota Twins
OF Raphael Gladu, Trois-Rivieres, Que.: 16th round, 487th overall, by the New York Mets
OF Tanner Kirwer, Sherwood Park, Alta.: 20th round, 609th overall, by the Toronto Blue Jays
C J.D. Osborne, Whitby, Ont.: 22nd round, 659th overall, by the Miami Marlins
SS Louis Boyd, North Vancouver, B.C.: 24th round, 723rd overall, by the Seattle Mariners
SS Jason Willow, Victoria, B.C.: 24th round, 728th overall, by the Baltimore Orioles
OF Cooper Davis, Mississauga, Ont.: 25th round, 759th overall, by the Toronto Blue Jays
RHP Kyle Thomas, Mississauga, Ont.: 30th round, 905th overall, by the Detroit Tigers
2B Dondrae Bremner, Toronto: 31st round, 917th overall, by the Cincinnati Reds
2B Jake Lumley, Windsor, Ont.: 33rd round, 981st overall, by the Oakland Athletics
2B Edouard Julien, Quebec City: 37th round, 1,103rd overall, by the Philadelphia Phillies
2B Rhys Cratty, Langley, B.C.: 40th round, 1,205th overall, by the Detroit Tigers