Tavares stays focused on short-term future
New York Islanders star is searching for consistency in his game with the team just outside a playoff spot.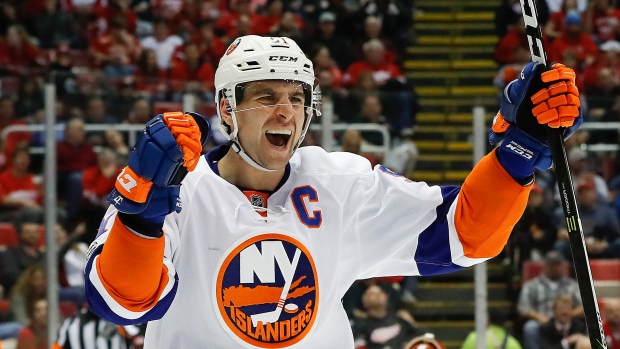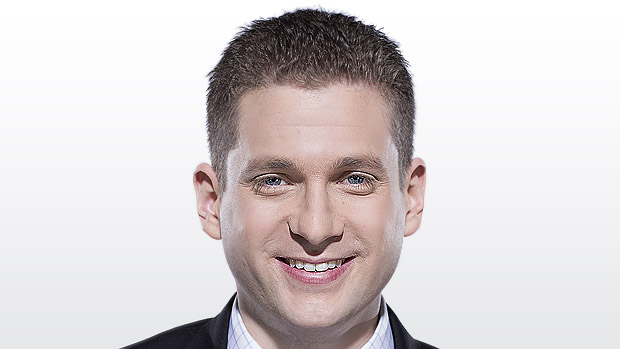 TSN Toronto reporter Mark Masters checks in daily with news and notes from Maple Leafs practices and game-day skates. The Leafs and New York Islanders held optional skates at the Air Canada Centre on Thursday morning.
When your superstar captain is playing in his hometown in a contract year, the coach must choose his words carefully.
On Thursday morning, New York Islanders bench boss Doug Weight was asked about how his top forwards have gone a bit cold of late, including Mississauga, Ont., native John Tavares.
"They've been doing good things, they're working at it and it's a great test for them. They all like coming back to play in Toronto," Weight said before pausing, peering around the scrum of reporters and adding loudly, "on the road."
That drew some laughs from the assembled media.
The mood wasn't as light, however, when Tavares held court with the media for about five minutes fielding a barrage of questions on the Islanders future and what he makes of the surging Maple Leafs.
Does the emergence of Mathew Barzal and Anthony Beauvillier have him feeling optimistic about the Islanders future?
"Well, I still think we have high hopes for this season," he said. "I think when you look at the impact those guys are making at a young age, no question that the future's really bright with those guys."
The present has been more blurry than anything. New York is sitting just outside a playoff spot and Tavares has seven points in the last 13 games.
"We know we can be a lot more consistent starting with myself so it's important to put the attention and focus there," he said.
Where specifically can his line improve tonight?
"A lot of it starts with me setting the example for the group so just go out there and be really reliable all over the ice and five-on-five, obviously, would like to be a lot more productive."
The Leafs have won 11 of 13 games and beat the Islanders 5-0 just last month.
"We got a butt-kicking and [were] humbled," Weight noted of that Jan. 31 game in which Toronto fired 50 shots on net. "They outplayed us, they outskated us."
"It was ugly for us," Tavares admitted. "We got to try and establish our game and make them have to defend and use a lot of energy to come 200 feet up the ice and play in our zone. Certainly you can see their confidence continues to build and when you have success that's what happens. Obviously, [Frederik] Andersen's playing some really good hockey and we saw that when we were here three weeks ago."
---
While Tavares is dangerous in front of the net, Leafs players raved about a more subtle part of his game this morning. Patrick Marleau was asked what stands out about his former Olympic teammate.
"Both in practice and playing against him, in the corners he's hard on those pucks," Marleau noted. "You get a good appreciation for that compete level when you go into battle with someone in the corner."
"The way he can manipulate people in the corners is pretty good," agreed James van Riemsdyk. "That's a combination of his skill with his hands, his edges and then having the smarts to know how to put guys into those vulnerable positions where it's tough to get the puck from him. He's certainly pretty good at that."
Historically, Tavares has loved playing here in front of friends and family at the Air Canada Centre. Among active opposition players (minimum 10 GP), he's third in points per game at the ACC (1.33) behind only Evgeni Malkin (1.44) and Jakub Voracek (1.36). However, lately the home cooking hasn't worked as well as the Leafs have held Tavares off the scoresheet in his last two trips north.
----
Andersen has faced the most shots (1,746) and made the most starts (51) in the NHL this season, but Mike Babcock has no plans of easing that workload even though Toronto is in a very comfortable position in the standings.
"I don't even think about it," the Leafs coach said. "I don't even look at that. I just try to win today. We think he's getting lots of time off, we think keeping the motor running is good, we have a whole crew of people – I don't even know how many people we've got hired to manage that stuff – I don't even have to think about it."
Toronto has only played its second-string goalie in the second half of back-to-back sets this season. If that pattern continues, Andersen will start 68 games, which is two more than the career high he set a year ago.
----
An avid Olympic follower, Babcock didn't get a chance to watch the women's hockey gold-medal game, which was won by the United States in a shootout.
"It was way past my bed time. It's one of those things. A good win for the team that wins and it's devastating for the team that loses in the gold-medal game, no matter what," Babcock said. "I'm not a shootout guy; I don't get that at all. I don't know why they don't just keep playing, but they don't ask me about the rules so it doesn't much matter what I think."
Weight, meanwhile, admitted to feeling tired this morning after he stayed up to watch the game, which started at 11 p.m. ET.
"It says a lot about women's hockey, because I dozed off during the NHL game at 8 p.m. and woke up at 10:30 and was up to 2:30 watching that game," he said. "I couldn't go to bed. I was on the edge of my seat … What a game. Those girls battled and it may be more physical than our game tonight. There could have been a penalty every shift. They were throwing their weight around. Both teams deserve a big round of applause. That was entertainment at its best. They showed they have ice in their veins."
----
Barzal got a hard time from teammate Casey Cizikas this morning. As a group of reporters surrounded the 20-year-old rookie sensation, Cizikas started chirping him from across the dressing room.
"It's Mathew Barzal! Oh my goodness!" Cizikas squealed in a high-pitched voice. "In the flesh!"
"He's a funny man," Barzal told reporters. "Great."
Cizikas wasn't done, however.
"He got a new haircut," the 26-year-old continued. "Oh my God! How cute!"
That got Barzal to laugh. Finally, once it was clear Cizikas had got it out of his system, the media started peppering Barzal with questions, including some about his buddy Mitch Marner.
"He's a really crafty, skilled player," said Barzal. "Great mind for the game. He's a competitor out there and plays a fun style."
Barzal and Marner were World Juniors teammates, but became friendly even before then.
"Actually, we played against each other when we were 11 or 12 in some tournament in New York, funny enough, and we split the MVP of the tournament," he said with a smile.
Was Barzal disappointed to share the prize?
"No," he said with a laugh. "I think he actually may have had the better tournament. I think his team went to the finals."