Team Sweeting ready to take on solid field at Canada Cup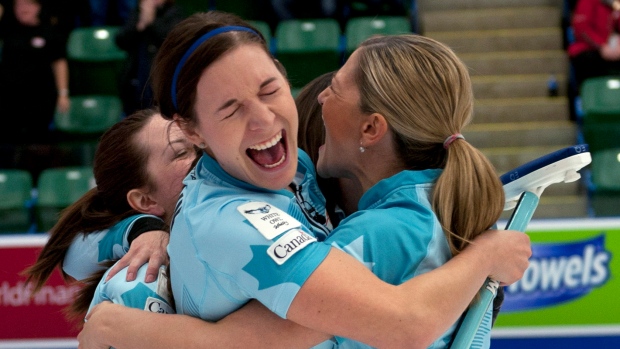 Timing is everything in curling, especially, it seems, when it comes to the Home Hardware Canada Cup of Curling. Just ask Val Sweeting and her rink of Lori Olson-Johns, Dana Ferguson and Rachelle Brown.
Two years ago, they won the crown, knocking off Rachel Homan's Ottawa foursome. For the win, they picked up $14,000 as well as a spot in the Continental Cup.
A year later, they were on the losing end in the final, going down to that same Homan squad.
Homan also got money, the Continental Cup spot but one additional perk – a coveted berth in the Tim Hortons Roar of the Rings, which will decide Canada's representative for the 2018 Winter Games.
When the powers that be were drawing up the qualifying format for that latter event, they decided only the winners of the 2015 and '16 Canada Cups would get in. And so Team Sweeting is in Brandon, Man., this week, hoping to get back to the final, and get a win that includes a trip to the Trials.
"The Canada Cup is the first big goal of the year," she said. "It's the first event you really gear up for and so you want to go there and play well. We definitely would like to get that trials spot."
In the overall priority ranking of curling events, the Canada Cup has become just about the most difficult to win outside of the Trials. There are just seven teams in the draw, all of whom are exceptionally talented.
Every game is a must-win and each is played with the knowledge that one missed shot could be the difference between a loss or a victory and possibly a trip to the Trials.
"It's definitely not easy to win," said Sweeting. "The competition is really good, it's a short round robin, there's not much room for any mistakes so every game is important."
For some, the Canada Cup has become a bigger, more significant event than the national championships. It's the best teams in one place with a lot on the line.
The Scotties Tournament of Hearts has more tradition but also a disparity in the quality of teams from top to bottom. Only one rink per province limits the overall depth of the field and in recent years, the pre-qualifying has chipped away at the grand history.
It's not that any curler would turn their nose up at playing in the Scotties – after all, it also offers a Trials spot – it's just that a win at the Canada Cup means you've beaten the best.
For Sweeting, they are both great events that can offer a lot in different ways.
"I find it hard to compare," she admitted. "I mean the Scotties is the Scotties. It's really hard to take anything away from that. It's a different feeling for sure. You have all the provincial colours, you're representing your province. It's hard to say that the Canada Cup is bigger than that. For me it's just a different event. They're both equally important but I love both events and it's so nice to play in both of them."
Team Sweeting has been enjoying a solid year, compiling $31,000 in earnings so far on the strength of qualifying in four of six events. That's good for fifth on the Tour money list. The rink is also coming to the Canada Cup off a win in the last Grand Slam event, the Tour Challenge.
"We've been a little up and down compared to what we're used to," Sweeting admitted of their season. "We felt really good coming off the Tour Challenge. We thought we were playing pretty well, we figured out the ice and that was definitely good momentum we needed going into the Canada Cup. We're still working really hard and excited to get to Brandon and lay it all out there."
The team is working with a new coach this year in Jeff Hoffart. He's been more involved that past coaches, attending every event and charting results, shot by shot, end by end. The result is an in-depth view of each player's strengths and weaknesses, which are then incorporated into their training.
Sweeting says that's allowed the team to work smarter and more efficiently than in the past. And that's vital these days as the competition gets better and deeper. With sports organizations from other nations putting money into developing Olympic-calibre teams, events are littered with top rinks. That's good, says Sweeting, but also challenging.
"Every event that we play in is really high caliber," she stated, "and there are so many good teams out there. It's good because playing good teams makes you better."
This week is the best example of that; there will be no better field in curling this year than at the Canada Cup. Sweeting hopes she can rise to the occasion and get back in the winner's circle and earn her spot in next year's Olympic Trials.