Ten questions heading into MLB GM meetings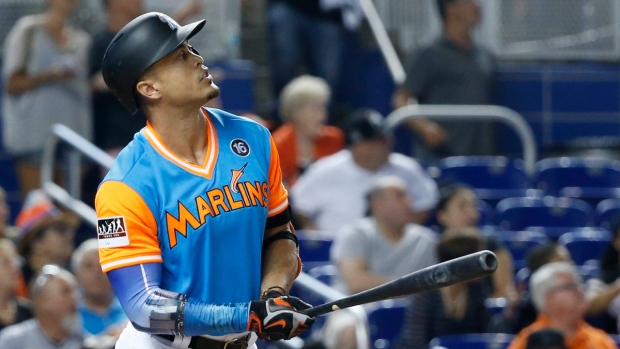 As expected, the Major League Baseball off-season hasn't provided much in the way of headlines since the Houston Astros left Hollywood as World Series champs.
That will change. Quickly.
With baseball executives and agents huddled in close quarters starting Monday when the GM Meetings kick off in Orlando at the Waldorf Astoria resort, there's sure to be a whole lot of rumours floating, if not actual transactions going down.
It's nowhere near the craziness of the Winter Meetings – also in Orlando, from Dec. 10-14 – but the GM meetings kickstart the off-season in earnest.
Here are 10 questions heading in:
How busy will the Blue Jays be?
If last year is any indication, GM Ross Atkins and president/CEO Mark Shapiro like to work fast.
Of course, that was met with a lot of criticism, as they moved off of Edwin Encarnacion too quickly, signing Kendrys Morales just after the GM meetings in Scottsdale, Ariz., ended, and then watched their longtime star sign for far less than everyone expected in late December.
Atkins was also able to get Cuban prospect Lourdes Gurriel Jr. signed for $22 million around the same time.
Maybe that was just the timing of it all in 2016, or maybe they'll strike quickly once again.
There are certainly a number of holes to fill, including potentially both corner outfield spots, a starter, and a middle infielder who will serve as a contingency plan for oft-injured regulars Troy Tulowitzki and Devon Travis.
Where will Shohei Ohtani land?
Ohtani's free agency is shrouded in more mystery than any high-profile Japanese free agent before him, simply because he's heading to North America under completely different parameters.
The process started Friday when the Nippon Ham Fighters announced they will post their 23-year-old star, but the old posting system – one that would have seen the Fighters due to receive $20 million – just recently expired at the end of October, which has caused some confusion surrounding the transfer rules.
In addition, because Ohtani is only 23, he's still considered an international amateur – the cutoff is 25 – and therefore subject to international bonus pool rules.
Had he waited two years, he would've gotten more than the $155 million the Yankees gave Masahiro Tanaka.
Currently, only a handful of teams can even offer Ohtani seven figures, according to reports, with the Texas Rangers ($3.535 million), New York Yankees ($3.25 million) and Minnesota Twins ($3.245 million) leading the way.
That has all 30 clubs feeling like they could have a chance, including the Blue Jays, who have been rumoured to have closely monitored the two-way star over the years and could conceivably offer him a chance to pitch and hit as the DH, something that is high on his wish list.
Stay tuned. This one is going to be interesting.
Will Giancarlo Stanton be on the move?
One thing seems to be certain: Stanton will be wearing a different uniform when the 2018 season starts.
With the Derek Jeter-led Miami Marlins looking to shed payroll, Stanton and his average of $25 million per season owing through at least 2027 have to go.
It was reported Saturday that talks with the Boston Red Sox were heating up, but St. Louis Cardinals, San Francisco Giants and Philadelphia Phillies are also said to be involved.
The money is ridiculous, but so are the 59 homers and 156 wRC+ Stanton put up in 2017.
Will J.D. Martinez get $200 million?
Agent Scott Boras is always a centre of off-season attention, and he started early this year, calling his client the "King Kong of Slug" recently, and is reportedly seeking a $200-million commitment to lure the 30-year-old outfielder.
Boras is obviously shooting for the stars, but when you consider Martinez has been one of the most productive hitters in baseball over the past four seasons, the fact he's coming off a 45-homer campaign, his relatively young age, as well as a mediocre free agent class, and it's clear he's going to get paid handsomely.
Who will accept the qualifying offer?
When the new CBA was agreed to last winter, the qualifying offer underwent numerous changes, but nine players were still handed them at the deadline earlier this month, down from 10 in 2016.
Last year, two players accepted.
Will anyone accept the $17.4-million one-year deal between now and when the 10-day window closes on Nov. 16?
Position players Lorenzo Cain, Eric Hosmer and Mike Moustakas are sure bets not to.
Same with starters Jake Arrieta, Alex Cobb and Lance Lynn.
That leaves closers Wade Davis and Greg Holland, as well as first baseman Carlos Santana.
The bet is that they all hit the open market in search of long-term deals, albeit with draft pick compensation attached.
Who's the next Yankees manager?
Eric Wedge, who spent the past two seasons in player development with the Blue Jays, is the latest to interview for Joe Girardi's old job.
Canadian Rob Thomson, a longtime Yankees staffer, is also in the mix.
So are Jerry Hairston Jr., Aaron Boone, and a host of other potential candidates that are considered a bit outside the box.
Yanks GM Brian Cashman needs to get this one right since the talent on the roster is ready to win now.
What else is going on in the AL East?
Historically, the AL Beast has been a division to watch in the off-season, and this year is no different.
The Jays plan to contend in 2018 and need to make significant changes in order to do so, while the Yankees will go about fixing their rotation and the Red Sox are looking for bats.
Everyone may be pinching pennies for next year's free-agent class, headlined by Bryce Harper and Manny Machado, but there's no such thing as a quiet winter around these parts.
Even the Tampa Bay Rays, who will lose Cobb from the rotation, and the pitching-needy Baltimore Orioles will be making changes.
Is the trade market going to be busy?
When you add the middling free-agent class to the number of teams around baseball looking to shed contracts and rebuild – the Marlins, Detroit Tigers and the Chicago White Sox are the extreme sellers – it could add up to players being on the move this winter.
Ian Kinsler is available. Jose Abreu, too. Stanton, Dee Gordon, Christian Yelich and just about everyone else in South Florida could also be had for the right price.
Is pace of play an issue?
For most, since games are nine minutes longer on average than they were in 2015, the answer is definitely yes.
Conversations have already taken place with the players' association about pace of play, and that's sure to ramp up during these league meetings.
Pitch clocks, anyone?
The average time of nine-inning games this season was up about five minutes from three hours even in 2016, leaving everyone scrambling to find a way to reverse that.
They'll talk about everything from limiting trips to the mound to pitch clocks, which were tested in the Arizona Fall League, the same way replay was before it was implemented.
Commissioner Rob Manfred will address these issues and more during his annual press conference at the GM Meetings.
What about protective netting?
Another topic that's sure to be on the agenda this week is extending protective netting for the coming season.
After a young girl was seriously injured when she was struck by a line drive at Yankee Stadium in September, many teams immediately put plans in place to do so.
But while there's a minimum MLB standard in place, not all ballparks are the same and some teams haven't changed a thing.
Fan safety is paramount and the league needs to figure this out before it's too late.​