The Boston Bruins are back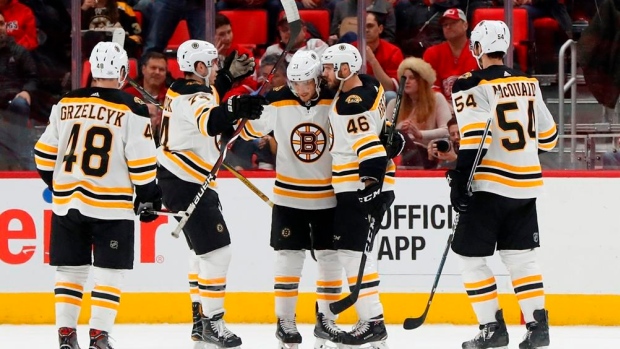 It's starting to feel like 2013 again in Boston.
Bruins fans should remember that season fondly. Though it ended in a heartbreaking seven-game series loss against Montreal in the second round, there was a lot to love about the team's performance.
They won the President's Trophy with a 117-point regular season, 16 points clear of the second-best team in their division. Patrice Bergeron won another Selke Trophy. Tuukka Rask won the Vezina Trophy. Zdeno Chara finished runner up in the Norris Trophy race.
The Bruins struggled to recapture that magic in subsequent seasons. Yes, their top line – the vaunted Patrice Bergeron group, which generally saw Brad Marchand and a rotating third piece – still was a force in the Eastern Conference, but the organization had few answers for a sorely needed transition of talent further down the lineup.
The Bruins became a tale of two teams: the team you hated playing against for the 20 minutes Bergeron was on the ice, and the team you loved playing against for the 40 minutes Bergeron was on the bench.
The skew in talent was on full display last postseason, where the Bruins were unceremoniously trounced by the Ottawa Senators in the first round. The Bergeron line played admirably, but the team had no answer whenever he needed a breather. Senators' defenceman Erik Karlsson could play substantially more minutes on a nightly basis, with some of those minutes coming against Boston's depth lines and pairings. Not surprisingly, Boston was crushed whenever that scenario unfolded.
It also didn't help that the goaltending in Boston had suddenly fallen apart. The Bergeron line – notorious for driving ridiculous shot and goal differentials year after year – had lost its effectiveness, in large part because they were bleeding goals against. And, again, it was probably most prominent during the 2016-17 season.
I don't think Boston's management was ever convinced that Rask had suddenly lost his game. The Bruins doubled down on both Rask and backup Anton Khudobin this summer, both of whom they felt would have a strong bounce-back season.
They weren't as confident about the skaters in their lineup. The summer brought substantial change both at forward and on defence. A number of young players were brought into the fold and immediately handed large roles – most of these minutes coming from older players who were past their playing prime, or prospects well into their 20s that didn't appear to be developing at the needed rate.
Just look at how much the ice time shifted in just one summer: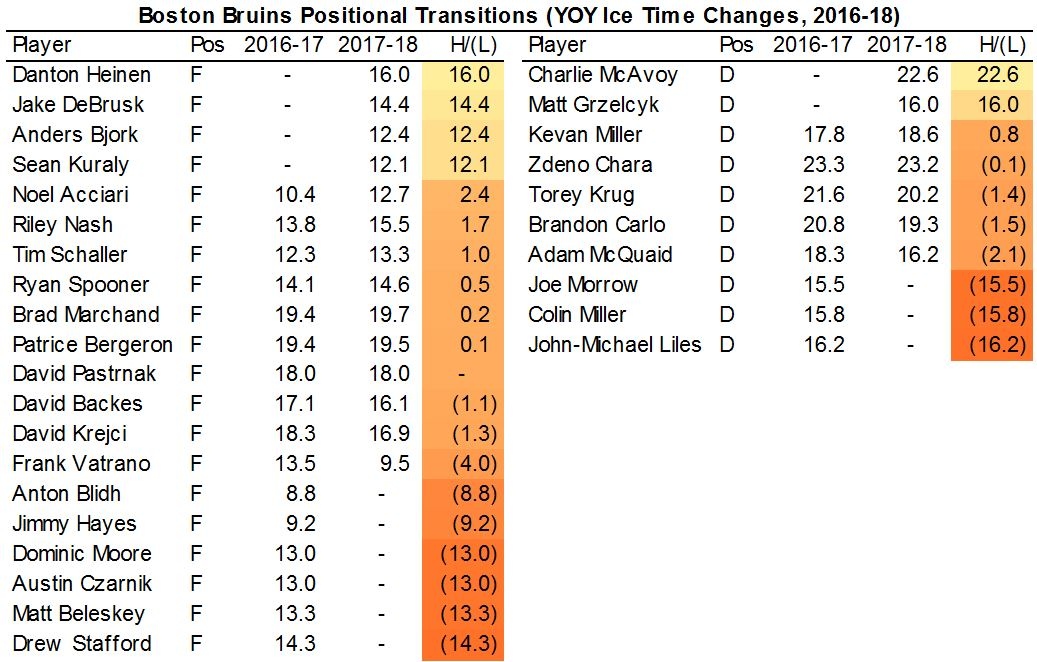 Jake DeBrusk and Charlie McAvoy were the two big names the Bruins wanted to bring into the fold this season, and both have been exceptional. But it's just as interesting to note how many players without the same type of draft pedigree have spent some time with the big league club this season. Danton Heinen, Anders Bjork, Sean Kuraly and Matt Grzelcyk were all mid-round picks from years ago. After some additional development, all have played a role in what's looking like a monstrous bounce-back season.
These names, among others, have been responsible for the Bruins turnaround this season. Their introduction into the lineup at the cost of veterans like Dominic Moore, Matt Beleskey, Drew Stafford, and John-Michael Liles has introduced a speed and energy to the lineup that the Bruins sorely needed. It's also alleviated some of the substantial burden previously placed on the Bergeron line, much to the delight of general manager Don Sweeney.
A combination of the influx of young talent and a rebound in goaltending – a bet the Bruins look like they are going to win on in considerable fashion – has made Boston a terrifying opponent once again. The Bruins are currently on pace for a 114-point season and it appears in every way legitimate. At 5-on-5, they are getting more than 54 per cent of the shots, which is best in the league. That big shot advantage is driving big goal advantages, too.
Below, you'll see a table showing the goals that Boston receives from both elements of their lineup this year. The Bergeron line is outscoring their opponents by two goals every 60 minutes. But unlike in prior years, the non-Bergeron lines are also outscoring their opponents. At aggregate, Boston is more than 2.5 goals better than their opponents for every 60 minutes of hockey.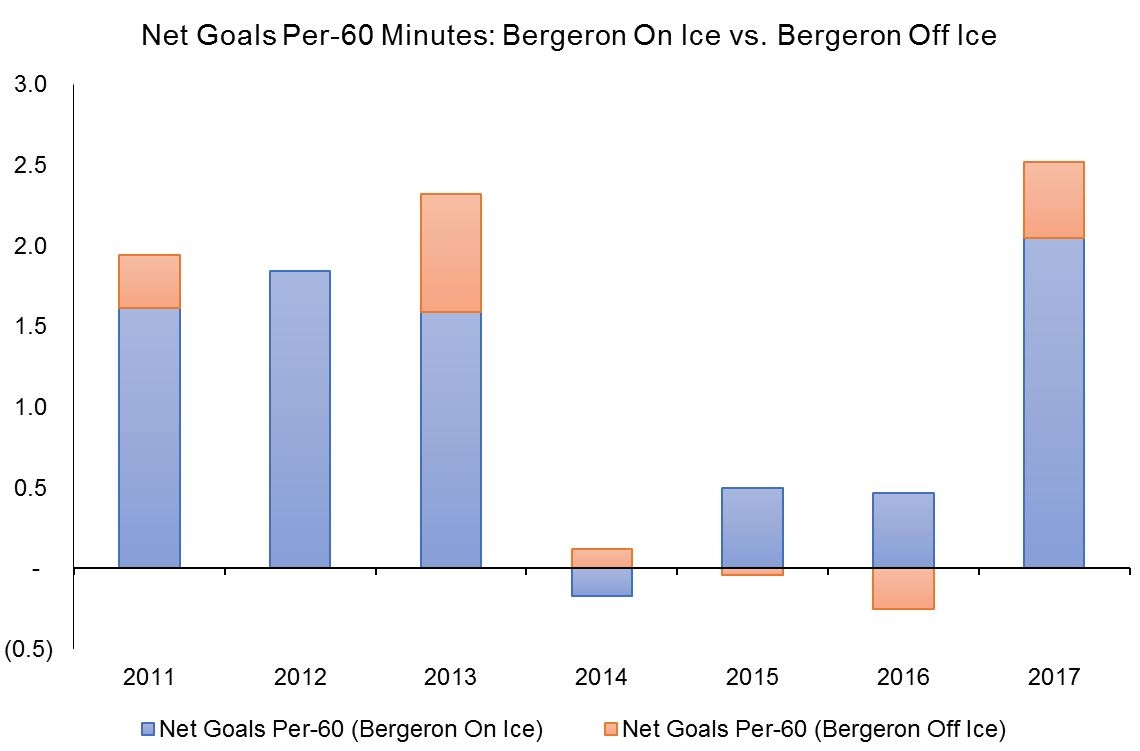 This is the first Bruins squad since the great 2013-14 team (and prior) that is crushing on the goals front. Getting the goaltending is surely helping, but having so many ample young skaters in the lineup is too.
One final note: Whenever we do goal-based analysis, we need to be wary of sample variance. It's very possible in this league to run strong goal differentials with poor shot differentials over a small period of time. Eventually the shot differentials win out and the goal differentials come screaming back to earth.
I mentioned six names – Heinen, DeBrusk, Bjork, Kuraly, McAvoy, and Grzelcyk – as guys who were called upon to handle some additional duty. In the case of a few (notably Heinen, DeBrusk, and McAvoy), that role is substantial. You'll note that their Corsi% – a measure of the shots in Boston's favour when the given player is on the ice – is all above 50 per cent.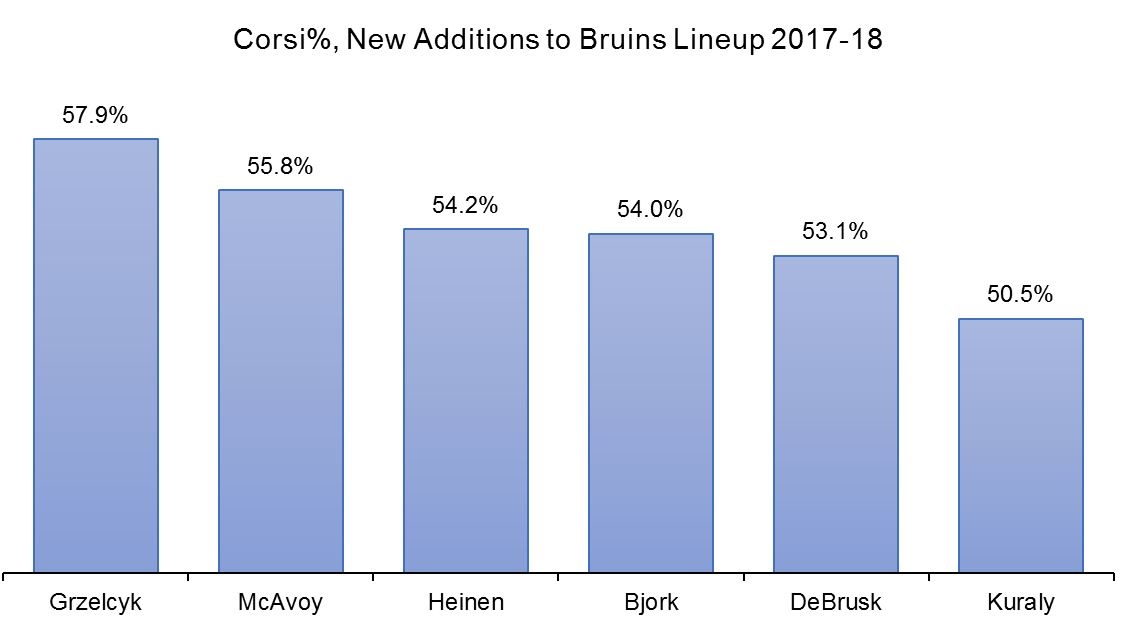 For a frame of reference, an average hockey player on an average team is going to hold about a 50 per cent Corsi%. Keep that in mind as you note how big the deltas are from 50 per cent here. These are massive numbers, and each one of these guys had or has a materially different role from another player on the list. The point being: Boston has been able to spread around a bunch of new names into the lineup and yield exceptional results – the type of results that will drive favourable goal differentials for a long time.
It's one of the biggest reasons why the Bruins have emerged as a potentially significant buyer at the trade deadline and a legitimate Stanley Cup threat. They have the star talent. They have the goaltending. And now they have the depth – the type of depth you don't have to hope and pray about as your top-tier talent takes much-needed breathers.
The Bruins are already a terrifying opponent. If they manage to add one of the big names at the top of TSN's Trade Bait list, watch out.