The complex calculation of a coach's challenge
Flyers coach Dave Hakstol faced the perfect storm Tuesday night and things worked out in the worst way possible, Frank Seravalli writes.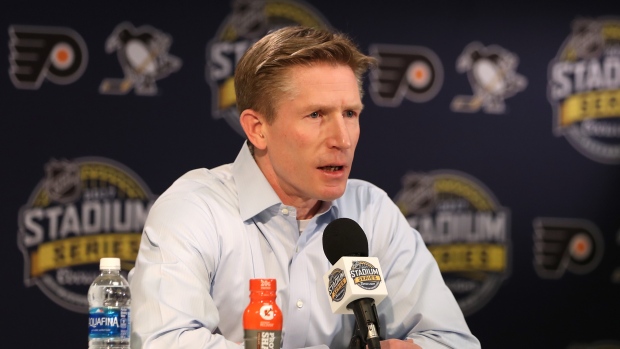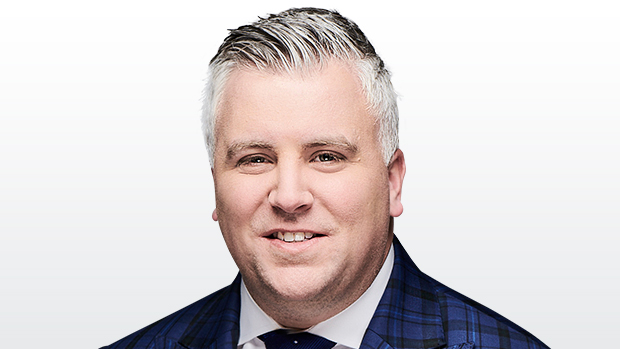 PHILADELPHIA — Flyers coach Dave Hakstol is not a poker player.
Hakstol said he can't calculate odds on the fly, as the cards flip, like the world's best do.
But that's what Hakstol and 30 other NHL coaches are forced to do on the bench in a high-stakes environment when faced with a potential coach's challenge. He must weigh the situation, time of game and score and balance those factors against how often calls are overturned and now the opportunity cost.
"It's a challenging situation," Hakstol said Thursday, pun intended. "I know what those odds are. It's a decision that has to be made sometimes with limited information in a short period of time with significant impact [on the game]. That's fine. Deal with it."
The NHL changed the calculation two weeks ago, instituting a two-minute penalty for all failed coach's challenges for offside calls. The idea was to curtail coaches from challenging potentially ticky-tack zone entries that may have been offside because of a skate in the air, like we saw last season.
Rangers coach Alain Vigneault was the first to challenge an offside play last Saturday against the Maple Leafs. He lost the challenge, the goal was not overturned, and the Leafs scored on the ensuing power play to add injury to insult.
But Hakstol encountered the perfect storm Tuesday night in Nashville.
His Flyers were leading 5-4 with 1:17 to play in regulation when Scott Hartnell scored on a sequence that may have appeared offside.
Normally, the numbers would suggest that even a 50-50 chance to overturn a goal would make for a smart challenge. But in this case, the Flyers were already on a 5-on-3 penalty kill when the disputed goal was scored.
"This was probably the nightmare scenario for coaches," said Matt Cane, who broke down the math for Hockey-Graphs.com. "In most cases, the decision to challenge is fairly easy: If you're successful you take a goal off the board, if you fail you may give up a goal on the penalty kill, but more than 80 per cent of the time there's no cost. The penalty kill obviously complicates things, but even at 5-on-3, you end up killing it off more than 50 per cent of the time.
"If Hakstol thought it was a 50-50 shot, he made the right choice. But things worked out in the worst way possible."
If Hakstol won the challenge, his team would've remained up 5-4, but likely facing a 6-on-3 disadvantage since the Predators could soon pull goalie Pekka Rinne. If Hakstol lost the challenge, which he did, the score was tied, but they still would've been in a 5-on-3 disadvantage for 36 seconds, then 5-on-4 for the remainder of regulation plus a chunk of overtime.
The Flyers went on to lose in regulation. Filip Forsberg scored on the ensuing power play from the failed challenge, leaving Hakstol with two days to evaluate the process.
Hakstol said the Flyers had one angle at their disposal that "absolutely says its offside." Then there was another that made it "hard to tell."
"Let's flip the scenario," Hakstol said. "We don't challenge it. They score on the 5-on-4 power play. We lose the game in regulation. Then we tear everything apart for a half hour, get a look at it and see it's definitely offside. Then what? How do we feel about that? There are all these factors that go into it."
There are other complicating factors. For one, Hakstol said "sometimes" teams don't have immediate access to a special feed from cameras positioned at the blueline to help in the decision-making process. Those feeds, which are usually the most definitive, are eventually available to the NHL's Situation Room in Toronto and to the linesmen processing the challenge, but that can be after the decision to challenge was already made.
Hakstol wouldn't say whether or not the Flyers had timely access to that feed on Tuesday night in Nashville.
"I will say sometimes you have different information than others," he said.
The other is that Hakstol is making a decision on a 30-inch monitor embedded into the floor of the bench, covered by Plexiglas that has a glare and has been spit on by players all night and scuffed up by shoes and skates.
It isn't ideal, but Hakstol wasn't making excuses or running from his decision.
"The big thing is you have to get it right, and I didn't get it right on Tuesday night," Hakstol said. "You still have to base it on factual information … You have to continually evaluate the process to go through, looking at ways to do things better."
The NHL wanted disincentivize offside challenges with the penalty, but in the small sample size of one week, that hasn't been the case.
There have been four coach's challenges for offside calls, including another two from New York Islanders coach Doug Weight, in the first 50 games played of the season. There were three offside challenges in the same 50-game span to open last season, and just one in 2015-16.
Weight was the first coach to win an offside challenge Wednesday night, overturning a goal in Anaheim and avoiding a penalty.
As long as coaches have the ability to potentially erase a goal against, it is hard to envision the penalty being a true deterrent – even after Hakstol very publicly weathering that perfect storm.
"It will be interesting to see how often that happens," Hakstol said. "My thought process now is no different than it was coming in [to the season]. That doesn't change off of one result."
Contact Frank Seravalli on Twitter: @frank_seravalli​