The David Backes contract conundrum
The St. Louis Blues captain is having a great postseason, but Travis Yost believes the team is facing a tough decision on his long-term value this summer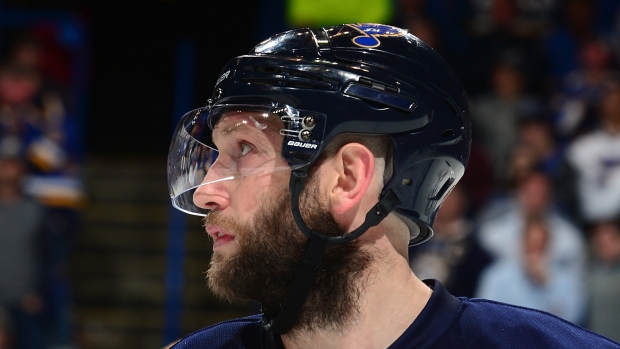 I'm not sure that a player has enjoyed the flip of the hockey calendar more than St. Louis Blues captain David Backes, who now has 13 points (seven goals, six assists) in 16 postseason games.
It's fantastic timing for both team and player. St. Louis desperately needed another wrinkle of offence against increasingly tough Western Conference competition, while Backes gets to enjoy carrying a team through the playoff gauntlet.
The cynic in me can't help but look beyond this year's Stanley Cup playoffs and toward free agency, where Backes, 32, will join a slew of other unrestricted free agents looking for the next payday. If you believe that recent postseason performance tends to correlate strongly with premiums paid in the subsequent free agency year (how could you not?), you have to wonder how much Backes is going to cost. You also have to wonder if the Blues could find themselves in the position of questioning whether or not it makes sense to retain their leader.
St. Louis has done a pretty nice job of managing the cap, and should have a fair bit of breathing room to acquire talent in the coming off-seasons. The $58 million already committed to next year's team is a bit misleading when you consider that they have decisions to make on Jaden Schwartz, Troy Brouwer, Steve Ott, Kyle Brodziak, Magnus Paajarvi, and Scottie Upshall this summer, and Kevin Shattenkirk, Colton Parayko, Patrik Berglund, and Alex Steen a year from now. Not all of these players will be retained, but the overarching point is that the money available today is likely overstating what type of money will be available to retain an unrestricted free agent like Backes.
The curious part about the Backes situation from the St. Louis perspective is that his strong playoff run has masked what has been a bit of a decline in performance over the last couple of seasons. No doubt St. Louis loves his game and what he brings to the table today, but will they love what he brings a few years from now? And how much do you weigh that against St. Louis' Stanley Cup window, which is indisputably closing?
On that decline: Backes' numbers have been tapering off year-over-year as he's hit his 30s, and it's true from both a counting number perspective and underlying 5-on-5 productivity perspective.
Let's first look at a number that historically drives contracts for forwards: goal-scoring rates. How has Backes developed over the years?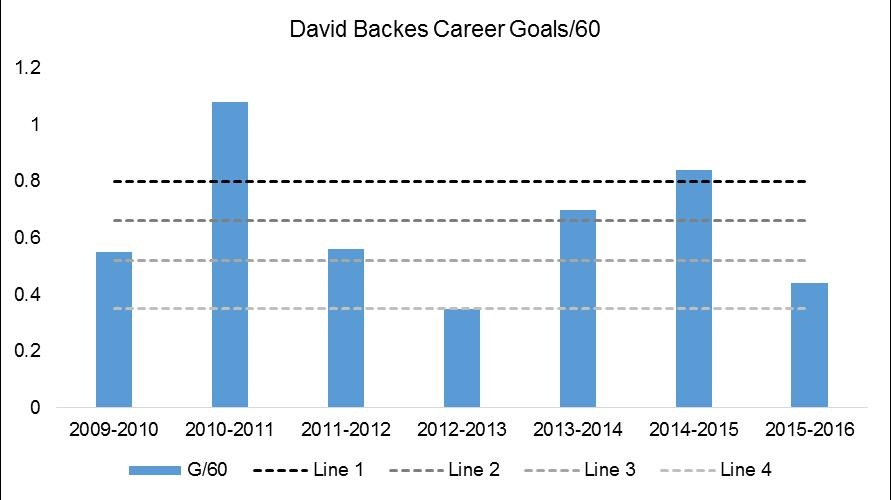 You can see that Backes' goal-scoring rates in the last five or so years have been all over the place, but generally speaking, he's never been a fantastic individual shooter. I think the notable takeaway here is that in the last five seasons, Backes has produced like a bottom-six forward three times.
Backes has had a couple of really strong goal-scoring campaigns – once back in 2010-11, and more recently in 2014-15. Because of the volatility in his goal-scoring rates, I was curious: Was Backes victimized by poor shooting luck in a given year? Alternatively, has Backes' shot generation been consistent over the years?
Here are his shot metrics by year: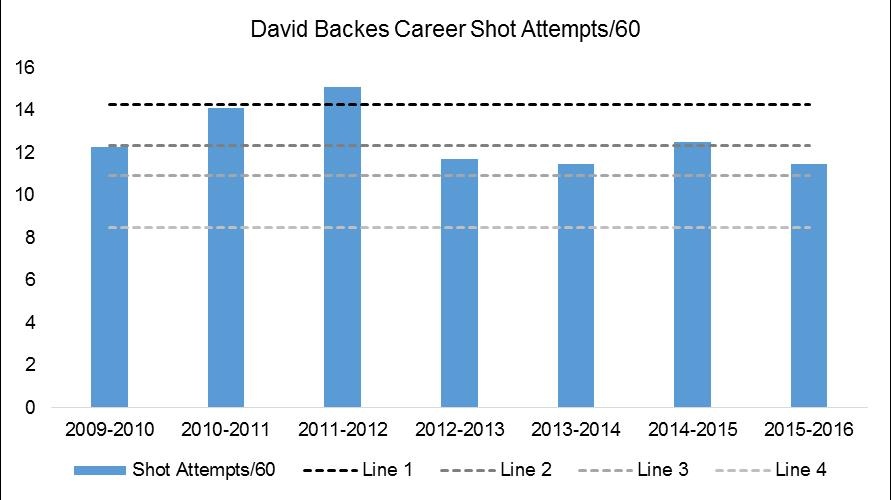 I actually think this is a bit more concerning than the goal-scoring rates. For four consecutive years, Backes has not generated shot volume at a first-line talent level. And in three of those four seasons, he's generated shots like a third-line talent.
We know that goal scoring isn't everything – some forwards, like Backes, are paid for the way they impact a game on both ends of the ice. To that end, we would expect Backes to shine a bit more when it comes to our underlying 5-on-5 performance metrics like RelativeCorsi% and RelativeGoal%, which capture how much St. Louis has benefited from his presence on the ice.
Here's how the shot share has relatively gone with Backes on the ice for St. Louis: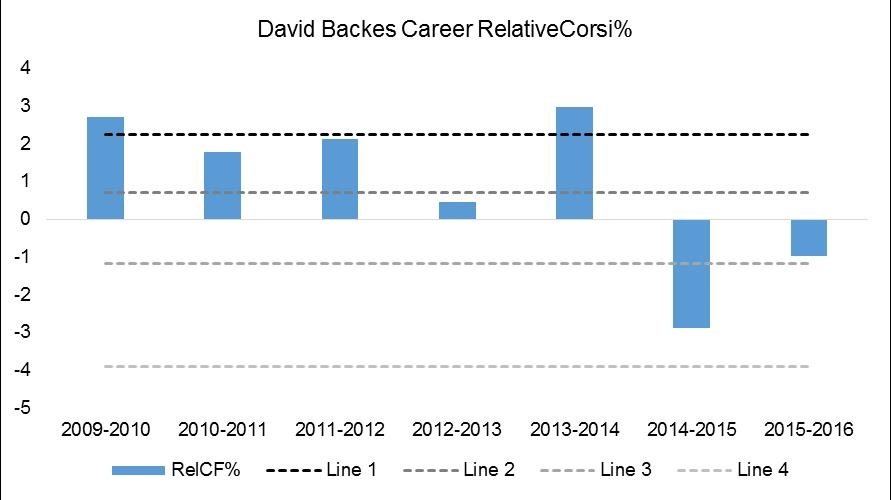 As we expected, Backes does – or did – look better by team possession metrics. In his late 20s, Backes consistently ranges from second to first-line talent as it pertained to relative impact on his team's shot share, adding about 2 per cent possession time for the Blues.
But, again, something went amiss over the last couple of seasons. Part of it is likely the influx of young offensive talent and Backes' associated diminishing role, but he's not moving the needle like he once did. And, it's not as though he's been playing with slouches since the start of 2014. His most common linemates have been Steen, T.J. Oshie, and Berglund; his most common defenders have been Alex Pietrangelo and Jay Bouwmeester.
As you might suspect, his relative impact on St. Louis' goal differential has followed his impact on the shot share. He had some monster seasons in his late 20s. Since then, it has dissipated: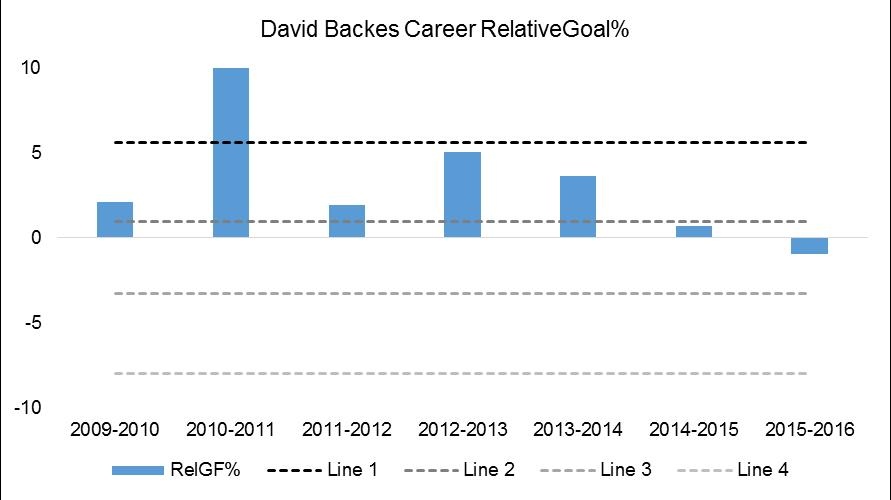 The 2015-16 season was the first in the last seven that Backes was a negative relative impact on team goal differential, so perhaps you might argue that it's a one-off black mark on his otherwise strong appearance here. Two counterpoints: He's trended downward for four consecutive years, and he hasn't posted first-line relative goal differentials since 2010-11
All of this is to say that Backes, at least recently, is playing like a second or third-line centre, depending on your preferred key performance metric. That's not terrible – there will be a very real market for that type of player this summer. But we haven't even gotten to the 9,000-pound gorilla in the room, which is how aging will undoubtedly adversely impact his skill set.
It raises a really interesting question for the Blues, one they'll be forced to answer when the playoffs come to a close. At what point do you draw a line in the sand on his contract ask? There are certainly cautionary flags around his game, enough to cause real consternation over whether or not his next contract will become problematic.