The evolution of Ryan Johansen
Known as a goal scorer during his time with Columbus, the Nashville Predators centre has become one of the league's preeminent passers and playmakers, Travis Yost writes.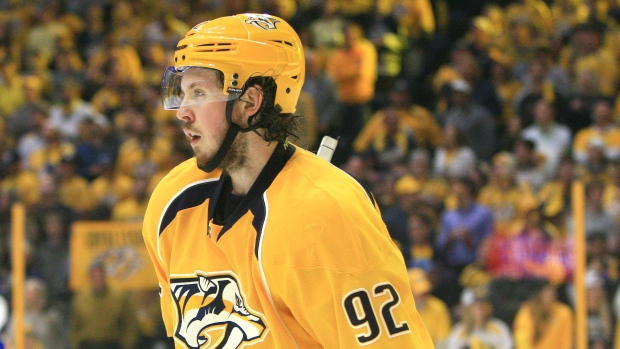 The hockey world was stunned by a blockbuster trade in January of 2016 between the Columbus Blue Jackets and Nashville Predators.
Columbus, in the market for a defenceman, swapped star centre Ryan Johansen for talented blueliner Seth Jones. Nashville was the perfect trading partner – a team with a surplus of talented defencemen but a need for playmaking and attacking capabilities up front.
Johansen had only a few seasons under his belt at the time but he was already emerging as one of the league's preeminent goal scorers. Johansen scored 33 goals in his 21-year-old season (2013-14), and then followed that up with 26 more goals in 2014-15. Only 12 skaters would end up scoring more goals than Johansen over that two-year interval. His assist rates were quality, but not nearly as impressive – his 75 total over that two-year stretch was 33rd best in the NHL. Adjusted for ice time, he was 43rd in the league.
At the time of the trade, Nashville GM David Poile mentioned how much the organization coveted a No.1 centre and how they felt the addition of such a player would help their middling offensive production. Johansen surely had growing playmaking capabilities, but Nashville had to have been enchanted by his lofty goal-scoring numbers.
This is where the trade gets fascinating.
Johansen has been a fantastic fit in Nashville and one of the key reasons why the Predators have evolved into a Western Conference superpower. But he has also really evolved his game. Where the early days of Johansen saw him hunting a bit for individual offence, he has since transitioned into one of the league's preeminent passers and playmakers – a different type of player than the one Columbus saw a few seasons ago.
Point totals tell a very simple and straightforward story – he's scoring fewer goals, compiling a ton of assists, and, at aggregate, is scoring more frequently than he did in prior years.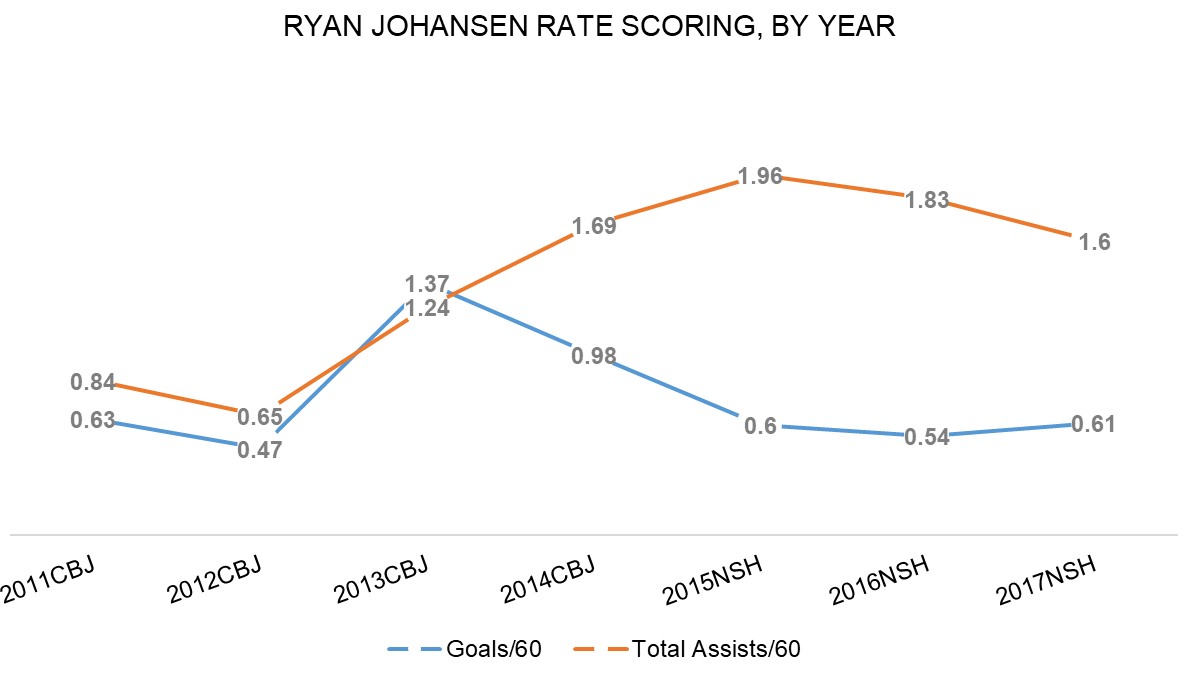 This graph would certainly suggest that Johansen started his transition into more of a playmaker, less of a goal scorer right around the time of the trade. Both his goal and assist rates have been flat over the last three seasons – three seasons all spent with the Nashville Predators.
But scoring can be finicky. After all, what if Johansen simply wasn't having a lot of shooting luck and his teammates were? That would indicate that the player really hadn't changed his attacking style, and, more specifically, that randomness has shaped his point totals.
So let's go a little deeper. Let's look at the way Johansen generated shots at the individual level over the same timeframe, and at the rate at which his teammates generated shots over the same interval. If the idea is that Johansen has become more of a distributor, we would expect to see him taking a smaller percentage of total shots when on the ice.
Here is what that looks like: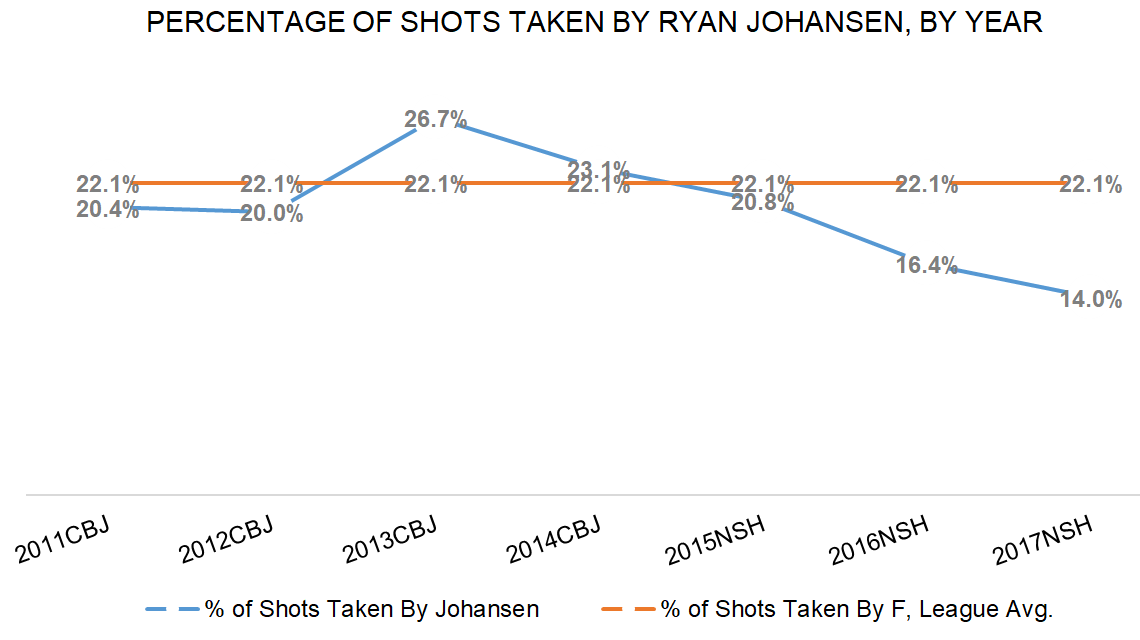 For a frame of reference, the average forward around the league takes about 22 per cent of the shots available. What's interesting here is that Johansen's shot rate really peaked in those two years where he generated big goal numbers. In those years he took 26.7 and 23.1 per cent of the shots available to his five-man unit, respectively. But the 2013-14 season would also act as a high-water mark. Since then, Johansen has seen fewer and fewer shots every year. In 2017-18, Johansen took just 14.0 per cent of shots available to his five-man unit – by far the lowest percentage of his career.
Knowing that Johansen's assist rates are way up and that his shot totals are way down, it's reasonable to infer that Johansen is just as active in the offensive zone. This type of data can act pretty well as a proxy for on-stick possession time or individual puck touches, and will generally correlate to the end result data we have access to, like shots on target or goals.
The last question we haven't answered though is whether or not Johansen's evolution as a player benefits the team. Has Nashville benefitted from Johansen's transition as a player?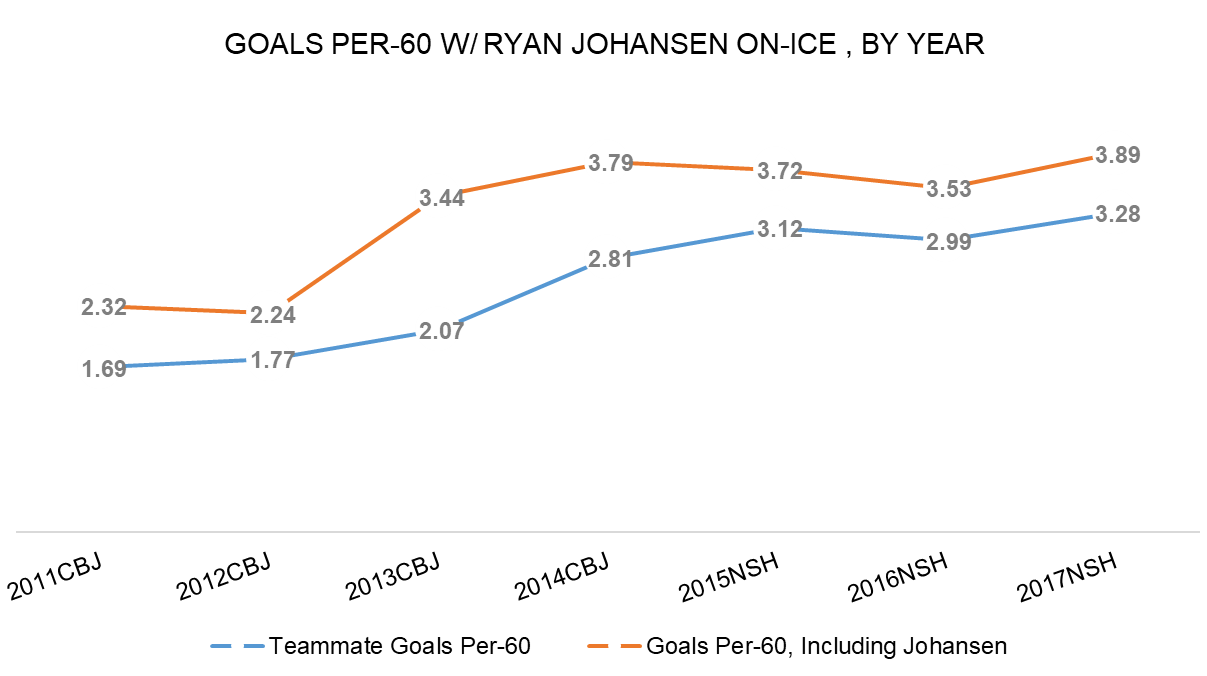 This is the money graph. There's no doubt that Johansen has been less of a goal scorer over time, but he has done so to create significant opportunity for his teammates. That's had a tangible and positive effect on team performance – one that doesn't require Johansen to shoulder significant portions of the goal-scoring burden, and one that doesn't require Johansen to sustain lofty shooting percentages in order to have an impact.
Part of this requires a player like Johansen to have trust in his teammates. It also puts a lot of burden on the front office to build competent scoring depth around a player of his skillset. But when it comes together, as it has in Nashville, you create a team that's much more difficult to defend.
It's one of many reasons why the Predators remain a Stanley Cup contender heading into 2018-19.