The Golden Knights are more than a good story
The early returns in Vegas suggest expansion club will be competitive this season, Travis Yost writes.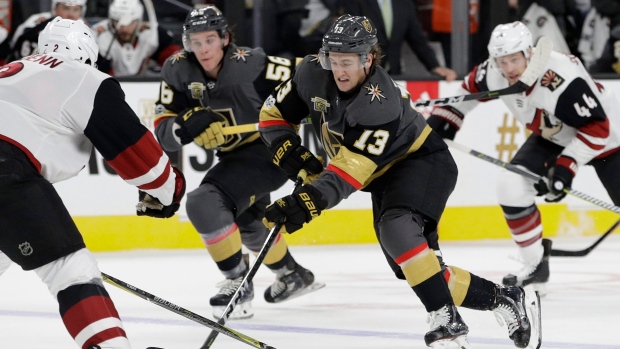 Like most hockey fans, I'm a sucker for a good story. So when a team earmarked as a draft lottery favourite in July starts their regular season 3-0, it's noteworthy. Bonus points to that club if they're a first-year expansion team whose draft strategy was cultivated with an eye for long-term success.
It probably goes without saying but the Vegas Golden Knights' record – at least right now – is illusory. Despite winning their opening three games and outscoring Dallas and Arizona (twice) by a score of 9-4, the underlying numbers aren't great. The Golden Knights are getting about 48 per cent of the shots and, by one site's estimate, 40 per cent of the expected goals.
For most teams, that's generally worthy of criticism. But I've actually come away somewhat impressed. Let's keep in mind that Vegas has little – and that may be generous – care about winning during the 2017-18 season. Every move they made was to build a contender for tomorrow. Naturally, it left the opening-night roster fairly shallow in talent. And just to make things even more interesting, the Knights took two of their better talents in Vadim Shipachyov and Shea Theodore and moved them down to the AHL. Perhaps temporarily, perhaps not.
Even after all of that, early returns suggest this team won't be one that rolls over and dies for 82 games. Even if the Knights true talent is a mid-40s shot/scoring chance/goal team, they'll still have a puncher's chance on most nights. Sure, it'll be reliant on discipline, superstar performances from their few true talents (hello, James Neal!), and above-average goaltending.
One of the things I was curious about after Vegas' third game is whether or not there's a legitimate divide in performance across their lines and pairings. The one noticeable thing about the Knights' lineup is that head coach Gerard Gallant hasn't put it through a blender – the lines and pairings have been remarkably consistent and predictable during the first week. (Such is the luxury of winning!)
The breakout of their lines and pairings is below via LWL:

The forward group isn't half bad, especially if you rate some of their younger depth players well. It is notably devoid of star power though, with the lone exception probably being Neal. Defensively, it's kind of ugly – there's not a lot of mobility or puck-moving capability, though Nate Schmidt has looked fantastic in the early going. And, of course, Theodore is probably on the way.
Corsica has a fantastic tool that can break out performance by lines and by pairings, so we can take the above lineup cards and break them out a bit more granularly. Here's how each regular grouping looks by three key measures:

Not surprisingly, Vegas' expected goal rates are much lower than reality. Part of this is that their shot volume – especially in the bottom-six forwards – is appalling.
But they've also received incredible goaltending from Marc-Andre Fleury, who has stopped more than 96 per cent of shots at 5-on-5. Keep in mind that the league average is around 92 per cent. Four points is incredibly significant and, obviously, not a repeatable measure. (This is really a point worth hammering home – Fleury can't simply be 'average' for the Knights to be anything other than an also-ran in the standings this year. If they are going to be outshot on most nights, he needs to be above average or better to offset the talent gap. That's doubly true when Vegas' third and fourth lines are on the ice.)
But if you're the Knights, there are still reasons to be somewhat optimistic. Look at the top-six forwards' Corsi%. Clearly there's some NHL-capable talent across those six players, but I think it's fair to say that they've held their own against the top lines in Dallas and Arizona. I would hazard to guess that not many expansion teams historically have had top-six forwards capable of trading chances with well-established top-six groups from other NHL organizations. So, if anything, Vegas is perhaps a step up on their predecessors.
Let's pivot to the defensive pairings. Same measures:

I had reservations about Washington losing Nate Schmidt for nothing via the expansion draft. I know the Capitals were in a bit of a contract bind, but early returns in Vegas suggest he's very capable as a top-four defender. He's putting together fantastic performance numbers – relatively speaking, anyway – with a partner in Luca Sbisa who has only seen dreadful 5-on-5 performance measures since entering the league.
The third pairing, like Vegas' fourth line and like most other third pairings around the league, appears to be an issue. This probably goes away when Theodore enters the lineup and Vegas can rearrange their blueline, but we're only three games into the season and 'sooner rather than later' would surely be the advice I deliver to general manager George McPhee.
The key takeaway is that Vegas has something resembling a team. While I'm pretty sure they're going to finish near the bottom of the league, I'm starting to wonder what their end position looks like. Plenty of hockey observers had this team earmarked for a 31st-place finish. But with a respectable top-six, a couple of guys who can move the puck on the blueline, and a goaltender who looks very comfortable, do we need to reconsider? It seems possible.
Regardless of what happens, the "Vegas may not be the worst team in the league" story developing so quickly has been a fantastic storyline. Early indications suggest they'll at least be competitive. In year one for a customer base with no expectations, that's a fun start to hockey fandom.