The Lightning might be even better than you think
Tampa Bay has a devastating top line, but they're also getting real production from their depth, Travis Yost writes.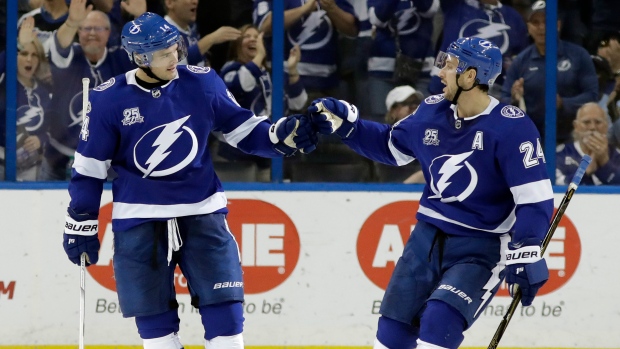 The Tampa Bay Lightning are on fire.
With 40 points in 27 games, Jon Cooper's Bolts are starting to create real separation from the muddied middle of the Eastern Conference. They're doing so with one of the league's most prolific offences, plus defence and goaltending that has been surprisingly stingy.
If you looked at the standings through Wednesday night, you would surely identify Tampa Bay as one of the league's best teams. That comes with the territory when you're sporting a 19-6-2 record. Unfortunately, records aren't always the best indicator of a team's true performance – game states like 3-on-3 overtime and the shootout can cloud the meaningfulness of a team's record, especially when a sample is less than 30 games.
What's my point? Tampa Bay may actually be better than they appear. Through 27 games, Tampa Bay has amassed a +17 goal differential at 5-on-5 and a +32 goal differential across all situations. Both of those numbers are tops in the NHL by a considerable margin. (Another way to read this: Tampa Bay's a very strong 5-on-5 team with an exceptional power-play unit. Add good goaltending to the mix and you have an elite hockey team.)
If those numbers seem steep it's because they are. A +32 goal differential over 27 games means their average game sees the Lightning winning by more than a goal. How ridiculous is that sort of run? I went and looked at some of the best goal differentials we have seen since the 2007-08 season and what it meant for a team's finish in the standings. Predictably, all of these teams comfortably exceeded the 100-point mark. But make careful note of where Tampa Bay would land within this hierarchy: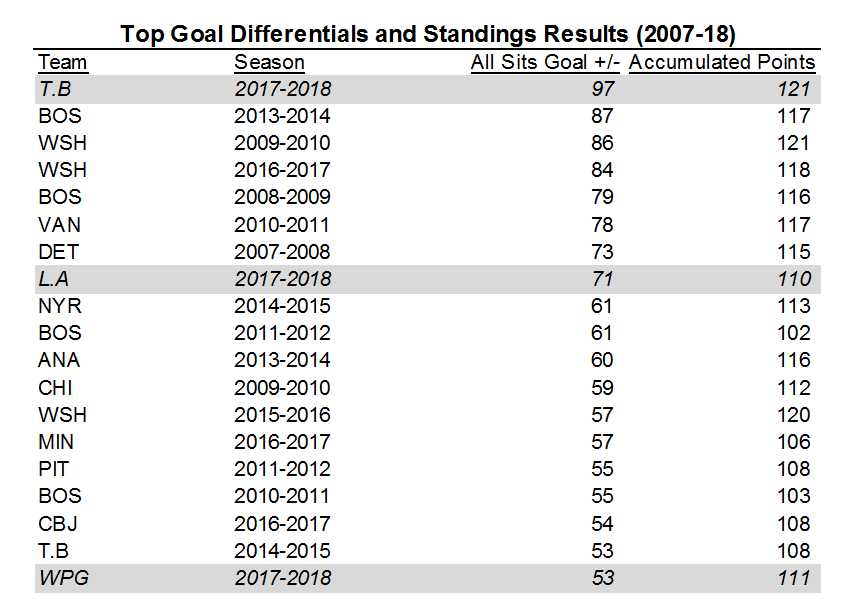 If Tampa Bay can somehow sustain their current pace, they would end up with the best goal differential we have seen in the modern era – better than all of those great Washington teams – better than Mike Babcock's vaunted 2007-08 Red Wings, and so on. I'd be remiss to point out that (again, not surprisingly) a number of these teams ended up winning the Stanley Cup.
So, which players are driving the bus in Tampa Bay? We have heard an awful lot about the Lightning's top 5-on-5 line of Vlad Namestnikov, Steven Stamkos, and Nikita Kucherov. They've been sawing opponents in half, game in and game out, and are one of the big reasons why the Lightning are in such a fantastic spot.
But it's not just a three-man effort. Secondary players like Yanni Gourde, Alex Killorn, and Brayden Point are also having phenomenal years. On the defensive side, all of the talk centres on annual Norris Trophy candidate Victor Hedman. But the defender with the highest goal differential is actually the youngster Mikhail Sergachev, who has fit like a glove alongside veteran Anton Stralman.
So, yes, Tampa Bay has a ridiculous top unit. But they're getting real production from their depth, too. Just look at how many players are in the green heading into December: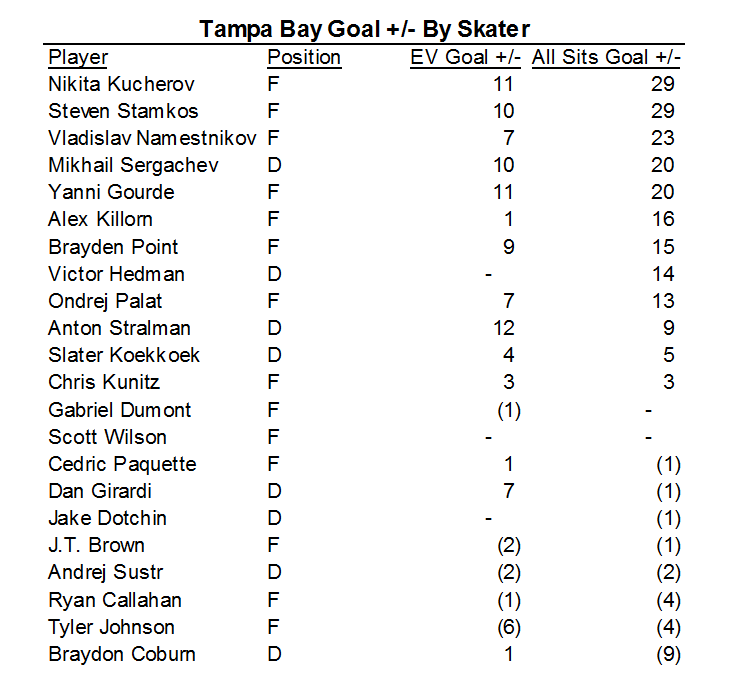 As you can see, this is a pretty strong 5-on-5 team across the board. But most players see their goal differentials jump up (in some cases, considerably) when we bring in all situations data. That's the beauty of seeing significant ice time on a power-play unit that's converting on 29 per cent of their chances.
So, where do you go if you are a team like the Toronto Maple Leafs – a team with legitimate division title hopes? I don't think there's much of a reason to believe the Tampa Bay offence will slow down. But you do have to wonder if Andrei Vasilevskiy will be able to sustain his performance over a full season.
Bolts' skaters have a pretty proven track record of scoring production pre-dating this season, and their power play in the Stamkos era has always graded out well. Vasilevskiy, at least relatively speaking, is a bit more of an unknown. His 93.2 save percentage is one of the highest in the league, and although he came into the league with an impressive resume, he is still a 23-year-old with just over 100 games of NHL experience.
The best-case scenario if you are the Leafs or other Eastern Conference contenders? Teams start finding holes in the Lightning defence and get into the trading goals business. The worst-case scenario? Tampa Bay mostly sustains on both ends of the ice.
If they do, we might be witness to one of the best regular-season performances we have seen in a long time.