The Monday 9: Potter's win puts him in exclusive company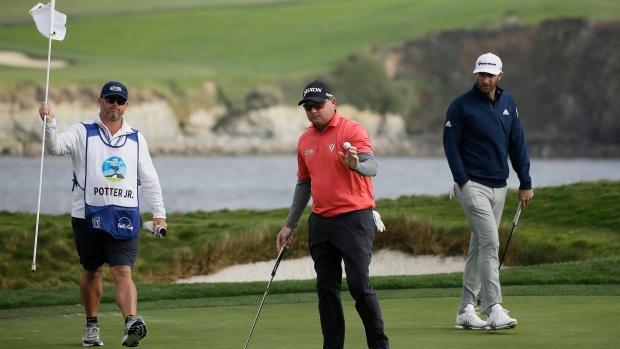 1. How can you explain a guy who barely has a tour card, has been a journeyman for much of his career and won, by his own estimation, 60 pro events in the mini-tours, holding off the No. 1 player in the world on Sunday to win at Pebble Beach? "It's golf," said Ted Potter Jr., who won his second PGA Tour event. "All you can do is try as hard as can you do. Just keep grinding, keep trying. I don't know what to say, really. Just keep playing." While it's always great to see guys like Dustin Johnson, Phil Mickelson and Jason Day win tournaments, golf is really great when a decent, short-hitting, shot-grinding, nice guy like Potter Jr., gets to hoist the crystal.
2. Potter Jr. joined some exclusive company with his win at Pebble Beach. He became just the seventh left-handed golfer to win more than once on the PGA Tour. The others are Phil Mickelson, Bubba Watson, Mike Weir, Bob Charles, Steve Flesh and Brian Harman.
3. Potter Jr., by the way, doesn't have many fond memories of the 2014 RBC Canadian Open. It wasn't the hospitality or the weather or the city – those were all fine. Potter said he enjoyed Royal Montreal and the city. But after shooting rounds of 73-74, Potter was out front of his hotel in flip-flops, stepped off a curb, landed awkwardly and broke his ankle.
"It was just a freak accident," Potter said after his third round at Pebble Beach on Saturday.
Initially, it was thought he'd be out a few months, but he spent more than a year on the shelf. A good season on last year's Web.Com Tour finally got him back on this year's PGA Tour.
4. Stephen Ames, the top Canadian on the Champions Tour, spent his honeymoon in Hawaii relaxing with his bride before returning to action this week at the 50-and-over circuit's event in Boca Raton, Fla. However, it was a short week for the Vancouver resident. Ames shot 73 but signed for a 72 and was disqualified. In all fairness, he was the one to realize his mistake and called the penalty on himself. "Guess I'm still on vacation," was his comment after getting the weekend off.
5. Wanna buy a Claret Jug? Now you can own John Daly's from his famous 1995 Open Championship win. Actually, you can own ONE of his trophies.
Heritage Auctions, a Dallas, Tex.-based auction house has the trophy up for bids with the top bid at the time of writing at $30,000 (U.S.). It's expected to fetch upwards of $100,000.
Now before you think Daly has gone off the deep end or is short of cash, this trophy is one of two that was made for him after he won the major championship.
The winner of the Open gets to keep the real Claret Jug for a year before returning it. However he's allowed to order as many replicas from the R&A's official silversmith. Daly had two made and will keep one.
6. Adam Hadwin took the week off before rejoining the Tour this week in Los Angeles. During his off week, however, the Abbotsford, B.C., product was taking some swings, just not the golf kind.
Hadwin was at media day for the Valspar Championship, the event he won last year. With its location in Tampa close to Dunedin Fla., Hadwin slipped over to see the Toronto Blue Jays at spring training and got into the batting cage for a few hacks. He also fielded a few ground balls and showed off his arm.
That wasn't the end of his adventure. He came back to the Copperhead Course at Innisbrook Resort and played nine holes alongside Jays' third baseman Josh Donaldson, an avid golfer who is good friends with Jason Dufner.
Hadwin played high-level baseball growing up before switching over to golf. He's kept up a love affair with Canada's only major league baseball team and he carries a cover on his yardage book with the Jays' logo.
His day will be featured in an upcoming episode of Inside the PGA Tour.
7. Oh and the reason Hadwin gave up on baseball and turned to golf?
"One of the main reasons I chose golf was as an athlete I couldn't handle losing when I played well," Hadwin said at his press conference. "I could play basketball or I could play baseball and I could go 4-for-4 with three stolen bases and two home runs and still lose the game. I had a very difficult time accepting that. So I went into a sport where if I didn't play well enough to win then I have to play better. It's all on me."
8. Jordan Spieth hasn't been playing up to his usual standards and his putting has been particularly off. Heading into Pebble Beach, he was ranked 195th in Strokes Gained: Putting. Two years ago, he ended the year second in that category. Now this year's stat is based on just 10 rounds of play so it might not be a fair measurement of his putting just yet. In fact he made good progress last week, ending up in 38th spot in the SG: Putting category for the week and taking just 25 putts on Sunday.
But there might be a good explanation for Spieth's overall lacklustre performance. In December the 24-year-old contracted mononucleosis and was bedridden for an extended period of time.
That illness prevented him from practising and getting his game to where he wants it. However it's not like he's fallen off the cliff. Spieth was ninth at the Sentry Tournament of Champions and tied for 18th at the Sony Open. He missed the cut in Phoenix last week and finished tied for 20th at Pebble Beach.
9. We know Tiger Woods will be back in action this week at the Genesis Open in Los Angeles. Beyond that? Woods, as has been his style in the past, is keeping people guessing.
Woods, who always announces his commitments at or near the last minute, is expected to play the Honda Classic. The tournament starts Feb. 22 and is near Woods' home in Jupiter, Fla.
According to the golfer's agent, Mark Steinberg, the 14-time major champ wants to wait and see how he plays at Riviera before signing up. Woods has until Friday at 5 p.m. to enter officially.
While there might not be anything official yet, a person connected to the tournament said they are preparing as if Woods will be playing, ordering up extra security.
The betting here is that you can expect to see him in the field.