The Monday Nine: Casey's win adds to his global tally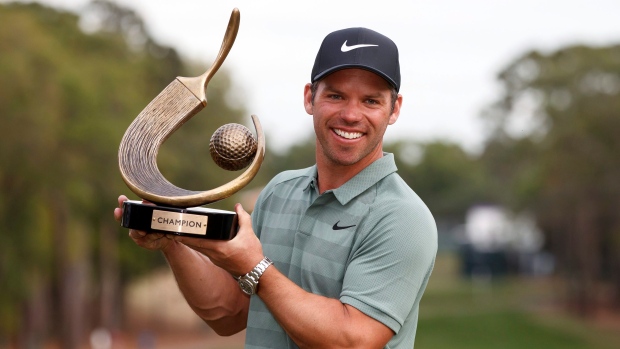 1. The fact that Paul Casey had only one previous PGA Tour victory prior to Sunday's Valspar Championship title was trotted out time and time again as the Englishman moved towards his victory. But that really doesn't tell the full story of what a solid player he has been.
Casey has won five times around the world since he captured the 2009 Houston Open. And the wins were in big events, including the European Tour's BMW PGA Championship and Irish Open.
Casey has 12 titles in his career and has also lost twice in playoffs on the PGA Tour.
2. Casey's victory moved him up the list on the European Ryder Cup standings. He currently sits in 10th spot on the World Points list (the European team is selected off of two different lists – world ranking points and European points). Casey played for Europe in 2004 and 2008, but in 2010, despite being ranked in the top 10 in the world, was not made a captain's pick by Colin Montgomerie.
He subsequently gave up his European Tour membership to concentrate on the PGA Tour, making himself ineligible to play for the Euros.
But now he's back as a member and hoping to be a part of Thomas Bjorn's side when it takes on the Americans in Paris this fall.
3. One of my best Paul Casey memories revolves around the Skins Game we used to broadcast on TSN. Casey was involved in field that included Lucas Glover, Anthony Kim and Stephen Ames and was played at Banff Springs.
While waiting to tee off on the par-three eighth, Casey looked at the green and told the group (I was the on-course announcer) that he thought he could throw a golf ball onto the green. None of us thought it was possible and laughed at the idea. The back tee was 150 yards over water and if you've ever tried to toss a golf ball, you'll know that's a long way.
Not for Casey however. He stepped back and launched the ball into the air and we all watched as it landed on the green.
4. There were a number of raised eyebrows when Tiger Woods elected to go with an iron off the tee on the final hole, when he needed a birdie to get into a playoff with Paul Casey.
But Woods was clearly playing to the odds of getting the ball in the fairway. Less than half the field managed to keep the ball on the short grass on Sunday. If you haven't noticed, the Big Cat hasn't exactly been striping his driver these days and in his press conference after, he pointed out that with a three-wood he would bring in part of the fairway where it narrows on the right side. He ended up hitting a two-iron although it didn't come off with the stinger trajectory as he would have liked. Regardless, he used the right club for that situation and gave himself a shot at a birdie.
5. Lots of people like to complain that TV networks focus too much on Woods when he's in the field. But there's a clear justification for this according to stats from NBC's third-round coverage of the Valspar. The broadcast was the network's highest-rated Saturday of a PGA Tour event in 12 years and up more than 181 per cent over the 2017 edition. Love him or hate him, people seem to want to tune in to watch Woods.
6. Canadian golf lost one of its top players over the weekend with the sudden passing of Jerry Anderson at 62.
Anderson may not have been as well known as his contemporaries such as Dave Barr and Dan Halldorson, but he was a talented player who blazed a trail for Canadian golfers.
He was a top amateur player in Ontario in the 1970s, eventually earning a scholarship to the University of Texas. He turned pro in 1997 and became the first Canadian to win an event on the European Tour, taking the1984 Ebel European Masters with a score of 27 under par. That set a scoring record on the Euro circuit that stood for 19 years.
Anderson was also the first Canadian to win on what is now the Web.Com Tour, winning the Ben Hogan Texarkana Open in 1991. He also captured nine events on the Canadian Tour. His game took him to tournaments around the world, playing not only in Europe, but in Asia, Africa and Australia. He also spent two years playing the PGA Tour.
In 2002, he was inducted into the Ontario Golf Hall of Fame and into the PGA of Canada Hall of Fame in 2016.
7. A report from the U.S. online publication The Morning Read says that Tiger Woods and Ernie Els will be named as captains for the 2019 Presidents Cup on Tuesday.
Both players have been captain's assistants in previous team events, including last year's Presidents Cup in New Jersey. The 2019 edition will be contested in Melbourne, Australia.
Els is expected to keep assistants Geoff Ogilvy and Mike Weir on his team.
8. Corey Conners wasn't able to keep his fine play from the first three days of the Valspar going on Sunday. However as a rookie who has fewer PGA Tour rounds than Tiger Woods has victories, it's certainly understandable that the Listowel, Ont., product slipped to a 77. That's even for a guy who has the calm, cool demeanor that gives a sense he could handle any excitement.
Playing in the last group on Sunday is different than any other day and some Tour pros go an entire career without getting that chance. The last time a Canadian golfer was in the final group on Sunday of a PGA Tour event was a year earlier when Adam Hadwin did it en route to winning.
"I don't know, it was a little bit of different experience," Conners tried to explain of the difference between Sunday and the other three days. "Something I never felt before and definitely use it in the future."
9. While Conners may not have been able to pull out a win on the weekend, there was a Canadian winner of note.
Danny Sahl was on the bag for Vijay Singh who won on the Champions Tour. Sahl is a talented player in his own right, having earned a scholarship to Kent State and as a pro, winning on PGA Tour Canada.
But over the past five years he realized that to have a future in the game, he was better suited as a caddie than a player.
At first, Sahl carried the bag for Mike Weir and then, at the start of the 2017 season, assisted Conners as he made his debut on the Web.Com Tour, guiding him to a couple of top-10 finishes. Shortly after that, Singh came calling and the two are into their second year together. Sounds as if Sahl has made the right career choice.