The NHL playoffs through an analytical lens
Travis Yost uses a number of qualitative and quantitative observations to pick the first-round winners.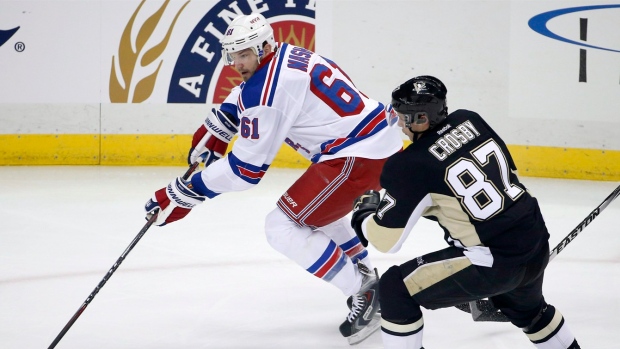 Over the course of the Stanley Cup Playoffs, I'll be looking at each matchup through an analytical lens and forecasting winners based on a number of qualitative and quantitative observations.
Read on for a breakdown of each series ….
--
New York vs. Pittsburgh
This is the most cut-and-dry of the eight matchups, and I'm not sure it's particularly close.
On one side you have, for my money, the league's best goaltender and a legitimate MVP candidate. Henrik Lundqvist is one of the very few players in the league who generates piles of wins year after year after for his team. The Rangers are unlike any other team around the league. They can be outshot in a given night and have a fighting chance. They can break even in the shot count and look really, really good.
The problem is there's such a 5-on-5 disparity between the two sides in this series that it's almost impossible to side with the Blueshirts. You are quite literally talking about the worst possession team that reached the postseason against a team that's burying every level of competition under new head coach Mike Sullivan.
Just look at these two teams at evens: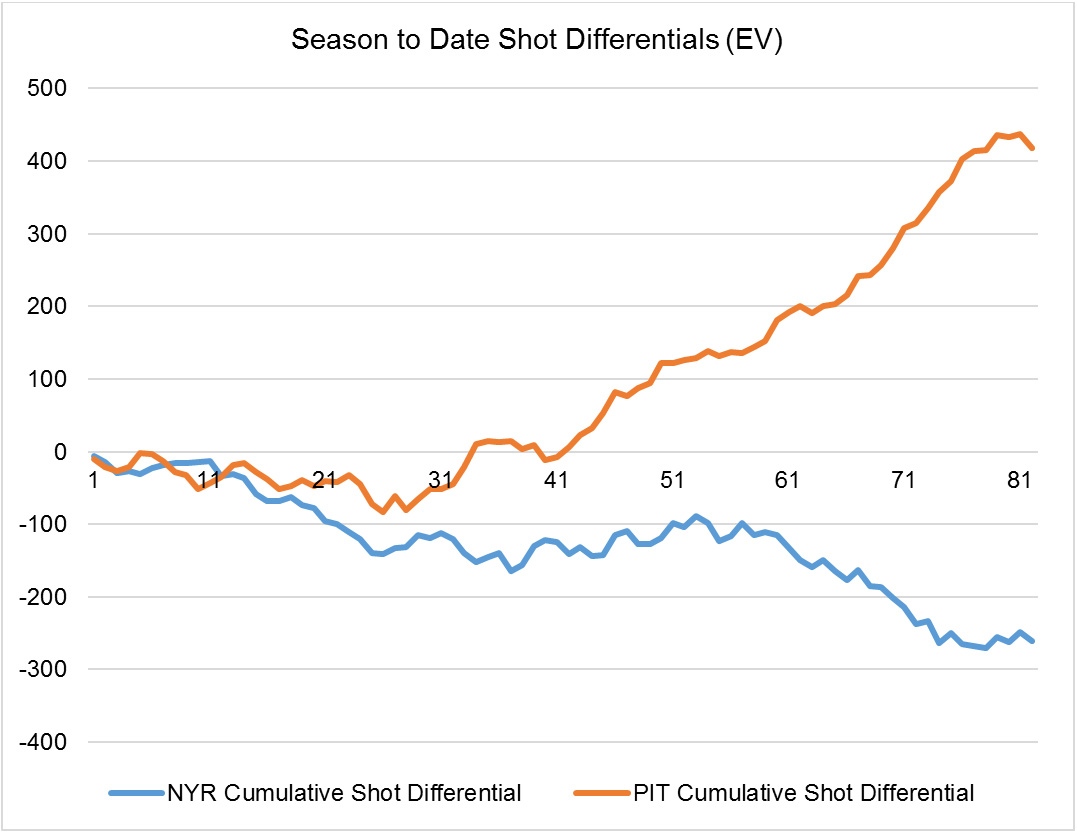 It's almost like you can see exactly where Pittsburgh changed coaches and started pummelling everyone.
There's zero doubt in my mind which team has the better stock of skaters. The only concern I have on the Pittsburgh side is their health in net. Marc-Andre Fleury has had a fine season and seems to be on his way back, but you never really know how a guy will respond after health issues until he's played a handful of games. Ditto that for potential backup Matt Murray.
Lundqvist is probably good enough to win a series on his own, but if New York wants to advance, that's probably the only way they see themselves through.
Pittsburgh in six.
--
Detroit vs. Tampa Bay
Courtesy the NHL's multi-layered playoff constraints, hockey fans will be treated to the league's 12th best team in Tampa Bay facing off against the league's 15th best team in Detroit. (This is maddening, but a post for another day.)
I think this series is going to be tough to get a pulse on, especially right now. The Red Wings are almost impressively average, and maybe that's being a tad kind – they did skirt into the postseason with a -13 goal differential, which is all of two goals better than the Montreal Canadiens. The team is also dealing with Pavel Datsyuk's inevitable departure from the team. I'm not a psychologist, but I don't think it's unfair to wonder what kind of impact that will have on an organization.
On the other hand, you have – for my money, anyway – the league's most disappointing team. There's no reason that the Bolts shouldn't have ran away with their genuinely terrible division the way Washington did in the Atlantic. Not with the talent they have on their, anyway. Yet the Bolts sort of coasted into their playoff berth – good enough to make it with occasional signs of greatness, but never consistent enough over 82 games. And, oh yeah, the Steven Stamkos thing. Losing your best player right before the playoffs is a killer.
Ultimately, I think there's three areas that shift my personal preference towards Tampa Bay. One, they were a relatively much better scoring team throughout the year, averaging about 0.3 goals more per-60 minutes at 5-on-5 (0.2 considering all game states). Two, Ben Bishop outplayed the Mrazek/Howard combination – the Bolts stopping 91.6 per cent of shots, the Wings just 91 per cent of shots. And three, home-ice advantage is in Tampa Bay's favour. This is a building where the Bolts won 61 per cent of games. Detroit, on the other hand, won just 45 per cent of their road games in the season.
For that reason, I'll say Tampa Bay in six. There's not a whole lot of confidence in that pick, I should note. Maybe that's because this just isn't a very good first-round match-up.
--
Philadelphia vs. Washington
Look, even the late (and great) Ed Snider himself wouldn't tell you that the Flyers outplayed the Capitals over the course of the season.
But I do think there's one argument that some fans are going to subscribe to, and that concerns how well the Flyers are playing of late.
Let me remind you that this isn't inconsequential. If you look at recent performance as teams head into the postseason, it tends to be extremely predictive of playoff wins and losses. That's largely because it captures the material changes a team has went through (player acquisitions, coaching changes, injuries, etc.) that will only manifest to a small degree when looking over a much larger 82-game sample.
Let's assume, for the sake of argument, that the Flyers are a genuinely improved team, meaning we should focus on their more recent performance as opposed to the whole season. How do they compare to Washington by our key performance metrics?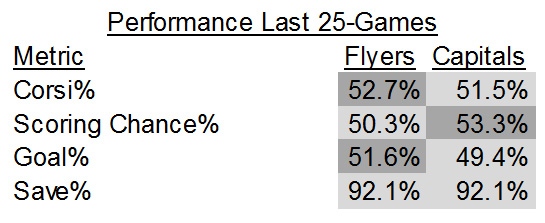 So, a bit of bad news for Capitals fans: you are running into a team that's legitimately playing strong hockey down the stretch. The Flyers are getting the better of most teams at evens and, as has been the case for a few years now, Steve Mason's been ultra-reliable for them between the pipes.
That said, it's not as if the Capitals have deteriorated in any meaningful way. They've always been a good (not great) 5-on-5 team with an absolutely devastating power play. The biggest difference this year is that they have the goaltending to match up with most teams around the league – something that was hit-or-miss in prior years.
In summary: I find these teams are pretty evenly matched. The Capitals have played great all season long. The Flyers have played great for maybe half of the year, but are certainly clicking when it matters most. Ultimately, my general tiebreaker rule of thumb tends to be to defer to the team with home-ice advantage, since home teams win about 56 per cent of the time.
So, Washington in seven. But I think this series is going to be tight.
--
Florida vs. NY Islanders
I'm getting a bit excited about the Cats this postseason; and while I think the Islanders are a reasonably talented team, I think the Panthers are the better side here.
Florida has really found their groove down the stretch. I sense that the only reason people aren't talking about it much is because other teams had sexier rally stories (like Philadelphia) and because the Panthers were pretty much earmarked for a playoff berth since January.
But still, the numbers across the board for this Florida team are pretty mesmerizing, especially late. Their 52 per cent possession over the last 25 games is seventh best in the league, sandwiched between Anaheim and Washington. And those favourable shot metrics have driven even more favourable goal differentials – their 56.2 per cent by season's end was tops in the league, inching out old division rival Washington.
The goal rates are really worth noting, especially since almost all of Florida's success there was driven by goaltending performance, not team shooting percentage. The former is a much more repeatable and pervasive talent, which means we can have a lot more confidence in their lofty goal differentials than we would in other teams around the league. (How sweet is it to have Roberto Luongo protecting your net?)
Florida in six.
--
Minnesota vs. Dallas
Even if you wanted to find a reason to fade Dallas, it's hard to get excited about this Minnesota club.
Let's not forget that the Wild only reached the postseason by way of one of the NHL's many fun constraints (the Bruins, remember, finished six points higher than them in the standings). They fired their head coach mid-season. They've been outshot on a consistent basis most of the season, controlling just 47.7 per cent of play. If you need a comparable for that, well, John Tortorella's Columbus Blue Jackets hit the 48 per cent mark by end of year.
Meanwhile, Dallas is – at least at the skater level – a certifiable buzzsaw, and slowing down their offence is going to probably require a couple dozen Hail Marys. They were the league's second-best team at generating 5-on-5 shots, they were the league's second-best team at generating 5-on-5 goals, and they cut almost 30 goals from the against column from last year's roller-coaster season. Essentially, they've improved on their strengths and have mitigated some of their weaknesses.
The toughest part of this matchup for Minnesota is that Dallas does have a very obvious vulnerability, and that's the poor goaltending they received once again this year. The Stars .904 stop rate was tied for 23rd in the league. Considering how important goaltending is across most of our historical Stanley Cup winners, you'd have more than some reason to believe that the Stars could get themselves into a bind if they run into a truly one-sided goaltending matchup.
But Minnesota hasn't impressed here either. Their goaltending has been screamingly middle-of-the-road, which means that even if they hold an advantage between the pipes, it's probably marginal – not nearly enough to offset all of the offensive strengths that the Stars are going to bring into this series.
Dallas in five.
--
St. Louis vs. Chicago
I never like placing myself in the position where I'm tasked with backing a team that's (a) historically struggled in a postseason environment against strong competition; and (b) historically underwhelms in head-to-head matchups against the very team they are going to see in round one.
But, crazy as it seems, I think the Blues are the better side here.
This won't be an emphatic endorsement of Ken Hitchcock's club, though I think I'd be more than okay going in that direction. They did end the season third in points accumulated (107), fourth in goals against (201), seventh in 5-on-5 Goal% (53.1 per cent), and seventh in possession (52.0 per cent). Generally speaking, they had great results this year, and just as importantly had the underlying numbers legitimizing said results.
This is more an indictment of a Chicago roster.
For the first time in close to a decade, the Blackhawks appear vulnerable. I think their mediocrity was glossed over by two or three truly special regular-season performances – Patrick Kane will get the most run in the media, but I think Corey Crawford's backstopping was just as vital.
Just as vital because the 5-on-5 dominance just no longer exists, and that's true no matter which way you slice it.
Would you believe me if I told you that the Blackhawks were out-scored at 5-on-5 this year (48.9 per cent), below the likes of Ottawa and Winnipeg? Would you believe me if I told you that this Blackhawks team was the leakiest of the Joel Quenneville era, conceding 51.3 shots against per-60? Offensively, it was the same story: the least shots generated of the Joel Quenneville era, creating just 54.0 shots for per-60.
What I'm trying to say is this: the Blackhawks still strike me as a pretty good team and ultimately I wouldn't be surprised to see them advance. But I think you can very reasonably argue that this is the worst Chicago version we have seen since pre-2009. Further to that point, I think you can argue that St. Louis – once overwhelmed by Chicago's star power – looks like a favourite to advance.
St. Louis in 7.
--
Anaheim vs. Nashville
Poor Nashville.
I'm not sure there's any team I want to play less right now than Bruce Boudreau's Anaheim Ducks, who – thanks to an interesting systems change – have been chewing through Eastern and Western Conference competition alike for months now.
Anaheim, a team that just a year ago was notorious for violent forechecking and relentless goal scoring, has evolved again. This version is stifling defensively. Since the turn of the calendar, they're fourth in scoring chances allowed per-game, fourth in shots allowed per game, and sixth in goals allowed per game.
Did I mention that the Ducks arguably tow the best special teams group in the league? First in goals for per-60 on the power play and first in goals against per-60 on the penalty kill. And the latter wasn't even a particularly close race.
Even if you posited that Anaheim was vulnerable in one area (their goaltending), it's not as if Nashville has a discernible advantage there. Remember, Pekka Rinne has been outplayed by the likes of Cam Ward and Karri Ramo this season. Pretty hard to indict the young tandem of John Gibson and Fred Andersen when the guy they're squaring up against has had a truly forgettable season.
So, to recap: Anaheim's one of the best 5-on-5 teams in the league, they probably have the best special teams combination in the league, and their lone weakness – stopping shots – is probably a relative strength in direct comparison to their opponent in round one.
Anaheim in five.
--
Los Angeles vs. San Jose
It's a pretty cruel world for a Sharks team that has found a nice groove since last year's roller-coaster campaign. Their reward is a date with the Kings, a team that once again has the makings of a Stanley Cup winner.
San Jose, who is by all accounts an excellent 5-on-5 team and has been for just about a decade, is again punching upward. Los Angeles was both the league's best shot-generating and shot-suppressing team at even-strength, something that's become a staple of Darryl Sutter's club.
The Kings, more than any team in the league, rely on sheer volume to win hockey games. They won't score many mesmerizing goals and they certainly won't electrify you with the high-end, up-tempo hockey that some fans are innately drawn to. No, what they do is mind numbingly straightforward – an extra heavy dose of dump-and-chase hockey, an extra heavy dose of two-man forechecking, and relentless adherence to deterring controlled zone exits in the neutral zone.
The system is designed to do one thing and one thing only: skew the shot differentials heavily in favour of Los Angeles. The strategy has proven highly effective, mostly because their opposition so infrequently has the puck and, thus, struggles mightily to score goals.
Only a select few teams over the years have been able to counteract the Sutter system – Chicago immediately comes to mind, but San Jose certainly has shown competent here as well. That's what makes the series so fascinating for a first-round clash. The talent on both sides screams Western Conference Final. But, we are once again accelerating that into mid-April.
I can't find it in me to pick the Sharks, though I do love the team and think the acquisition of James Reimer has been brilliantly effective. Los Angeles is just too freakishly dominant and, in a seven-game series, their grind-it-out-and-win-the-shot-differentials approach tends to prevail.
L.A. in seven.