The odds on Tiger's comeback
The 14-time major winner will make his long-awaited return to golf this week at the Hero World Challenge.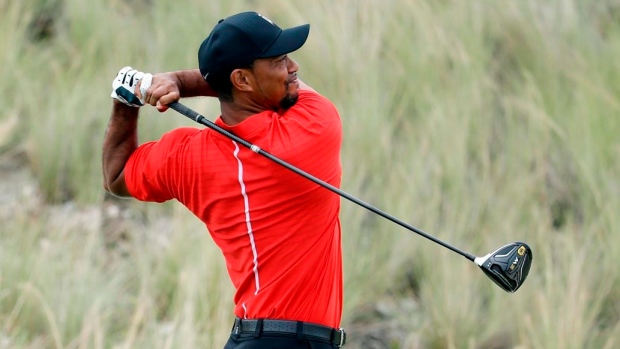 Tiger Woods will make his long-awaited return to golf this week at the Hero World Challenge in the Bahamas.
Woods, who last played at the Dubai Desert Classic in February, will be showcasing the result of his latest back surgery – a spinal fusion that he says has left him pain-free for the first time in years.
For the record, this will be the ninth comeback from injury for Woods since he joined the PGA Tour in 1996.
While there's been plenty of speculation on how Woods will fare this time along with lots of video evidence of his swing, there's no way to know exactly how he'll do once he starts playing tournament golf again.
However, that hasn't stopped the betting shops from offering up odds on just about everything and anything.
For instance, BookMaker.eu says that bettors have wagered on such things as: Woods playing in six or more events in 2018; making three or more cuts in 2018; and finishing last or first in the Hero World Challenge.
In Las Vegas, the bookmakers have the 14-time major winner at 20-1 to win any one of the four majors. For the record, those are the same odds as Martin Kaymer and Rafael Cabrera-Bello. He's just 6-1 to win the Masters.
Woods last won on tour in 2013 and his last major title was in 2008 at the U.S. Open.
---
The final stage of LPGA qualifying school goes this week and seven Canadians are in the hunt in the five-round marathon. The group is led by four-time LPGA Tour winner Lorie Kane who will turn 53 on Dec. 19.
The Charlottetown native has played a limited schedule on the tour over the last few years but is not yet ready to call it quits, especially with more opportunities opening up for veteran women.
The Legends Tour, for players 45 and older, has been in operation for several years and Kane has found success there, winning a number of events.
Next July, the first U.S. Senior Women's Open will be held at the Chicago GC. Getting some status on the LPGA Tour would give the Canadian Golf Hall of Fame member an opportunity to stay competitive.
Regardless of how she plays at Q-School, Kane will have some limited status on the tour as a past champion.
She will be joined at Q-school by Jennifer Ha, Samantha Richdale, Augusta James, Maude-Aimee Leblanc, Brittany Marchand and Elizabeth Tong.
---
Canada's oldest golf professional, Gord de Laat, passed away over the weekend at the age of 100. He was born in the Netherlands just a few days after the battle of Vimy Ridge, moved with his family to Canada a few years later and, after starting as a caddie at Lambton G&CC in Toronto in 1928, was a professional for more than 80 years, still active right up until the time of his passing.
There's a personal connection for me here as Mr. de Laat gave me my very first golf lesson way back when at the Weston G&CC. Undoubtedly, it was one of tens of thousands he provided over his career.
I still remember that lesson, going to a spot halfway down the first hole one summer evening after the last groups had teed off and de Laat adjusting my grip on the seven-iron and then watching me swing. He kept telling me to rotate my forearms as I swung through. Ball after ball flew down the hole, some good, others not so much. But by the time the lesson was over, he had me hitting it high and straight. One last thing I remember about that lesson: as a junior, I received a discounted rate, but as part of that deal, I had to pick up all the balls I'd hit.
For 30 years, de Laat was the head professional at the Weston and he was at the course in 1955 when the Canadian Open was played there and a young Arnold Palmer won his first professional tournament. De Laat was in the field for that event, one of 15 Canadian Opens in which he played, and ended up finishing tied for 46th. But it was an occurrence after the tournament that made it memorable for him.
After Palmer tapped in to win the event, a crowd stormed the green to help him celebrate – this was in the days before holes were roped off – and in the melee, someone stole Palmer's putter.
Palmer didn't realize it until he arrived at the next tournament and put a call in to de Laat who tracked down the missing club, having been swiped by a caddie. He shipped it on to Palmer who reportedly used it for more wins.
There was another story for de Laat linked to that Open. A few days after the tournament finished, he took some well-deserved time off. While relaxing and reading the newspaper, he saw an ad for some land for sale in Caledon, Ont., north of Toronto. He took a look at it and purchased it. It sat there for close to 20 years before he turned it into a 27-hole course called Mayfield Golf Club, designed by de Laat and still operated by his family.