The old adage is true: tired teams take penalties
Anyone who has spent time watching their favourite team on the second leg of back-to-back games knows just how painful this brand of hockey can be.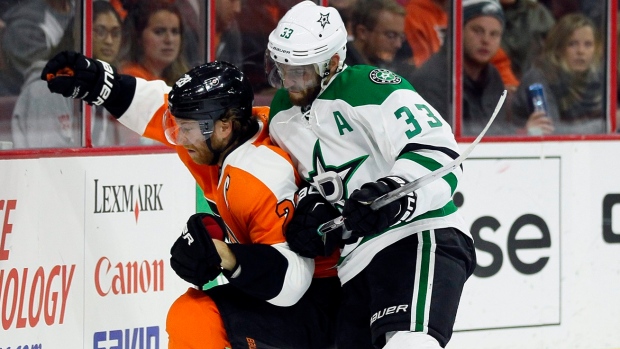 One of the things I have griped about a bit over the years is the frequency with which teams are forced to play in back-to-back situations.
Anyone who has spent time watching their favourite team on the second leg of back-to-back games knows just how painful this brand of hockey can be. Teams generally play to survive more than anything else. A coach who gets his team a point by finishing regulation with the score tied is usually quite happy with the outcome. A coach who can steal two points in these spots is usually beside himself with joy.
The fatigue factor is a real concern, and it's been studied a number of different ways. Just last year, I noted that win percentage substantially drops off for tired teams, painfully so for teams on the road – they win games in regulation or overtime just 41 per cent of the time.
I suspect one of the big reasons for this drop-off is that tired teams play with the mentality to stay alive. It's a risk-averse strategy – take the fewest chances, play a very structured game, and hope that you can get a second wind in an overtime session where the opportunity to steal a second point is real. You know you don't have your legs, so you are just doing what it takes to play a competitive 60 minutes.
This strategy was on full display in a game a couple of weeks ago between the Philadelphia Flyers and Dallas Stars. Philadelphia, the road team, had played the night before. It was a sore mismatch. Dallas sent 44 shots at the net to Philadelphia's 20, and the shot differential was quite indicative of the run of play. Philadelphia was playing to simply survive – Dallas, playing to secure two points in regulation.
One of the things I noticed watching this game wasn't just the gory territorial mismatch, but the frequency in which Philadelphia kept marching to the penalty box. I remember wondering out loud if there was anything to the old hockey coach/analyst adage about winded skaters taking bad penalties. It certainly seemed like that was the case that evening.
So, I checked. Here are the penalty differentials after all back-to-back games from the 2007-2008 season onward, with this year's numbers prorated to a full season. The numbers are staggering.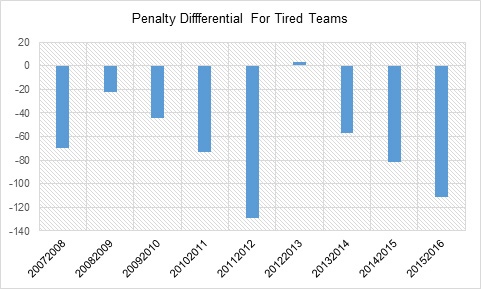 Nothing says putting your team in a disadvantageous position like losing the penalty battle, but the reality is tired teams seem to do that quite often. Other than the lockout year (don't ask me to explain anything from that wild and crazy 2012-2013 season), tired teams have ran in the red in terms of penalty differential every single year. And this year is tracking to be as bad as we really have ever seen it.
It's important to note that this is exclusively driven by tired teams being penalized more frequently, as opposed to tired teams drawing penalties less frequently. Penalties taken occur at a much more pronounced rate for tired teams, whereas penalties drawn seem to stay relatively flat.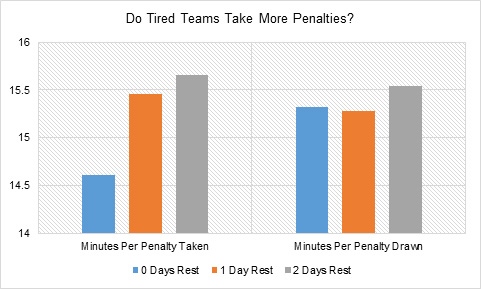 Rested teams can play a full minute (or more) without taking a penalty versus their tired counterparts. Over 82 games for 30 different teams, that adds up to a lot of power-play opportunities and a lot of goals for the opposition.
And that, again, speaks to what hockey coaches have said for years. The more you are forced to chase your opponents as puck-carriers around the rink, the more you are forced to play off the puck in the defensive zone. That leads to players taking shifts in excess of 45, 50, or 60 seconds, increasing the likeliness of taking a penalty that puts your team up against it.
The Takeaway
Penalty differential is just another example of the uphill battle tired teams have to face in these tough back-to-back spots. Tired players have trouble staying out of the penalty box, and in a league where scoring is already so low, a couple of bad penalties per game can mean the difference between a regulation win and a regulation loss.