The problems run deep in Ottawa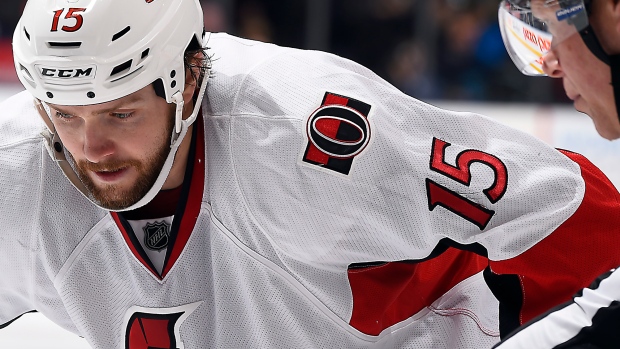 Nine months ago, the Ottawa Senators were one goal away from the Stanley Cup Final. Today, they're a team in dire straits.
The post-mortems on Ottawa's lost season have already started to come in. The team currently sits at 15-18-9 halfway through the season, and they currently have better odds at the first-overall pick (8 per cent) than reaching the postseason (6 per cent).
The most prominent area of failure for Ottawa has been between the pipes. Last season, Ottawa had a 91.5 save percentage, eighth best in the NHL. This year they hold an 89.3 save percentage, 28th best in the league. That drop-off is substantial. If Ottawa had received last year's goaltending this season, they would be about 29 goals better in the standings and very much alive in the playoff race.
But goaltending isn't the only area where Ottawa has struggled. The team is also 22nd in the NHL in offence, with 2.7 goals per game. Save the brilliance from Mark Stone at the top of the lineup and a surprising offensive outburst from speedster Ryan Dzingel, almost every Ottawa forward has taken a step backward – in some cases, considerably so.
Depth issues aren't new in Ottawa. Even at their peak last season, the Senators were particularly vulnerable when their top units weren't on the ice. It's a question Ottawa's front office has been wrestling with for some time: When their top line and the Karlsson pairing are off of the ice, how do they score goals? And, just as importantly, how do they prevent them?
I think it's important to put some context around Ottawa's production issues across their depth forwards. In an era where ice time is much more smoothed and teams consistently roll four lines, Ottawa gets painstakingly little from their third and fourth lines.
The below graph shows just how little scoring they get – the combination of Zack Smith, Jean-Gabriel Pageau, Tom Pyatt, Nate Thompson, Alex Burrows, and Gabriel Dumont grade out as the least dynamic unit in the entire league.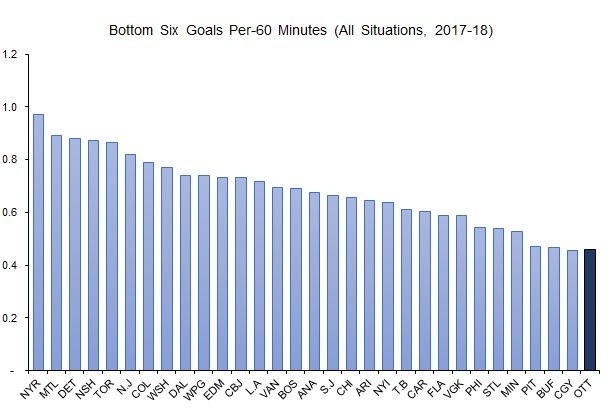 Ottawa is getting about 0.46 goals per 60 minutes from their depth forwards, which more or less means they need to play more than two full games before actually getting a goal from one of the six above-referenced players. Note that this is not the norm – the average team gets around 0.7 goals per 60 minutes from their depth forwards, which in Ottawa's case would be worth about 15 additional goals. That's a huge number at just the halfway point of the season.
The one thing to mention here is that it's not just the group at aggregate that's struggling. It's every forward. Again, the average depth forward will score about 0.7 goals per-60 minutes. Here's each Ottawa skater that's seen regular bottom-six minutes: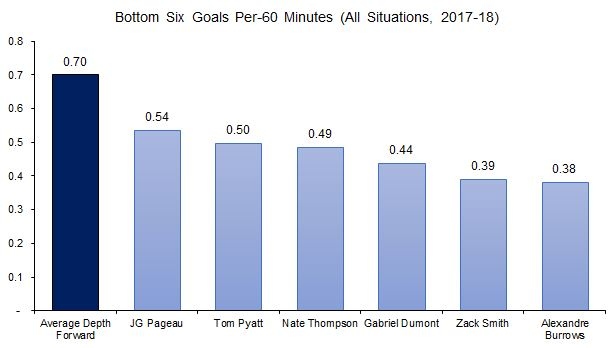 This is the part where general manager Pierre Dorion has to be concerned. Players like Thompson, Pyatt, Burrows, and Dumont were either targeted by the front office, desired by the head coach, or a combination of the two. And both Pageau and Smith were given sizable retention contracts – Pageau $9.3 million over three years, and Smith $13 million over four years.
The contractual situation is where this gets messy. Teams get bad seasons from depth players all the time, but rarely are so many players inked on multi-year deals. Smith is signed through 2021. Pageau is signed through 2020. Burrows, Pyatt, Dumont, and Thompson are on through 2019. To recap: there isn't a single player in this mess of a bottom-six that has an expiring contract.
Where do the Sens go from here? I suspect they'll look at shipping out a couple of players where they can. Smith will likely covet interest from buyers at the trade deadline, even with his contract, as one example. But you have to imagine they'll start replacing the ice time of some of these players regardless of their contracts. Players like Filip Chlapik and Colin White will see more NHL action in the second half, and it's going to come at the cost of someone here.
If anything, this illustrates how deep the problems are in Ottawa right now. A talented core remains, but without any goaltending or scoring depth, it's hard to see how the Senators really turn this around.
Expect significant activity on both fronts at the trade deadline and the summer of 2018.