The sad reality for Senators fans
A seemingly endless loop of heartbreak and frustration continues in Ottawa with the trade of Erik Karlsson, Ian Mendes writes.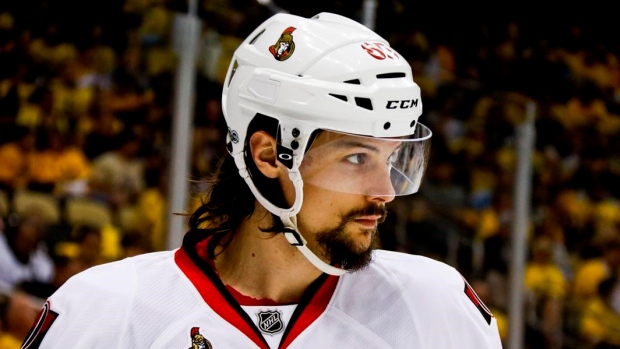 When you're an Ottawa Senators fan, there are times it feels like your life is caught in a perpetual cycle of disappointment.
There is a sense of déjà vu that has permeated this fan base – like everyone is trapped in an endless loop of heartbreak and frustration. It's a depressing hockey version of Groundhog Day, in which a star player leaves town under mysterious circumstances.
To illustrate just how cruel – and disturbingly precise – this constant cycle of heartache has been for Sens fans, consider the following set of facts.
After Dany Heatley was traded from the Senators to the San Jose Sharks, his first game against Ottawa happened on Dec. 1, 2009.
Daniel Alfredsson's first game as a member of the Detroit Red Wings in Ottawa took place on Dec. 1, 2013.
And now, after star defenceman and captain Erik Karlsson was traded to the San Jose Sharks on Thursday, we find out that Karlsson's first game as a member of the San Jose Sharks against his old team will take place on – you guessed it – Dec 1.
If nothing else, we should probably tip our hat to the hockey gods for having a dark sense of humour – although nobody in this market is laughing.
The problem is that this has become all too predictable for Senators fans. Like Montreal Expos fans before them, Ottawa fans have watched an endless parade of star players walk out the door:
Alexei Yashin
Zdeno Chara
Marian Hossa
Dany Heatley
Daniel Alfredsson
Jason Spezza
And now, Erik Karlsson.
The seven most talented players in the history of this franchise all left under questionable circumstances. At some point, you lose faith in the organization's ability to hang onto franchise players, which makes it difficult to have an emotional connection with the team.
And that's where we sit today.
There is a feeling that both Mark Stone and Matt Duchene already have one foot out the door. Senators' fans don't want to talk about the upside of Brady Tkachuk and Thomas Chabot because they're convinced the youngsters are simply being groomed to be traded down the road.
You feel like players are here on an extended stopover, destined to ply their trade elsewhere.
Ottawa fans just want to buy a jersey and put their favourite player on the nameplate with confidence that it's not going to look outdated in three years.
Karlsson should have been that guy.
Never before has this organization had a player with Karlsson's skill set – a generational, dominant defenceman who was in the conversation as one of the five best players in the game. His flair and confidence was the perfect antidote to Ottawa's image of being a stale, boring government town that is covered in red tape.
He seamlessly connected with the millennial fan base of this organization – the ones who are too young to understand the misery and disappointment of repeatedly losing to the Maple Leafs in the playoffs.
Perhaps Karlsson's most impressive feat is that he was able to make Senators fans forget the pain of losing Daniel Alfredsson. There was a gaping hole left in this city when Alfredsson departed in the summer of 2013 – one that nobody was sure could ever be filled.
But Karlsson filled that void, removing some of the sting from Alfredsson's departure in the process.
Now that Karlsson is gone, those same emotions from Alfredsson's exit have come rushing back – betrayal, anger and heartache.
At least the Alfredsson departure was a sudden and shocking development. Karlsson's departure was like a death by a thousand cuts. The rumours surrounding his departure had been swirling for months. By the end, the fan base was simply exhausted by the gossip and innuendo. There was a sense that his departure was inevitable and, at some point, resignation had actually set in.
This is obviously not the first instance in which a star player has left Ottawa, but this does feel like the first time there is a change in the perception of who is to blame. In the past, many Senators fans sided with the team and organization when a star player departed. This time it feels like the majority of the venom is being directed at the club and owner Eugene Melnyk.
In previous instances of a player departing, many fans took the approach of saying, "Hey – if he doesn't want to stay in Ottawa, good riddance. We don't want him around here."
But now it feels like fans understand that a player leaving has nothing to do with our city, its restaurants, schools or citizens. The fans aren't too intrusive and the media isn't overly harsh to the point where it's driving players out of town.
Instead, organizational chaos and dysfunction appears to be at the root of these departures. And if that's not the case, the organization should be able to change the perception.
Karlsson's failure to acknowledge the owner in his closing remarks Thursday is being construed by some as proof of his own anger towards Melnyk.
While assessing Karlsson's feelings towards Melnyk might be difficult to pin down, it wasn't hard to gauge that from the fan base.
At 2:30 a.m. on Friday morning – a full 12 hours after the Karlsson trade had been announced – irate callers were still phoning into TSN 1200 radio in Ottawa to vent their frustrations. Overwhelmingly, the anger was being pointed at Melnyk and general manager Pierre Dorion.
The fact that people were calling into a radio station in the early morning hours on a Friday in September speaks to the passion in this market place. Whether or not that passion translates into people still following the team this season is anybody's guess.
But if people jumped off the Senators bandwagon now, I guess the question would have to be asked: Could anybody blame them?