The year in golf through quotes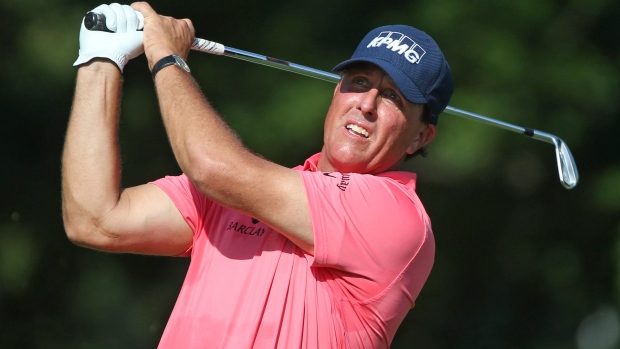 At times it was amazing, and at others, confusing. It made us laugh and also scratch our heads. Herewith, a look back at the year in golf through the quotes of those who play and work in the game.
"I saw people to the left and right of me get shot. I could hear the bullets hit people. You could see the bullets hitting the ground right beside you. I don't know what a war zone is like, but it felt like we were sitting ducks." – Web.com Tour player A.J. Mcinerny, on being in the crowd in Las Vegas when a man started shooting from the window of the Mandalay Bay, killing 58 people.
"There were many times last week that I thought about what the kids were seeing. The crowds were booing for good shots and cheering for missed putts. The drinking at 7am? Screaming 'Big Easy' to Ernie Els and begging for his autograph and then yelling at his players. Heckling a wife for her beauty and then her husband for his play. I was thankful my boys weren't there to see the way people were treating their daddy. Their hero." -- Audrey Leishman on the boorish behaviour of some American fans at the Presidents Cup.
"We all have regrets in life and when I think about some of the things that the USGA has done over the years the one that comes to mind is the whole distance issue. Anybody is hard-pressed to say that as distance has increased the way it has the last 100 years, that it has been good for the game." – USGA Executive Director Mike Davis commenting on the distance golf balls travel during a summit held in Vancouver.
"I could probably see Uranus from here, mate." – Jason Day, at the PGA Championship, when asked if he'd ever used a telescope before. Defending champion Jimmy Walker gave each of the attendees at the past champions' dinner one.
"He asked me when I was going to get my hair cut. And actually, I had my hair cut yesterday or the day before. And he didn't believe me." – Tommy Fleetwood on his first real interaction with Tiger Woods, which took place at the Hero World Challenge.
"I'm not going to change anything. I'm still not going to workout. I'm still going to have a bad diet and I'm going to enjoy myself." – Pat Perez, after winning the CIMB Classic in Malaysia, confirming he was sticking to his plan.
"When you're disappointed not to be invited to #SB2K17.. all alone on the beach" – Gary Player, 82, used a tweet to poke fun at the social media-fuelled annual vacation held by Rickie Fowler, Jordan Spieth, Justin Thomas and Smylie Kaufmann.
"Crazy, crazy. But I'm super excited about it. Hopefully, it does live up to the expectation, and hopefully I can play well enough to keep their interest and see what happens." – Brooke Henderson, commenting on the massive galleries following her at the Ottawa Hunt and Country Club at the CP Women's Open. She fired a course-record 63 on Saturday to get into contention. She eventually finished tied for 12th.
"I'm certain that I am not anchoring the putter and that my putting stroke is not violating the Rules of Golf. On several occasions, I have been in contact with the USGA and rules officials on the PGA Tour and PGA Tour Champions, and each time I have been assured that my putting stroke is within the Rules of Golf." – Bernhard Langer, responding to criticism that he continues to anchor his long putter.
"We celebrated at a really fine restaurant. You may have heard of it . . . McDonald's." – Adam Hadwin on how he and his wife Jessica celebrated his first PGA Tour win at the Valspar Championship.
"I've never been taller, so I can't really comment. – Canadian Austin Connelly, when asked if it helped being shorter playing in the windy conditions at the Open Championship at Royal Birkdale.
"Unfortunately tournament director Brent McLaughlin is no longer involved in the 2017 RBC Canadian Open." – Golf Canada CEO Laurence Applebaum commenting that the tournament director for the national championship was mysteriously gone from the event on Friday evening. No word was ever given as to why he was removed and he subsequently left Golf Canada's employment.
"There's no truth to the rumour it was the amateur's best strike of the day." – Padraig Harrington, after being hit on the arm by one of his pro-am partners at the FedEx St. Jude Classic. Harrington, who required six stitches to close the cut, was giving the man a lesson when he was hit.
"Unfortunately it's the first cut I've missed this year and I missed it with flair," – Phil Mickelson, whose second-round scorecard at the Open Championship included four birdies, eight bogeys and a triple.
"Is this a joke?" – Lexi Thompson, at the ANA Championship, when told she was being assessed a four-shot penalty from an infraction that occurred on Saturday. It came as she walked off the 12th green on Sunday. The ruling took her from a two-shot lead to a two-shot deficit.
"To be totally honest, I mean, I'm very happy but I don't feel any different. I'm obviously thrilled about what happened here today, but I'm still – I'm still the same guy. I'm still the same goofy guy, so that's not going to change." – Sergio Garcia on whether winning the Masters would change him.
"There's pro-am swings, and then there's this. I'm not making fun, I'm amazed." -- Web.com Tour pro Steve Wheatcroft tweeted out a video of one of his odd-swinging playing partners from the pro-am at the Albertson's Boise Open.
"I was a little bit taken aback by the blowback I received but I get why. I was just doing what I felt was respectful and the president of the United States phones you up and wants to play golf with you, I wasn't going to say no, like I don't agree with everything that he says but it is what it is." – Rory McIlroy on playing a round with U.S. president Donald Trump. By the end of the year, McIlroy was joined by Ernie Els, Tiger Woods, Dustin Johnson, Justin Thomas, Daniel Berger and Jack Nicklaus as notable professionals who tipped it up with Trump in 2017.
"Honestly, it's more about wanting to go play places where I'm happy and that I enjoy going to, places I want to be, instead of going there and wanting to be someplace else. I went through the schedule and picked out events where I'm not very happy at, and Evian was one of them." -- Stacy Lewis on why she decided to skip the Evian Championship, one of the five majors in women's golf.
"As you get older and you share these moments, you realize the greatest moments in life are those spontaneous moments with your family. And this is one of those moments that I'll cherish forever." – Phil Mickelson on his decision to skip the U.S. Open to attend his daughter's high school graduation.
"Does anyone really care is the real question...These guys were relevant 10 plus years ago." – Tour pro Grayson Murray commenting on Twitter about the Champions Tour. The controversial tweet came just 10 days after Murray re-activated his Twitter account after previous controversial tweets.
"No one really asked me if I was married, so I didn't have to answer that question. But I felt that after the PGA would be a good time, because our baby is born and I thought that would be a good time to let everyone know." – Hideki Matsuyama revealing not only that he was married but that he and his wife had just had a baby. Despite the fact Japanese media follow the golfer almost 24/7, it was a surprise to most fans in his home country where he is regarded as a superstar.
"I'm no superman even though certain people thought I was superman. If you saw the promotion in Shanghai, you know what I mean." – Henrik Stenson, hinting that he may have been injured in a promotion at the World Golf Championship-HSBC Champions where he, Dustin Johnson and Haotong Li were dressed as super heroes and hung from wires to make it look as though they were flying.
"This would have led to a difficult post-round discussion with the coach, I imagine." – European Tour pro Eddie Pepperell tweeting out the scorecard of club professional Oliver Smith from the PGA Assistants' Championship. Smith had a nine, an 11 as well as five birdies and a hole-in-one en route to a round of 79.
"I was very disappointed with the way they handled it. They've said to me, too, that they don't like the way I'm doing it. But it's within the rules, and I don't know why they don't like it." – Bryson DeChambeau, on being told by the USGA that the putter he was using for his side-saddle style was ruled non-conforming.
"Well, this is a first." – Australian golfer Matthew Griffin, after a tournament in Japan was delayed due to a North Korean missile launch that created a tense situation in the area where the tournament was being played.