There's nowhere to go but up for Jays outfield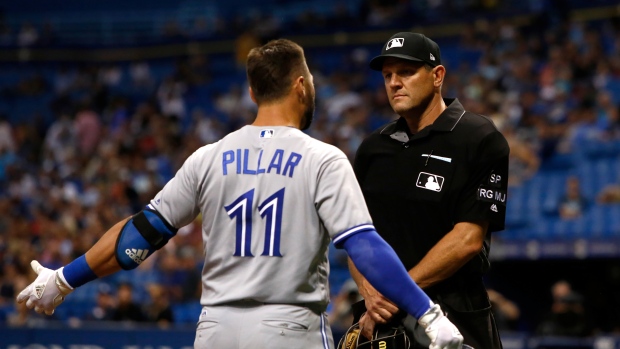 It's been more than four months since the Blue Jays flew their separate ways for the winter when a disappointing 76-win season came to an end on the first day of October.
Since then, general manager Ross Atkins has been busy tinkering and adjusting an aging and injury-riddled roster.
The big changes most fans were hoping for? Not happening.
Instead, there's been a focus on not only depth at the big-league level, but overall depth throughout the organization.
While that has been accomplished to a certain degree, the question everyone is asking is: Are the Blue Jays a contender again?
After all, that is the stated goal of the front office.
The answer probably depends on your definition of a contender, but once you factor in the return to health of a number of key players, projection models see the current roster landing in the range of 84 wins, which is to say they're a fringe wild-card contender.
With pitchers and catchers reporting to Dunedin on the horizon next week, we'll delve into each area of the roster this week and try to answer some pressing questions that will be facing the Jays in 2018.
TUESDAY: Outfield
WEDNESDAY: Bullpen
THURSDAY: Rotation
FRIDAY: Outlook for 2018
No matter which advanced metric or traditional stat you use, the Blue Jays outfield was one of the worst in baseball last season.
Even the eye test didn't add up to anything other than ugly.
Jays outfielders hit 73 home runs in 2017, 38 less than Aaron Judge and Giancarlo Stanton combined.
The .242 average and the below-league-average 90 wRC+ were fourth-worst in baseball. The .404 slugging percentage was fifth-worst.
Overall, the 12 players that spent varying amounts of time patrolling the outfield grass for the Jays combined for just 2.8 fWAR.
Only the San Francisco Giants and Atlanta Braves derived less value from the outfield.
Safe to say, there's really nowhere to go but up in 2018.
Like the infield group we've already looked at, there are plenty of questions surrounding the Jays' outfielders to start spring training.
Is Randal Grichuk ready to break out?
As the Jays were busy improving their infield depth to start the off-season, the gaping hole in right field looked like an easy spot to plug in a veteran bat from the free-agent market.
Instead, GM Ross Atkins went the trade route — he made four deals this winter — to acquire Grichuk, by far the player with the most upside the Jays have brought in.
The book on Grichuk is this: lots of power, good defence, too many strikeouts, and not enough time spent on base.
Grichuk's 66 home runs in 404 career games show his 30-home run upside, but he also strikes out in 29.9 per cent of his at-bats.
As pedestrian as his .238/.285/.473 slash line with 22 homers from a year ago sounds, Grichuk's 1.4 fWAR would've made him the second-most valuable Blue Jays outfielder last year behind Kevin Pillar's defence-backed 1.9 mark.
The Jays didn't trade reliever Dominic Leone and prospect Conner Greene to the St. Louis Cardinals for a carbon-copy of that season, however.
They're hoping something clicks for Grichuk, who's been taking vision training courses this winter in order to improve his pitch recognition, and there's a Justin Smoak-type breakout in the cards.
The right-handed hitter's fairly neutral platoon splits — Grichuk has actually been slightly better against righties than lefties in his career — have him in line for everyday at-bats to start the season, but he needs to produce from the jump for it to stay that way.
KEY STAT: Grichuk's .239 career isolated power is higher than Edwin Encarnacion's career mark of .234.
Has Kevin Pillar reached his ceiling?
For about six weeks to start last season, Pillar was a star.
He was playing his usual Gold Glove-calibre defence, but he was also laying off the breaking ball in the dirt, walking, and hitting for power.
It was star-level production.
But midnight struck in mid-May, right around the time he was suspended for a couple of games for using a homophobic slur, and Pillar turned back into, well, Pillar, and he proceeded to hit .202 over his next 286 plate appearances through mid-August.
Through his first three seasons as an everyday player, Pillar's wRC+ (where 100 is league average offensive output) has gone from 94 to 81 to 85 last season.
The defence makes him viable and within the context of the Jays' 2015 and 2016 offences, that was completely fine.
Now sporting a below-average offence as a whole, Pillar's lack of production becomes tougher to carry for 162 games.
Heading into his age-29 season, Pillar's salary jumped from league minimum to $3.25 million in 2018.
He'll have less and less leash as his salary continues to rise, and cheaper options with more upside — hello, Anthony Alford — arrive on the scene.
KEY STAT: Pillar's 16 home runs in 2017 were a career high.
What will Curtis Granderson's role be?
A low-risk signing at $5 million bucks for one year, Granderson represents 100 per cent of what Atkins has invested in free agents.
First, the obvious drawbacks.
He's about to turn 37 and can't hit left-handed pitching, evidenced not only by his .202/.274/.394 output against southpaws last year but his .223/.296/.401 career line against them.
Contrary to those numbers, however, is Granderson's .263/.355/.499 career slash line against right-handers.
The numbers have slipped as he's aged, but the 21 homers and 114 wRC+ he put up against righties last year suggest there's still value in Granderson's retro bat.
Likely the best leadoff option against right-handers, Granderson is currently slated to serve as the strong side of a left-field platoon with Steve Pearce, who's looking to bounce back from an injury-riddled 2017 in the final year of a two year, $12.5-million deal he signed last winter.
KEY STAT: Granderson has hit 110 of his 319 career home runs in AL East ballparks.
What can we expect from September sensation Teoscar Hernandez and top prospect Anthony Alford?
The third question above and this one are directly related.
This winter, Atkins has not shied away from saying things can change over the course of the season depending on how certain guys are playing and he's hoping the young guys force the front office into tough decisions.
That's what depth is all about — having options.
If the plan to have Grichuk and Pillar playing almost every day alongside a left-field platoon comes to fruition, that likely leaves Hernandez and Alford as everyday players in Triple-A, which might not be the worst thing.
Alford, with a long injury history and three Triple-A games to his name, needs it.
Hernandez, who crushed eight homers during his September cup of coffee, struck out in 37.9 per cent of his at-bats last year, so he could probably use more seasoning.
It doesn't make much sense to have them sitting on the major-league bench. But it's easy to envision the right-handed hitting Hernandez stealing Pearce's at-bats in left as the season goes on, and same for Alford in centre if Pillar doesn't improve offensively.
Of note, Dan Szymborski's long-running ZiPS projections, which can be found on FanGraphs, point to Alford being roughly Pillar's defensive equal in centre.
While that may be tough to believe for those of us who have watched Pillar regularly make highlight-reel catches, it sure does emphasize the package of tools Alford possesses.
If it weren't for a couple of kids named Vladimir Guerrero Jr. and Bo Bichette, Alford would be getting much more attention.
Expect Alford and Hernandez to both play a role at some point in 2018.
KEY STAT: Alford's on-base percentage in Double-A last season was a sparkling .406.
After being one of the worst offensive outfields in baseball last season, have the Jays improved that situation?
The most accurate word you can use to answer that question would be marginally.
It would've been really hard to get worse.
Any production improvements in centre field would have to come by way of Pillar taking a step forward or Alford stealing the job in the second half of the season.
Last year started with a similar platoon situation in left, but it's Granderson instead of Ezequiel Carrera, who at this point is either a fifth outfielder or out of a job.
Pearce, 34, can hit lefties — .262/.345/.492 in his career — but he does even better at hitting the DL, playing more than 100 games just once in his career.
There's also a chance he's traded or relegated to the bench in favour of someone else.
The most obvious spot for increased production comes in right field, as it won't be hard to improve upon Jose Bautista's .203/.308/.366 slash line and franchise record number of whiffs.
But instead of finding a proven bat, the Jays are gambling on Grichuk.
There's more depth and more upside in the outfield than there was a year ago, but no matter what happens, the trio the Jays run out there won't come close to equalling what other American League contenders are boasting.
KEY STAT: Jays outfielders combined for a .314 on-base percentage last season, well below the .332 league average for outfielders in 2017.