Time has come for the Kings to rebuild
Los Angeles's lack of depth and scoring were on full display during a first-round sweep at the hands of the Vegas Golden Knights, Travis Yost writes.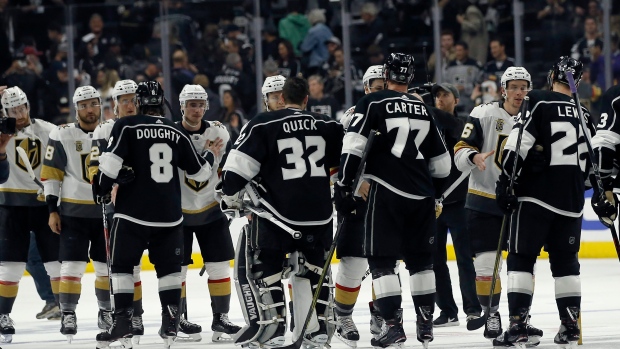 The Los Angeles Kings are in dire need of a rebuild. If there were any doubters of that before the postseason, the expansion Las Vegas Golden Knights made it official by sweeping Los Angeles in a surprisingly one-sided series
Not all that long ago the Kings were considered one of the league's most terrifying teams. They had never been a particularly great offensive team, but it never really mattered. They spent shift after shift in the offensive zone with the puck, working the cycle relentlessly against inferior opponents who just tried to hang on.
In the rare instance you had the puck against those Kings teams of yesteryear, good luck trying to score. From 2009-15, Los Angeles gave up just 2.18 goals against per game in all situations – the best marker in the NHL.
In one of hockey's quirky developments, it's likely that Los Angeles will be remembered for two league wide ideological shifts. They were – along with the Chicago Blackhawks – the reason front offices, coaches and fans became fanatical about the importance of puck possession. Chicago had the forwards who turn that puck possession into offence. Los Angeles had the structure to turn that puck possession into goal suppression.
But there's another wave in the NHL, one that is beginning to emphasize puck possession through deep forward and defensive groups. Los Angeles was separately notorious for being tough to play against because of their sheer size. And for a period of time, it worked. They pushed teams around over and over. But the majority of the league didn't try to get bigger in response. Instead, they tried to get smaller, emphasizing skill further down the lineup. They traded in size for agility and speed.
That was on full display during Los Angeles' exceptionally limited 2017-18 postseason. Vegas – a team flush with speed, skill, and competency through the lineup – skated circles around their division rival. But it wasn't just the Kings' poor depth that sunk their chances. Only one player had more than a single point in the series, and that was Anze Kopitar with two. Twelve players who made appearances in every game were held scoreless. That's two thirds of the team!
Offence was at the root of Los Angeles' issues during the regular season and that problem was on full display against Vegas. The talk after the series finale is centering on the Kings complete inability to score – they managed just three goals in four games and were shutout twice by Marc-Andre Fleury. Even in a limited sample of games, that type of goal scoring is exceptionally rare.
The important thing to note is that Los Angeles didn't just get cold at the wrong time. The rate at which they generated legitimate offensive chances was just as rare. Part of the reason why Vegas was so successful at slowing Los Angeles down is because the Kings had so few offensive opportunities, and when they did, they were mostly from the perimeter.
The table below shows the 20 most ineffectual offensive teams we have seen in the postseason with at least four games played. They are sorted by goals for per-60 minutes of play, but we have also included two other key measures – scoring chances per-60 minutes (SCF/60), and dangerous shot attempts (HDCF/60). No matter which way you look at it, Los Angeles was nowhere to be found in the offensive zone. (Via NST.)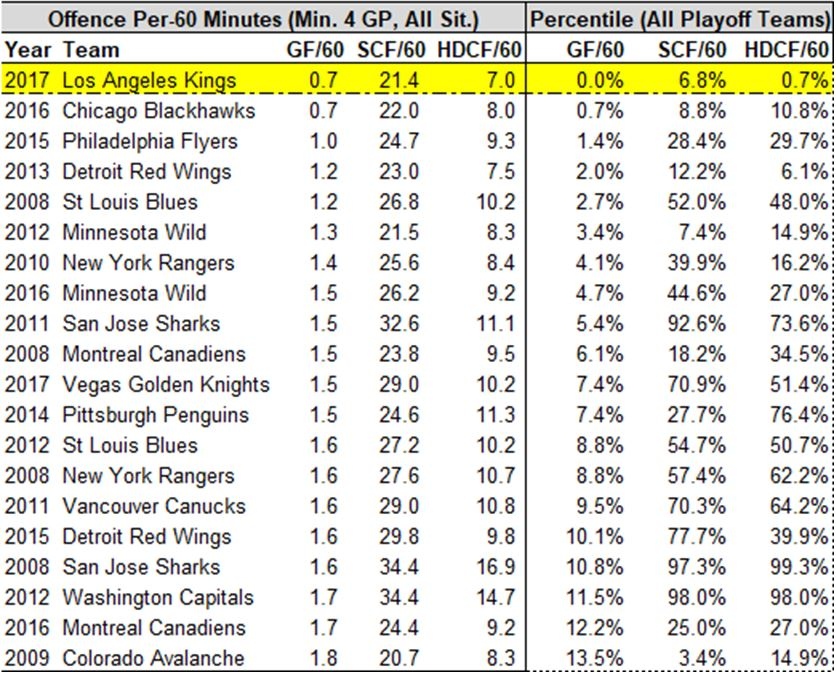 No team has ever scored fewer goals in four games. Only a handful of teams have generated less scoring chances, and only one team – the 2011 Florida Panthers – generated less dangerous shot attempts. Across the board, it was a total failure. (You'll note 2017 Vegas is also on this table, but you can see a clear difference – they were generating plenty of dangerous scoring chances and shot attempts. They just weren't going in.)
HockeyViz's Micah Blake McCurdy had a fantastic visualization of the data tabled above. The heat maps reiterate the same point – L.A. was kept to the outside way too frequently, whereas Vegas was able to position itself in and around Jonathan Quick for most of the series.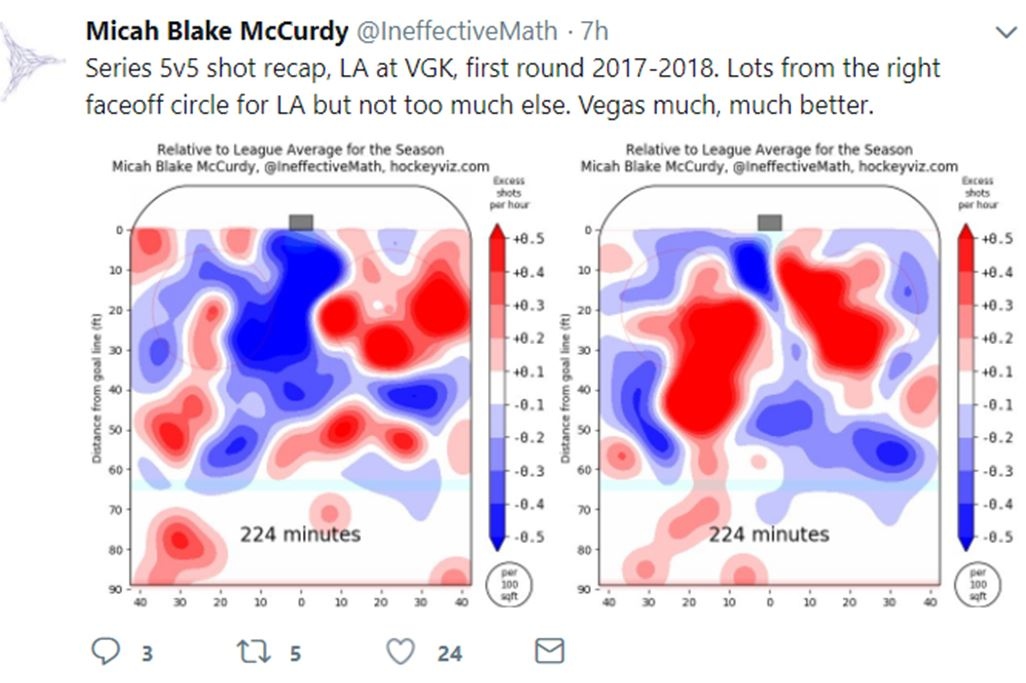 In some instances you might hesitate to react to what happened in a four-game sampling. The issue with Los Angeles, however, is that it's an extension of years of struggling in the offensive third. The Kings now have one playoff win in four years. The coaching staff has already been changed out. Now, you have to wonder if a sweep at the hands of Vegas may spell the end for pieces of the Los Angeles core.