Trade clears hurdle for possible Stamkos pursuit
The Maple Leafs suddenly have an extra $21 million to burn - and a vacancy at captain - after the second largest trade in franchise history, Frank Seravalli writes.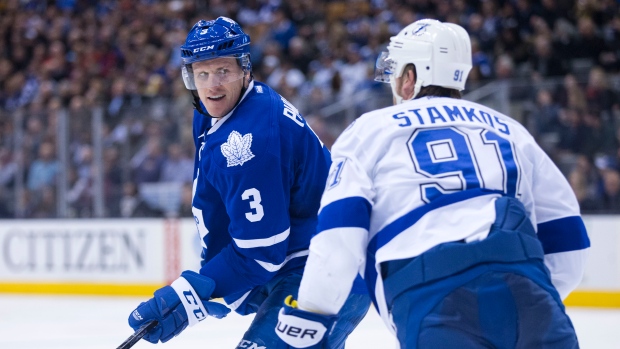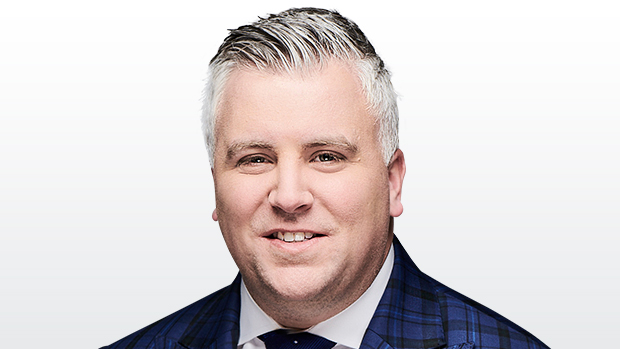 Paging Steven Stamkos.
The Toronto Maple Leafs suddenly have an extra $21 million to burn - and a vacancy at captain - after the second largest trade in franchise history.
Dion Phaneuf was dealt to his third Canadian team in a nine-player blockbuster consummated on Tuesday with the Ottawa Senators, which brought the Maple Leafs increased salary flexibility and the Senators arguably the best defenceman who was available on the market.
The complete contents of the trade: Phaneuf, Matt Frattin, Casey Bailey, Ryan Rupert and Cody Donaghey to Ottawa in exchange for Jared Cowen, Colin Greening, Milan Michalek, Tobias Lindberg and a second-round pick in 2017. It was the first trade between Ontario rivals in nearly 18 years.
At face value, Tuesday's trade likely only guaranteed the Maple Leafs an increase in lottery odds for landing one of the Big Three this spring. General manager Lou Lamoriello admitted Phaneuf leaves a "hole" in the Leafs' lineup, and the pieces acquired do little to fill that void.
Michalek, 31, is currently injured and has broached 20 goals just once in the last six seasons. Cowen, 25, is a serviceable depth defenceman playing at a level not commensurate to his contract. Ditto Greening, 29, who has played all but one game this season in the AHL.
Winger Tobias Lindberg may turn out to be the only future NHL regular among the prospects that changed hands. His impact would be down the road.
In the big picture, it is easy to see why Toronto pulled the trigger. Lamoriello said the deal was made to stick with "the plan," which, so far, is based on enduring short-term pain for long-term gain.
"This is a transaction that wasn't for today," Lamoriello said. "This gives us the opportunity to do things."
It paves the road for the Maple Leafs to go after Stamkos on July 1, should he hit the market, without any financial or salary cap barriers.
Stamkos, 26, has given no indication that he has any interest in playing for his hometown team. The NHL's second-richest franchise likely could have afforded an eye-popping deal for Stamkos even with Phaneuf, but the Leafs are infinitely better positioned to tempt Stamkos today than they were yesterday.
In 669 days on the job, Brendan Shanahan and Co. has gotten out from under crippling contracts to David Clarkson, Phil Kessel and now Phaneuf.
Phaneuf, 30, had five years and $33 million remaining on his deal. Kessel, 28, was due $54 million over seven more seasons before his trade to Pittsburgh last summer.
That $87 million alone in combined future contract commitments - previously considered to be "untradeable" - are likely more than Stamkos has been offered to this point by Tampa Bay.
Neither the Maple Leafs nor Senators retained salary in Tuesday's trade. It was a straight-up swap.
But the Toronto and Ottawa found a way to make the salary-cap numbers mutually beneficial in a deal that has many financial layers for both today and the future.
The budget-conscious Senators actually ended up saving on the salary cap and in real dollars this season and next season. Phaneuf's cap hit ($7 million) is less than the combined numbers of Michalek ($4 million), Cowen ($3.1 million) and Greening ($1.7 million while in the AHL). Then it will hurt.
In the meantime, Phaneuf increases Ottawa's playoff chances and balances out their second defense pairing with Cody Ceci. Erik Karlsson will remain with Marc Methot.
"We don't expect him to come in here and be a saviour," Senators GM Bryan Murray told reporters.
Temporarily, the Maple Leafs took on a larger cap hit than Phaneuf in exchange for long-term savings. The Maple Leafs essentially traded $33 million in future contracts for $11.7 million.
Yes, all three players acquired by the Leafs have contracts that extend into next season, but it isn't difficult to envision a way none of those players start next season in Toronto. Michalek suddenly becomes a decent trade chip to flip before Feb. 29's deadline.
And with such a beneficial contract for buyout purposes, both Cowen and Greening could be bought out for what amounts to a combined positive salary cap impact for next season.
Lamoriello bluntly said the Leafs had "no choice" but to agree to the deal. It made too much sense and financially opened too many doors to the future in a salary cap world that Lamoriello said Tuesday he believes will ultimately "level off" with a plunging Canadian dollar.
Tuesday's nets no tangible return for Leafs Nation to celebrate. Under Mike Babcock, the Leafs propped up Phaneuf. They took away some responsibilities and shielded him from first-line matchups, which increased his trade value.
More losses will follow in Toronto, but the light at the end of the tunnel came into focus a little, with two big payoffs potentially on the horizon in June's draft and Stamkos in July — if he wants it. Lamoriello did say the Maple Leafs aren't expected to fill the captain vacancy this season.
Frank Seravalli can be reached at frank.seravalli@bellmedia.ca.