Vancouver's power play a work in progress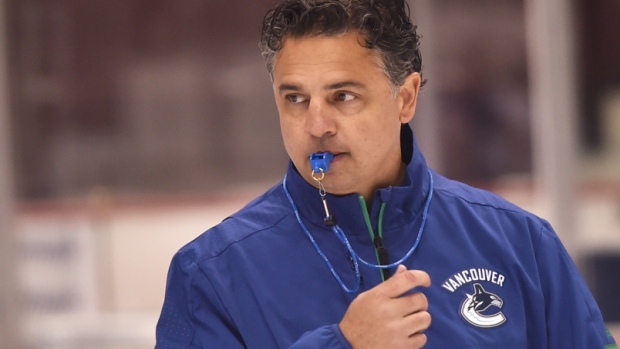 The first year of the Travis Green era in Vancouver has started swimmingly. In a pure rebuild year, Green's Canucks are out to an 8-7-2 start – good enough to make a surprise appearance in the early stages of the Western Conference playoff race.
One of the early hallmarks of the Green era has been a dedication to getting his younger players substantial ice time. On the defensive side, it's meant that guys like Ben Hutton are holding the second-most ice time across all Canucks skaters. For the forwards, it has meant handing the reins over to the likes of Bo Horvat, Markus Granlund, Sven Baertschi and Brock Boeser.
You'll note that the Sedin twins aren't mentioned above. That's because Green has notably clawed back their ice time in the first month of the season. Where Henrik and Daniel historically have averaged 19 to 20 minutes of playing time a game, they are now seeing about 14 minutes a night. That's a massive drop, and what amounts to anywhere from seven to nine fewer shifts a game.
At some point, this had to happen. The Sedins, now at age 37, simply don't produce the same way they'd consistently done for a decade in the NHL. The playmaking and creativity is still there in spurts, but Father Time has really started to take hold. (Through Sunday, Henrik Sedin has just one goal in 17 games. Daniel Sedin has three.)
What's interesting in Vancouver, though, is the Sedins, who have lost a ton of shifts at 5-on-5, haven't seen the same type of reduction on the power play. The Canucks are definitely still hunting for the right mix on the man advantage, but the Sedin twins are still the main featured options for Green: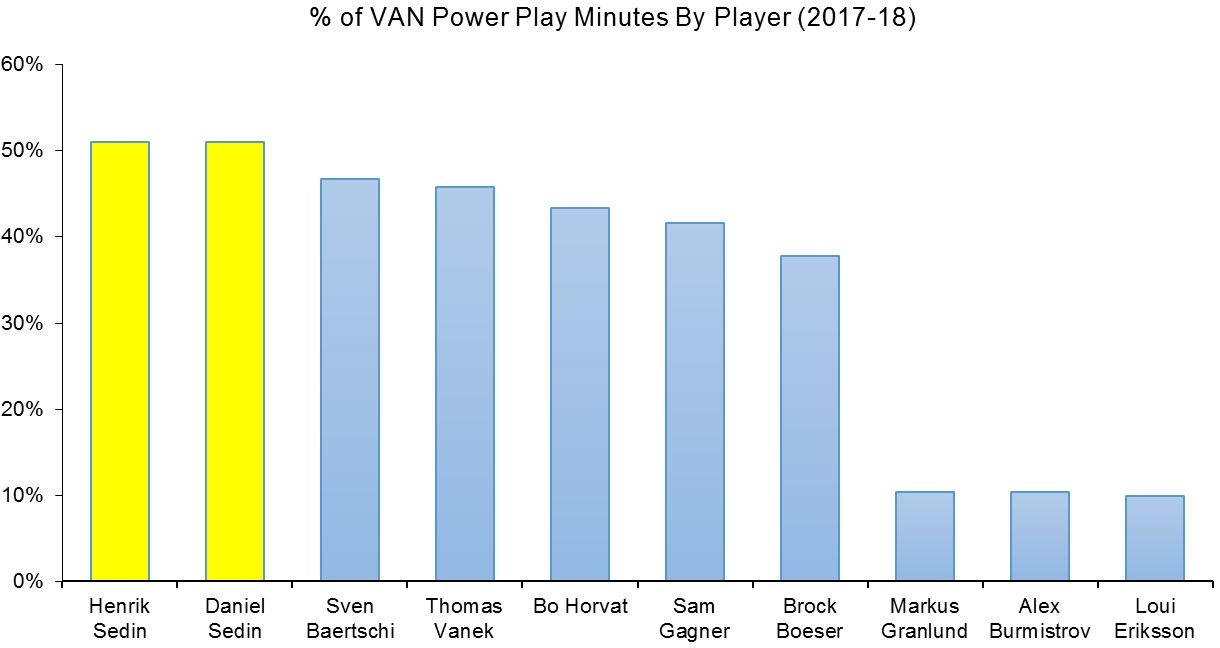 Green has had two featured power-play units for most of the year. With the Sedins on the first power-play unit, he's opted to play with four forwards and one defenceman, which is a formation that's becoming quite popular around the league. On the second power-play unit he's gone with the more conventional three forwards/two defencemen split. Those five-man groups, for point of reference, are noted below:

Why is this notable? I mentioned earlier that the Sedin twins in their later years have become notably less productive scorers. That's true at even strength, but it also appears to be true on the power play. Despite seeing a bunch of minutes with the man advantage, they simply haven't been able to create goals for the Canucks. And it's hurting Vancouver right now.
Vancouver is off to a respectable start in the standings in spite of their power play. The power-play units have managed just 10 goals (14 per cent conversion) in 17 games, which is fifth-worst in the NHL. And they have conceded five short-handed goals during the process, which means they are a putrid +5 in goals in 112 power-play minutes.
As you might have suspected, my theory is that either one of two things (or both things) is at play here: (1) The Sedins just aren't nearly capable enough scorers anymore for heavy PP1 duty; and/or (2) The talent that they have put around the Sedins – specifically Gagner and Vanek – just isn't working.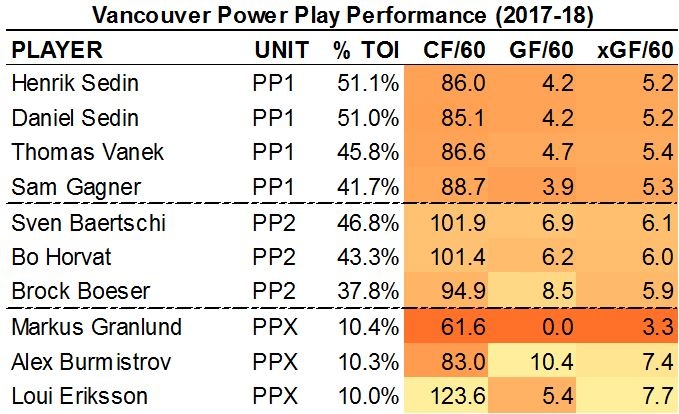 It's pretty easy to tell that Vancouver's "second" power-play unit is really the one that's had any sort of success this season. The three players on that unit – including Baertschi, Horvat, and Boeser – consistently produce more shots and generate more goals than any one of the PP1 forwards. And the "expected goal" number, which takes into account both shot volume and shot quality, also indicates that they are much better at creating waves of goal-scoring opportunities than the first unit.
Something additional to keep in mind: The average power-play unit in the NHL generates about 92 shot attempts and scores more than six goals every 60 minutes. So not only is Vancouver's first power-play unit struggling in a relative sense, but it's also struggling compared to other units across the league.
The Canucks have been able to get away with underwhelming power-play production thanks to being the league's best team by goal percentage at even strength (58.3 per cent). But when that dries up – and it will, since that percentage is mostly being driven by fantastic starts by journeymen goaltenders Jakob Markstrom and Anders Nilsson – they'll really need the power play to start producing results.
Expect Green and his assistants to continue tinkering with these units. Right now, it's still a work in progress.